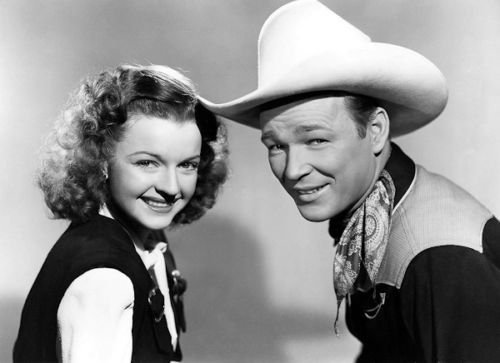 Over the last 12 years, I've had the unique pleasure of getting to know the friends, fans and family of movie, television, recording, and author icons, Roy Rogers, the King of the Cowboys, and Dale Evans, the Queen of the West. Roy passed away in 1998 and Dale in 2001, and yet, for millions of people, it's as if they never left this world.
My own "Roy and Dale" journey began when I was a little girl riding horses every day and competing in horse shows every weekend. Mine was a horse-loving family, and my siblings and I rode horses before we could walk. When I first saw The Roy Rogers Show on TV I had not yet seen any of Roy's and Dale's movies, which were box-office magic long before I was born. But the moment I saw the adventures played out on the small screen, I instantly joined the millions of others who had fallen head over heels for Roy, Dale, Trigger, Buttermilk and Bullet.
Roy was the top Western movie box-office draw for an astonishing 12 years, and the merchandising of "Roy Rogers" products was second only to those of Walt Disney. Roy's action roles were sweetened by his singing and yodeling talent, which led him to become a founding member of the legendary The Sons of the Pioneers. And it was his 1944 movie, The Cowboy and the Senorita, that first introduced Dale Evans as his female lead. That pairing would come to last a lifetime, both onscreen and off. In 1945, Dale became Mrs. Roy Rogers, and the two remained married until death did part them more than fifty years later.
After scores of movies, Roy and Dale turned their attention to television and to The Roy Rogers Show. Each episode concluded with Roy on Trigger and Dale on Buttermilk singing Dale's original song, Happy Trails. As a child, I soon began to finish every event in my life with that same song. The song stuck in your head and made you feel connected, not only to Roy and Dale, but to everyone whose path you happened to cross. To this day, "happy trails" is as well-known as "hello" or "goodbye". What a formidable legacy that is.
I attended the estate sale at the home of Roy and Dale, then later, the sale at the Roy Rogers and Dale Evans Museum. It was at the museum where I spied a corner stuffed with boxes, and inside those boxes were letters written to Roy and Dale, mostly in the 1990s when each of them began to have health challenges. The fans reached out to support their heroes, wishing them all things wonderful and sharing intimate stories of how Roy and Dale had impacted their lives. Before the day was through, I had acquired those letters from the Rogers family, and my book odyssey began.
It took me nearly a year just to read the 40,000 letters that now consumed half a room in my home. With each new story, I laughed or cried or shook my head in wonder, and I was so moved by the fact that Roy and Dale had saved every communication. The letters were not simply typical fan adulation, although there was plenty of that. They were poured-from-the-heart recollections about how Roy and Dale had changed the lives of the letter writers. People named their children after them. They changed faiths or their careers because of them. They found the courage to live through difficult times because of them. And in addition to the letters, fans sent photos, original poetry, songs, art, and thoughtfully handcrafted gifts. It was, to say the least, extraordinary.
I knew I wanted to compile the letters into a book the moment I saw them. I didn't know that it would take me 8 years to accomplish that first Roy and Dale book. But the task was arduous. Outdated return addresses stymied communication attempts, but I kept trying. I sent out thousands of letters to those who wrote to Roy and Dale, seeking permission to use their materials, resending again and again as I found more identifiable information to help me locate someone, or in some cases, his or her heirs. Much to my delight, permissions began to arrive in impressive numbers, and people were eager to share their personal feelings, many times adding even more details, photos, and thoughts in the process. In addition to the letters, I solicited essays from Roy's and Dale's friends, family, and costars.
The Touch of Roy and Dale: The Impact and Influence of Roy Rogers, The King of the Cowboys, and Dale Evans, The Queen of the West, As Only Their Fans Could Tell It was released in 2011 in honor of what would have been Roy's 100th birthday. Included were over 300 letter excerpts plus dozens of essays from the famous and the not so famous, and yet I had barely scratched the surface of the material that I have. Hence, a second book was inevitable.
The plan was to release Volume II in 2012, to honor what would have been Dale's 100th birthday, but alas, the best laid plans do often go awry. In truth, after spending 8 years on the first book, I don't know what possessed me to think that I could do the second one in only a year. It was writer's folly, I presume. So, The Touch of Roy and Dale, Volume II: Personally Told Stories of Lives Changed by Roy Rogers, The King of the Cowboys, and Dale Evans, The Queen of the West, CONTINUE has just been released... in 2014, a mere two years after intended.
Between the first book and the second, I continued to meet more and more people who wanted to share their own Roy and Dale stories. Such is the case with a gentleman named David Haney-Isadora. David is not in the second book as planned, the result of an inadvertent failure that belongs entirely to me. But I will share his brief and sweet story here. His recollections embody the essence of why Roy and Dale were, and still are, heroes to so many.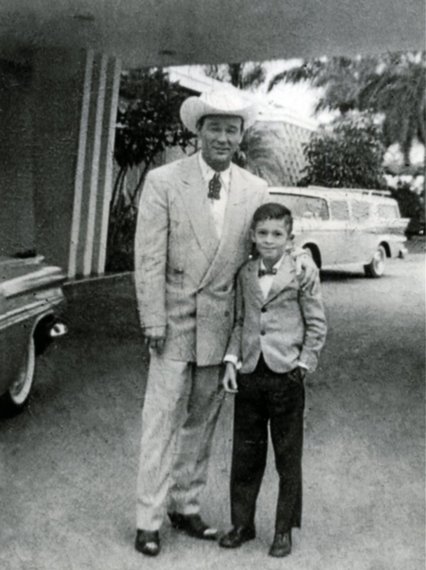 In the photo, Roy Rogers and I are standing in front of the WTVT Channel 13 TV station. He invited me to come there and be on The Mary Ellen TV Show, which was a TV show for children, and Roy Rogers was the guest. The reason Roy Rogers invited me was because he had met me many times in the St. Petersburg Crippled Children's Hospital (which is now called All Children's Hospital).
I had to go to that hospital many summers when I was growing up to have surgery to repair a cleft palate. And for my good fortune, my surgeries always happened to be at the time that Roy Rogers, Dale Evans, and Pat Brady would come to visit the children. I remember one particular surgery, when I was 8 years old. My mother lived about 50 miles from the hospital, and on the way to my surgery, her car broke down. But the hospital could not wait for her, so they went ahead with my surgery before my mother arrived. I would be alone.
I remember waking up in the recovery room, with Dale Evans holding my hand, and I saw Roy Rogers sitting in a chair with a newspaper in his lap. I thought Dale looked like an angel. I still remember thinking that she was the most beautiful person I had ever seen. She told me my mother would be here soon, and that she and Roy would stay with me until my mother arrived. And that's what they did. They would not let me be alone. They were good, honest, caring people.
I will never forget that moment.
David Haney-Isadora
Florida
David's story is a testament to two people who had fame and riches, but who lived as if their greatest success was simply "life". They chose to share of themselves with friends, family and complete strangers any way they could. If there is anything I've learned about Roy Rogers and Dale Evans, it's that their celebrity was not their crowning achievement. It was their humanity. They adopted children of varied backgrounds and circumstances, blending those young lives with Dale's son, and Roy's son and two daughters, from previous marriages. They understood suffering, losing three of their children far too early in life, and yet their commitment to others never faltered. And they never wallowed in their sorrow. They turned that sorrow into ways to help others.
A perfect example of turning tragedy into inspiration is Dale's incredible 1953 book, Angel Unaware, the story of Roy's and Dale's only biological child. Their daughter, Robin Elizabeth, was born with Down Syndrome. Written from Robin's perspective as she looks down from Heaven, the book is an honest, open-heart sharing of the mere two years Roy and Dale had with their beautiful baby girl. The bestselling book profoundly impacted the lives of anyone who read it, especially those lives of other parents with developmentally-challenged children. Dale's book created an acceptance of those with disabilities that had not before existed, and it is still in print today. More than sixty years after its first release, the book still inspires.
Roy and Dale adopted children from varied cultures, and devoted themselves to humanitarian ventures, including their own charity, The Happy Trails Children's Foundation. Roy Rogers and Dale Evans were pioneers in so many ways, sharing their faith, love, and passion for life with any and all. I'm honored that a donation from the sale of each of my Roy and Dale books benefits the children of the charity that Roy and Dale began so long ago.
I never had the joy of meeting Roy or Dale, but through their children and grandchildren, and through the astonishing number of their fans who cherish them still, I've come to know them in a very special way -- through the eyes of others. It's a gift I wouldn't trade for anything in the world.
Roy's and Dale's presence lives on in many ways and in many lives. Roy's name even continues to grace modern-day eateries. I've yet to taste the fare at a Roy Rogers Restaurant, only because I've never been near one, but those namesake restaurants are still going strong on our eastern seaboard, long after Roy was around to delight the people attending each restaurant's grand opening. Still, sorrowful is the day that Roy will be remembered by younger generations only for the delicious fast food that bears his name. It's sad that today's youth don't have someone like Roy and Dale to look up to. Those of us who did have that opportunity learned a lot from Mr. and Mrs. Rogers about how to lead better lives.
The fans, by passing down the real-life heroism of Roy and Dale to younger generations whenever they can, refuse to allow the legacy of this timeless, extraordinary couple pass into oblivion. I've met so many wonderful people during this journey, made so many new friends, and it's all because Roy and Dale still bring hope and camaraderie to those they left behind.
Roy and Dale were Hollywood royalty, but they never acted like it. As they would be the first to say, "Memories really can be worth all the riches in the world." They believed that philosophy, and they lived it.
We are fortunate that hearing their music in our minds or feeling their love in our hearts is as easy as closing our eyes and experiencing the rustle of the breeze. That's because the touch of Roy and Dale is everywhere, still.
"Happy Trails to you, Roy and Dale, until we meet again..."

Popular in the Community