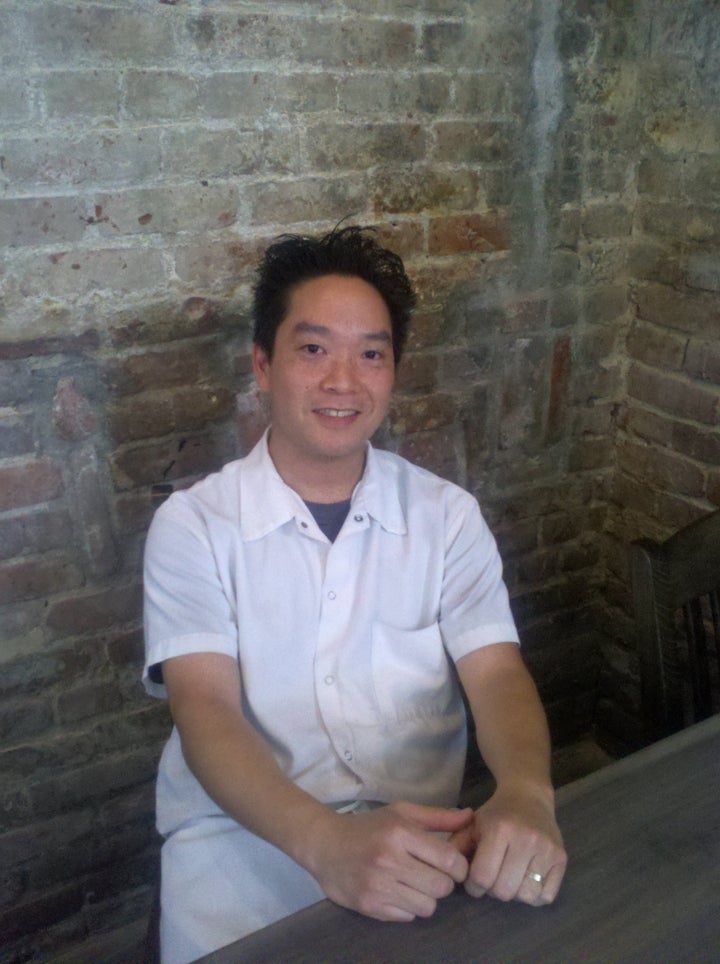 Who: Bryant Ng, chef and owner of The Spice Table in Downtown LA. He's also bringing together a group of people to help consult other chefs who want to open their own places. In the past, he's worked with chefs Nancy Silverton and Mario Batali in Los Angeles, Daniel Boloud in New York, and Roland Passot in San Francisco.
Years in LA: Born and raised in the Valley, with breaks to spend time in Paris, New York, and San Francisco.
Current Neighborhood: He lives in Little Tokyo with his wife and business parter, Kim Luu-Ng. They sleep in Burbank.
You went from biotech back to the kitchen. How did your parents react?
They're Asian… they freaked out initially. But my parents owned a Chinese American restaurant in the Valley when I was younger, and so I had been bitten by the bug of the restaurant business. It was called Wok Way, and it lasted for 6 years.
What did your parents do after it folded?
My Mom is a microbiologist and my Dad is a cosmetic chemist. Afterwards he just went back to doing cosmetic chemistry and of course my Mom did hold onto that job as a microbiologist throughout. But actually it goes a little bit further than that. My grandparents owned a Polynesian restaurant in Santa Monica when they first came over to the States. Now I can't remember the name. Back when they opened it, Polynesian food was in fashion and they had fire eaters and hula dancers. It was something like a tiki bar but then in addition to a tiki bar they had a full-blown restaurant. It sat maybe 150 seats and there was even a stage for performances, so my mom kind of grew up with that as well.
What was it like working for Nancy Silverton at Mozza?
When we opened Pizzeria Mozza there was a group of us who worked two months straight, 18-hour days, 7 days a week -- and Nancy was right there with us. She's amazingly dedicated to whatever she does and whoever she works with. She has an uncompromising commitment to quality, which I strive for every day.
What made you realize that you had to branch out on your own -- and partner up with your wife?
I always knew I wanted to have my own restaurant. Getting married was the catalyst for moving on. I love being with her. When I opened Pizzeria Mozza it was a very different situation because Kim was not actually involved with the restaurant itself and she would just be a guest sitting at the pizza bar every so often. And now she's actually, you know, standing right next to me, polishing glasses while I'm running the stations and helping to cook the food.
Any other chefs on your radar?
Can't wait for Walter Manske to open his own restaurant. I like Quinn over at Hatfield's. Joseph Centeno over at Lazy Ox. The guys over at Animal as well –- Vinny and Jon.
What do you love most about LA?
I love the fact that LA has the ethnic enclaves, and you can go there and have some really great food from different countries. In Thai Town I love Sapp Coffee Shop [Yelp]. I think we go there at least 2-3 times a month. Also there's Pa Ord [Yelp], which is also a Thai noodle place that we go to. Over in San Gabriel Valley we actually love going to Hunan Seafood [Yelp].
What do you hate most about LA?
It's a real pain in the ass to open a restaurant in Los Angeles. The rules and regulations in Los Angeles are pretty archaic. What happens is you have a lot of different departments with their own set of rules that contradict other departments. And so it becomes a bit of a maze to kind of go through all of that and try to build a restaurant. It is what it is.
What do you like to do to cut loose?
I like hiking at Griffith Park with Kim and my dog, Teddy. He's a Yorkshire Terrier –- full name's Theodore Roosevelt.
What's always on your weekend to-do list?
Sleep.
Why LA?
I think it was always LA. It's a place where I feel comfortable, it's familiar, but at the same time it's somewhere I grew up. Not only that, my wife's family is from Los Angeles as well. Or actually they have been here for a very long time, and that's why we're here.
(Interview edited for length)