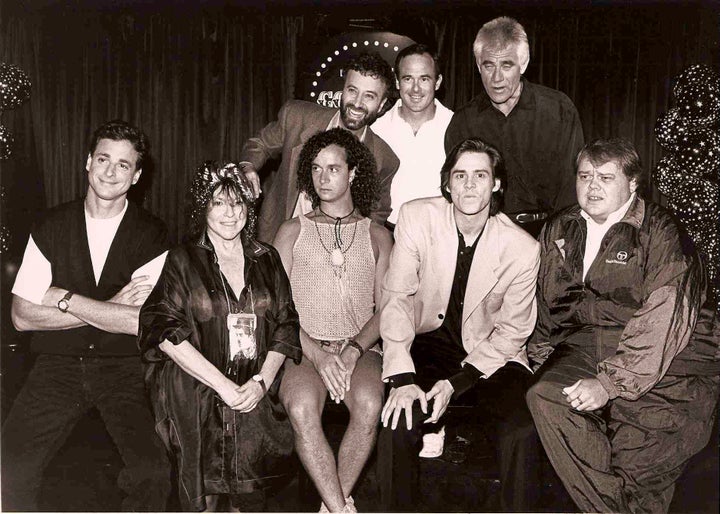 Current Gig: Actor and comedian Pauly Shore started his career as a class clown. His father was a comedian and his mother ran The Comedy Store on the Sunset Strip. Shore is first credited on 1987's television series "21 Jump Street" and became well known for his crazy voices and curly hair in the films "Encino Man," "Son-In Law," "In The Army Now" and "Bio-Dome." He just finished shooting the lead in a Country Music Television original movie called "Whiskey Business" and is recovering from his highly-rated comedy special that came out in August on Showtime, entitled "Vegas is My Oyster." The Huffington Post got on the phone with Mr. Shore to find out what it was really like growing up in in LA and why he's afraid of The Whisky A Go Go.
Neighborhood: The Sunset Strip. I live behind The Comedy Store and it's the only house on the Sunset Strip. It's Errol Flynn's old house, the actor.
You grew up a true Angeleno: Your mother and father opened LA's most famous comedy club, The Comedy Store, in the 1970s and you were exposed to some of the greats - Robin Williams, David Letterman; the list is long. Do you have strong memories of that time? Yes. My mom and dad got divorced when I was 3, so my mom took over the club and was all focused on The Comedy Store and making it into what it is today. Next year will be the 40-year anniversary. She started it in 1972.

How different did LA feel back then? The Comedy Store is on the Sunset Strip and the house we lived in was on Sunset and Doheny, and my mom would drive me home from the club at night after she had done her work. Back at that time, in the '70s, it was the punk rock scene and it was really big at the Whisky A Go Go. I remember Black Flag used to play a lot and it was always kind of scary driving by the Whisky with these punkers in front, and they'd kind of spit on your windshield as you went by.
Were you at The Comedy Story every day growing up? Yeah. Like if your mom or dad worked anywhere and you were a little kid, where would you sit? Underneath the desk. So that's kinda where I sat. And she would put the lineups together - Robin Williams and Letterman and Arsenio Hall.

Were you the cool kid at school because of it? Did your friends know that your mom ran The Comedy Store with all these amazing comics? No! We were like The Addams Family. My mom had this really old creepy limo and she used to pick us up in school in it, and one of the comedians would drive it.

Would she sit in the front or the back? She would sit in the back. It was like one of those hearse limos.

At that age were you aware of who these comedians were or they kind of just the people who were around the place where your mom worked? Exactly. I had no idea. And they had no idea! They were just kids off the street.

It's rumored that around age 4, you sat on the lap of Elvis Presley. My dad was touring with Elvis for 5 or 6 years and Lisa Marie, Elvis' daughter, is my same age and same year and everything. We are both 43, born in 1968. So when we were kids, we used to kind of be in the same play pen together backstage and stuff. And then my dad was playing with Elvis at The Hilton in Vegas and we would all kind of hang out when I was a little kid. I think there are pictures of me and my brother having Elvis memorabilia and stuff.

Do you remember anything about The King? Yeah, I remember visions of him. And that time.
What is the best joke your dad tells? He does this preacher thing that he's been doing for years. It's called the Brother Sam bit; he actually did it on "Sanford And Son." That was a great sitcom.
If not working, where might someone find you? I wouldn't tell you where! I go to the Turkish bathhouse a lot. Jews call it a schvitz. I go up Runyon Canyon a lot with my dog Butter.
Freeways or side streets? I take Fountain.

Do you have a restaurant that reminds you of LA, that feels like home? Greenblatt's Deli on Sunset. I like Sushiya at Sunset Plaza - my friend Doug, whom I went to Beverly High with, owns it. I go there a lot by myself, which is awesome. Oh, and Miceli's. That old Italian restaurant in Hollywood, on Las Palmas. I go there randomly.

You grew up in West Hollywood, so did you have any respect for Encino before filming "Encino Man"? No. Not at all! The valley was a place that wasn't cool. As a kid, me and my friends used to take the bus to the beach. We would take it through Beverly Hills on Sunset and then in Westwood by the Federal Building. All the "vals" - the kids from the valley - they would get on the bus there and vals weren't cool. They were f**kin' vals. These are the guys from the 818.

So all of us kids from Beverly and Pali just wouldn't say anything when they got on the bus. We'd go to the beach and me and my friends would have our boogie boards. We'd put baby oil and zinc all over our bodies and we would just bake. Then we'd smoke pot underneath our blankets and we would steal frozen bananas from Michael Bay. Michael Bay used to work the frozen banana stand down at Tease Beach in Santa Monica. Me and my friend Gwen used to steal from him and he used to hate us.

Then we would get back on the bus at the end of the day and once we got to the Federal Building, all the vals would pile off and then we would scream out the window, "You f**kin' vals, go home!" And they'd scream back, "F**k you, see you tomorrow!"

You went to Beverly Hills High School, as did Angelina Jolie, Nicolas Cage and Lenny Kravitz. What was the best part about growing up a teenager in LA? I had a lime green BMW with the circle taillights. Oingo Boingo played our swim gym for Halloween. Also there was this guy, Billy Zoom, who was the guitar player for the punk band X. And he used to have a house on Sierra Bonita and Sunset and he was the coolest fucking guy. He as my idol. Almost like looking at Michael Jordan, you know? I was a mod in 10th grade. You know, like mods from the movie "Quadrophenia" by The Who. And Billy Zoom used to make these shields for the mods and I was like his little helper. I would hold his resin and help him fix things and he'd be like hand me this, hand me that. I was really obsessed with him and I used to stare at him.
Having parents in show business and being at The Comedy Store, did this always feel like what you wanted to do? I think for people who are successful in the business, it's not really about your parents, it's about you. I have brothers and sisters who aren't in the business. Comedy wasn't something I chose - it chose me. I was just inherently funny when I was a kid. And it was almost like I was destined to be a comedian. I could have been not funny. I could have grown up at The Comedy Store and been not funny. My brothers aren't funny.
Do they think they are? Probably.
Was there ever a time as a kid where you realized you were funny? When I was 11 or 12 years old, I went downstairs around 3am and my mom was in there partying with Richard Pryor, Robin Williams, and all these comedians. I went in there and told her to shut up because I had school in the morning and everyone started laughing. And that was when she was like, "He's funnier than all of you!"
What is the craziest thing you've seen in in this city? Probably the LA riots in 1992.
You recently became a part of HBO's "Entourage" family with a recurring part, playing yourself. What does the show get right? What does it get wrong? It was an honor to be on that show. "Entourage" is a staple LA-based show and people say it's pretty real and I thought it was. It's an exaggeration of the truth. A lot of the characters are based off of real people and they're heightened for entertainment. I think the best comedy comes from stuff that's based in reality. What Mark Wahlberg did with that show is really smart. It was pretty much LA's version of "Sex And The City."

Why do you hate Los Angeles? It's a town that's just about me. Not me, Pauly, but it's all about the person.

Why do you love Los Angeles? The same reason.
Do people come up to you a lot in LA? No, which is cool. Because it's kind of an unwritten law in this town not to approach people that are known. The only people who scream at me are those tourists in the vans.
What do they scream? It's always "There's that handsome Jew!" No, I'm just kidding. No, it's always the driver being like "Hey, there's Pauly Shore," and they say, "Where the f**k you been?" No, I'm just kidding. They just want to take a picture.

And do you? No, I flip them the bird. [Laughs]
Support HuffPost
The Stakes Have Never Been Higher
Related
Popular in the Community