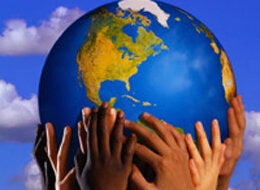 "Haiti believe in God," reads a friend's Google mail status.
Underdeveloped + Overpopulated = Recipe for disaster. Chaos. Catastrophe. Anguish. Destroyed. Shattered. I grew up with these words and they have been repeatedly used to describe what is currently occurring in Haiti. The country is ill-equipped to handle the 7.0 magnitude earthquake, the largest to hit the Caribbean region in 200 years.
Thousands are presumably dead, with thousands more missing. Three million people need help.
This is more than an earthquake, more than a pearl added to what some may view in the mind's eye as a long string of bad luck. The capital, Port-au-Prince, lies in ruins. Buildings are demolished: from the Presidential Palace to the United Nations mission headquarters in Haiti. The country is in tatters; structures were not built to withstand earthquakes, hurricanes or flooding.
Haitians are well acquainted with hardship, hurricanes and the daily hazard of living. This is my lament for Haiti. Today there is a need for sackcloth and ashes. This is more than a humanitarian emergency. We have gone from desperate to destitute, from poverty to bankruptcy. I am not only disturbed by the images coming in, I am in despair.
Friends call and ask, "Have you heard from your family?" "What can we do?" People are missing; in a country where communication is poor, this earthquake has served to compound the problem.
As a first generation Haitian-American, I grew up paying attention to what was occurring in my parents' home country. As one of the many living in the New York City Diaspora, I worry of what will become of this country where misfortune appears to be the rule of law.
I am a Haitian who has never been to Haiti. I speak the language, eat the food and immerse myself in a culture from which I am divided by land and sea. I have never had to face the prospect of hunger that many confront daily with courage, nor have I had to worry about where my head would rest at night. How many Haitians have a rock for their pillow and concrete as their sheets?
Every single day I live with the awareness that I have been blessed. I live in a relatively secure society; Haitians in Haiti live with no sense of security, only with the knowledge that life can be shaken at any time.
Growing up, dinner conversations revolved around the media's portrayal of Haiti: "Poorest country in the Western Hemisphere. War. Violence. Disorder. Disorganization." I am now not only a member of the active audience, challenging the framing of news stories, I am a gatekeeper.
To answer the above questions, no we have not heard from my family members who are located in the region that has been hardest hit. What you can do is pray and love. Donate to the Red Cross, look up Partners in Health which does long-term work in Haiti, give what you can to help a nation with so much heart and what can at times appear to be so little hope.
Calling all HuffPost superfans!
Sign up for membership to become a founding member and help shape HuffPost's next chapter