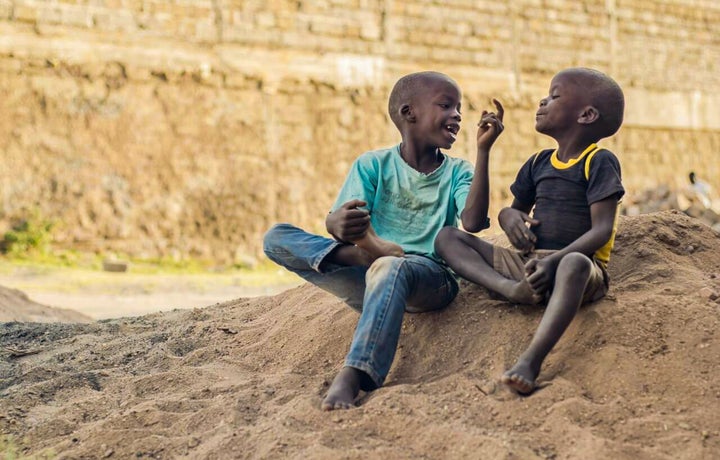 I am by no means an expert on Genocide, but I have come close enough to one to recognize it a second time.
Sometime in December of 2007, I recall standing under the famous Tie Ndege in Onyinjo, the downtown area of Migori. Tie Ndege is so ubiquitous if you don't know it, you lose all qualification as a Migori aficionado. Everything from maize to firewood was sold there; you could find a public toilet, a carwash or a motorcycle taxi home. I digress. The 2007 election result had just been announced, with then ECK chair Samuel Kivuitu claiming he did not know for sure who won the election. The gathered crowd at Tie Ndege were people I had known for some time. I had learned to play pool with them, went to primary school with some, and spent a lot of afternoons skiving school to watch a Chinese movie narrated by one DJ Afro. Cheki maneno sasa! We called it mustuni when we skived school, meaning going into the bush. Eventually, when my poverty reared its head, I would occasionally sell chewing gum and biscuits to these very people. The crowd soon grew, and yet no face came that I did not know. Then, as if on cue, the election results were repeated on some distant radio.
"They have betrayed us, it is them that voted for him…" began a guy whose face I clearly recall but whose name I have not forgotten either.
"We have lived together all this time thinking we're brothers, these traitors must go," replied the shorter of them.
See, if this heated exchange had happened after I watched Hotel Rwanda, or read about Srebrenica, perhaps I would have been mentally prepared for what was to come. Perhaps, then, I would have appreciated the tiny thread with which a nation is bound. The imagination that held together a people so diverse it almost seemed that what followed was inevitable. Unavoidable.
In the time it took you to read the preceding paragraph, the group had overcome a complex dilemma of game theory, and decided it was in their best interests to go out and loot whatever businesses the Kikuyu "them" had in Migori. It did not help that most of these businesses were strategically lined behind the Tawqa Mosque, forming a street that bustled with voices haggling on prices over booming music and the rattles of electricity generators undergoing testing for a new owner. This is where everyone bought their first television set, their Christmas belt and cattle tether. It was the cheapest street to buy anything; the myth ran that the sellers on this street would never let you walk away at any price. You just bargained to the lowest you could imagine, pretended to walk away and count to ten, like clockwork you would be called back or ran after with whatever it is you had wanted. Idyllic almost, this little town was. Idyllic but real.
The first fifteen minutes were frantic. Shock everywhere, from the police casually standing alongside their Land Cruisers, to the 12-year olds struggling to balance car batteries on their head. The confusion was palpable, the tin sheets used to build the shops on the street tore like pieces of paper in the hands of the descending crowd. So frantic was everything that in the end, one would simply make away with whatever they grabbed at, utility be damned. Then the gunshots began. And then came the running battles. By the end of the second week, the looting had graduated from the shops to homes. The owners having all fled to police stations or found a way to a distant native home they had never known before. Names found attachment; "IDP," "Post-election violence," "Teargas" and "national accord" "Kofi Annan" would later be added to the vocabulary of this period.
No sooner had the looted television sets found proper connections in Migori than the news flowed back from Nakuru and Bomet about machete gangs, and disembowelled pregnant women. Men circumcised with machetes, dragged out of matatus and chopped into pieces. You let your imagination do its job. Not for long though; a few weeks later, lorries with white flags flying would bring the people and the sobs, the stories, and the scars to show. At the bus stage, I recall teetering between fear, tears, and horror when one woman opened the bag carrying her dead husband's head. I had never seen a face in panic so full of hate.
To this day, I wonder where those children are, my age mates then, and those younger than me, whose parents were dragged outside and shot kneeling, as if in prayer to an unloving God. Or those who burned at the altar of this God, whose cries went beyond prayer in Kiambaa when even the fear of God failed to stop the machinations of Man. I wonder too if my childhood playmates ever finally found home wherever they went, or how they made their living after their homes were stripped to the bare bones. I wonder whether the ghostly homes that still dot Migori to this day, those that have neither windows, doors, nor roofs; whether they stand as an edifice to this terrible past, or simply an addendum awaiting a worse future, an ode to when evil rested. Perhaps these are not the questions one considers when running around on their bare chest, a police baton narrowly missing their ankle; or dazed and oozing blood from their whole body, tasting it as it cools on their skin, drying into a black tattoo of a nation's history. Perhaps.
And yet, today, you would have to be ignorant to irony, or blind to the sarcasm of history- or worse both, to fail to see the rhyme in Kenya's historical moment. The silences by us and them as they get brutalized on the streets by an undiscriminating leviathan. The cheers by campaign crowds proud of their t-shirt and a thousand bob. A clueless media, dazed by an elusive, non-existent objectivity, or worse a financed complicity. An imaginary middleclass inconvenienced by all the political stuff, an indifferent breed of Kenyans who best survive in a mall or an upscale coffee shop. I wonder how we miss the Déjà vu; aren't the parallels eerie? Hand it down to Kenyans to practice selective amnesia with the adeptness of a matatu pickpocket.
What then, do we do? Search me. Seldom does a day pass in which the silence does not deafen me. Of the church, of the neighbour, of the school. Of the Citizen. I have known my fellow countrymen to be a lot of things, timid is not one of them. How I have yearned for the false peace to be replaced by a just society, in which suspicion doesn't reign supreme, in which Kenyans dwell in unity, peace and liberty. Cliché: pray my beloved county. Eventually we'll all realize, there is no Kenya greater than the sum of its parts, however flawed. We can postpone and procrastinate justice, and yet it never sleeps.
Bless this our land and nation
Justice be our shield and defender
Plenty be found within our borders