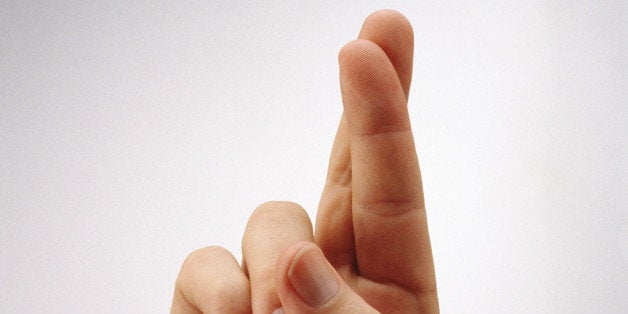 Being able to hear is a gift, a gift that many of us take for granted every single day of our lives. I started my online dating phase fresh out of a long-distance relationship with someone who was in the military, and had no plans of ever returning home (he wanted to stay in Europe). Online dating is weird, entertaining, experimental and mind-blowing all at the same time.
Eventually, I met someone online that I ended up dating for a little over two years. He was funny and a total beef head, from what I saw on his profile (at 21 years old, that was attractive). We messaged back and forth for a while and decided to meet up at a Chipotle, but not before I found out that he was deaf. My first thought was something like, there's no way I can date a deaf dude; it was just so foreign to me. But knowing my spirit of always looking for something new and willing to learn something new every day, it wasn't too far-fetched, so I thought.
We hung out a lot. I started learning American Sign Language (ASL) from him, his family and his friends. Yes, they are all deaf. I wasn't just stepping into a new world; I was thrown into the lion's den. I picked up on some things quickly -- thank goodness for the Internet and YouTube videos that helped me really learn how to move my hands, arms, body and face. I learned quickly that there are two forms of ASL: the hearing kind and the deaf kind. A deaf person will know immediately if you're deaf or hearing depending on how you speak to him/her, by sign language. Very intimidating.
I was welcomed into the community and his family, and within a couple of weeks I was given a name-sign by his youngest sister. Being given a name-sign from a deaf person is rewarding and earned, something that takes a long time to get if you're a hearing person wanting to delve into the deaf community. The deaf community is a very intimidating place for hearing people and can make you feel inferior very quickly if you are not up to speed on their beliefs, opinions, views or language. I only felt this intimidated in the beginning when he took me to public deaf events or places (e.g., The Ohio School for the Deaf). Eventually, his friends questioned whether or not I was deaf because my ASL skills reflected the "deaf" kind of sign language.
After two years, our relationship was fake to me; I wasn't interested in him as someone in a relationship should be. I tried to call it quits once and it was a failure because no matter what I said, I felt bad and he made me feel as though he needed me -- what was I supposed to do? I stayed. I enjoyed being in the deaf community, I adored his family and friends so much and I felt like I was not only leaving him, but them as well. What a guilt trip.
Eventually, I ended things because I just couldn't be in a relationship with someone whom I did not love or have any kind of connection with, aside from friendship. At the end of my 23rd year, I needed to start thinking about my future, and I knew it wasn't with him -- but it took a lot for me to woman-up and make the transition. Today, only one member of his family and friends still speaks with me, understandably so.
On the premiere evening of the new Furious 7 movie, I was in line with my boyfriend's daughter and we were finishing our order. I looked to my left and there was a deaf family trying to order. I watched from the corner of my eye. I wanted to see if I still remembered ASL nearly a year after being completely out of the deaf community. I quickly realized that the young lady behind the counter was struggling with understanding their needs, so after I completed our order, I tapped on the deaf woman's shoulder and asked, in ASL, if they needed help. She thanked me for offering and allowed me to interpret her order to the cashier. It felt so good to not only help someone, but use something that I spent a lot of time and effort learning for a good two years of my young adult life.
The deaf community can be so misunderstood by hearing people. Before spending two years with them, I really didn't understand them either, and I thought their deafness was a disability (like we are led to believe). They really are normal people with normal feelings, thoughts, emotions and smiles. Despite the relationship I was in, I gained so much from the people I was introduced to and the community that I was once welcomed into with open arms.
For more information on the Deaf community, visit WFDeaf.org
Visit the Ohio School for the Deaf's website
Special thanks to Kim for her help with this article
Popular in the Community