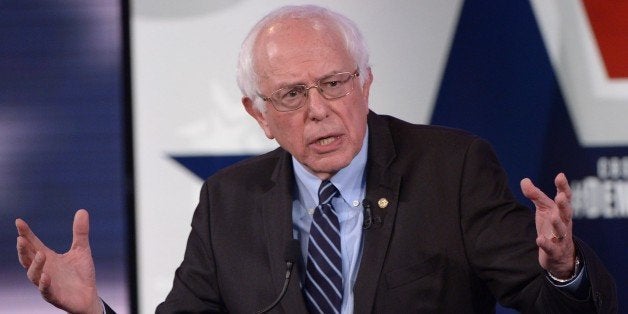 I sent the following letter on November 7 to Symone Sanders, National Press Secretary for Bernie Sanders' (no relation) presidential campaign, and Mike Briggs, Communications Director for the campaign, and I thought it might be worthwhile to share it here:
By way of introduction, my name is Pearl Korn and I have my own political blog on Huffington Post. I have been writing about Bernie for over 14 months, so I am a supporter. I am also deeply concerned that he is missing one of the most important elements in his campaign, which is important enough for him to seal the deal and win.
While he is taking on the "millionaires and billionaires" and the sell-out of our country, he offers NO solutions to how he will achieve those goals and give our country back to We the People? He offers up all of the devastating needs we have as a nation, and indeed you have come from the Black Lives Matter movement, which is just one issue. The toxic money in our politics that is controlling our government must move to the forefront of the national conversation, and none of the candidates for president are equipped and morally able to ride this horse except Bernie, the lone candidate with no Super PAC or special interest money propelling his campaign.
I have been in touch with Mike Briggs regarding these issues, but he has not responded. I know how busy you all are. However, this is the issue that demands clear articulation from Bernie and should involve a discussion with him, Cornel West and Rep. Keith Ellison (D MN-5) on moving this to the forefront of a civil rights battle, which could reverberate nationally. A few states are already moving campaign finance reform to the ballot stage in the coming election. Civil-rights battles have always been about the trampling of the poor, working-class and minorities. How little things seem to have changed. We also know how the Supreme Court's five ideologues have perverted our constitution with its rulings on Citizens United and McCutcheon and others. The First and Second Amendments are examples, but it is the Eleventh Amendment, which offers a solution no-one is talking about. That is why Bernie must also have a conversation with Constitutional Lawyer Rob Hager, who is writing a book called Strategy for Democracy. Rob offers a series of strategic solutions on campaign finance reform. Rob and I teamed up recently and as a result delivered a HuffPost entitled "Congress Can Rein in the Supreme Court Ideologues If It Uses Its Authority." Solutions exist.
There was a recent sharp criticism of Bernie about his lack of strategy to the money in our politics, Symone, written by Paul Craig Roberts. Certainly if one is paying attention to Bernie's campaign, one has to ask is he chasing windmills and pie in the sky on a quixotic journey or does he have real solutions to ridding us of this toxic, corrupting money? A strong position on this would certainly place Hillary on the defensive, as she continues to take unprecedented amounts of money from special interests, bundlers and those Super PAC's. And the GOP candidates have no intention of cutting off that supply of money either. SO Bernie needs to work on this immediately, as those early state elections are looming.
Solutions are the overarching issue that need to be detailed and presented to the American people, Symone. Can you tell me how this is being addressed by Bernie? Without addressing "da money," there can be no 12-point Bernie platform that can be delivered and become a reality.
Popular in the Community