Living in the United States without legal status is one of the hardest things I had to go through. Few can truly understand the hardship of being undocumented, especially if they were a U.S. citizen to begin with. To give you the short answer of how it was -- it sucks...it REALLY effing sucks.

I came to the states at the age of 3 from Kassel, Germany, but my parents were unable to change our legal status to permanent residents because of incompetent attorneys who represented my family and basically screwed up the case. My parents ended up becoming out-of-status. They were in their mid-30s, spoke limited English, but they had faith that their future here would be better than if they were to go back to their home country. My father worked as a janitor six days a week to support our family of four. My mother worked under the table as a cook at a restaurant, often working overtime. They worked hard to provide for the family and to keep our family together.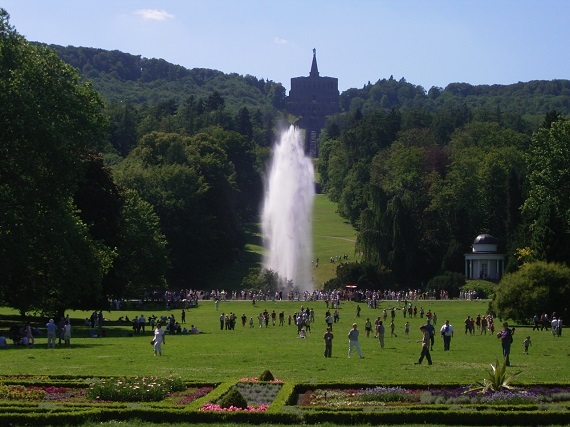 Just in case you're curious - Kassel is 2.5 hours west of Dusseldorf, and is known for Bergpark, the largest hillside park in Europe (Photo from Wikipedia)
My parents tried their best to set an example by doing the right things, just like any other American (i.e. paying taxes every year). However, their diligence did not overcome one major hurdle that haunted our family -- we were forced to live a passive and secluded life that oppressed us in many ways. The constant horror of deportation lingered in our minds, to the extent that there were moments when my mother became severely depressed and frantic. My parents avoided stepping on anyone's toes, stayed away from government aid and any kind of law enforcement, and passed up on investment opportunities, all in fear of disclosing our immigration status. There is no doubt that we paid a heavy price for being undocumented.
It wasn't clear to me that I was an "out-of-status" immigrant until it was time for me to apply for colleges and my driver's license. I was unable to get a license because I did not have the proper documents to show that I was legally here in the U.S. Therefore, I had no other choice but to rely on public transportation and/or ask my friends for rides. I never liked asking my friends for rides because I didn't want them to think that I was using them, but I was always grateful when they offered. I guess I didn't want people to think that I couldn't do things for myself.
Not having a legal status also prevented me from going to the colleges of my choice, most of them being out-of-state. The colleges required legal immigration status. But even if I was able to attend, I was unable to get financial aid, scholarships, loans, or grants. There was no way I could've afforded out of state tuition plus living costs with the financial situation I was in at the time. I eventually enrolled at a nearby community college with the help of AB540, a California Assembly Bill that allows immigrants who meet certain requirements to pay resident tuition at colleges and universities.
There were many things I didn't have, or wasn't able to obtain, as I was growing up...
1. Official U.S. government photo identification -- I carried my foreign passport everywhere I went -- including bars, clubs, restaurants, lounges, etc.
I didn't know until I was 22 or 23 years old that I was able to renew my foreign passport. Until then, I only had the expired passport -- the one I used when I first came to the states.
Tip: There are many foreigners in this country who think they have to go back to their home country to obtain their country's passport. However, that is not true. You just have to go to your country's consulate office in the state where you live.
2. Valid Visa, U.S. Passport, or Green Card -- Traveling abroad was never an option. For my parents, they couldn't attend their parent's funerals in South Korea.
To think that you cannot leave the country to visit your family or even attend their funeral was heartbreaking. Both of my parents couldn't do anything but cry and pray.

3. Work permit -- It was very hard to get a job anywhere because I wasn't authorized to work legally. Instead, I had to look for jobs where I could work "under the table" so I could support myself financially.
4. Cellphone -- I was unable to get a cellphone under my name since I did not have a valid state photo ID. I had to ask my friends and close relatives if I could have myself added to their accounts so I could get my own cellphone.
However, I was fortunate to have a social security number because it was not as difficult to obtain a number in the 1980s. With a social security number, I was able to apply for a credit card.
My parents always felt bad and were apologetic because they believed they had made a mistake in coming to the states when they could've just lived comfortably in Germany where my relatives were at that time. However, my parents believed America to be the land of opportunities, so they made sure my brother and I never gave up on becoming that "great somebody." Therefore, I worked harder than anyone else to accomplish my goals and dreams.
While going to college full time, I was extremely fortunate to land a job at an immigration law office in my early 20s. There I gained a lot of knowledge and experience of the immigration process and the different laws that affect immigrants in the U.S. I worked at immigration firms for more than 10 years and have met countless clients who were in situations similar to what I experienced. I knew exactly how these clients felt, so it was incredibly rewarding knowing that they would obtain their permanent residence through me.
In April 2013, my boyfriend of two years (and friend since high school) and I decided to tie the knot. Though he was a U.S. citizen, he understood the hardships I went through because he knew that I had been out of status for the 30 years I had been in the States. After adjusting my status and eventually going through the naturalization process in 2015, I am now proud to say that I am officially a U.S. citizen!
Since then, I've been sharing my experience and knowledge to the world via citizenshipformyspouse.com, a website focused on helping foreigners living in the U.S. adjust their status after getting married to a U.S. citizen.
As I continue to help my readers via Citizenship For My Spouse, I have a favor to ask. Please leave a comment in response to the following question:
For foreigners (U.S. Citizens/Green Card holders: feel free to comment if you know of someone that is a foreigner)
What is one thing you do (or did) to achieve a task, which you wouldn't have had to do if you were a U.S. citizen or Green Card holder? How did it feel? Be specific please.
Example -- I had to ask my friend if I could get a cell phone under her account since I couldn't get one on my own.
REAL LIFE. REAL NEWS. REAL VOICES.
Help us tell more of the stories that matter from voices that too often remain unheard.