In my last few months of high school, I, Katherine Miga, have so much going on all of the time, however, constantly going through my head are the memories I made last summer when I traveled 11, 604 km from Canada to Thailand. I had spent months looking for the perfect program, which ideally consisted of not only volunteering so that I could immerse myself into the foreign culture, but also seeing the major highlights of the country. The program with Volunteering Solutions had it all -- and was cost-friendly, making it almost impossible to pass up such an amazing opportunity.
Going to Thailand alone at 17, I was anxious, yet felt ambitious and adventurous. I arrived, not knowing what to expect, but soon felt safe and quickly made friends from all around the world. I loved the girls I traveled with, we often shared how our lives at home were so different and learned much from one another. I participated in Thailand summer program and loved every second of it.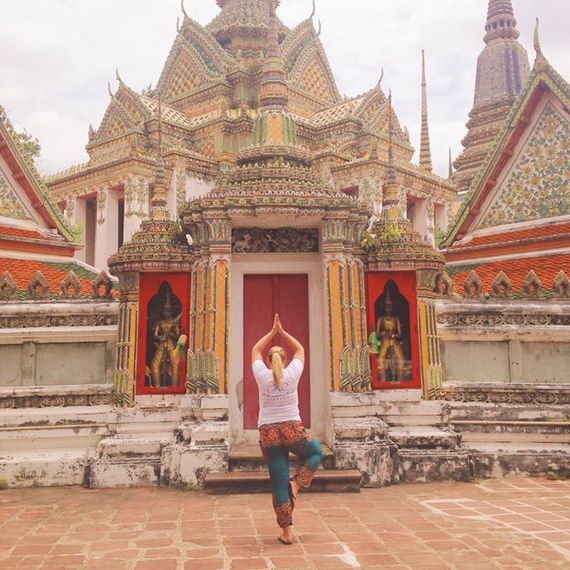 We Started in Bangkok where we were given a thorough tour of the major temples and markets. On our last day in the capital we had the privilege of volunteering at a school where we spent the day teaching the kids the names of fruit and body parts in English. In exchange they taught us songs and games in Thai. It was an amazing experience that permitted me to really overcome the language barrier and make a connection to the kids in my group.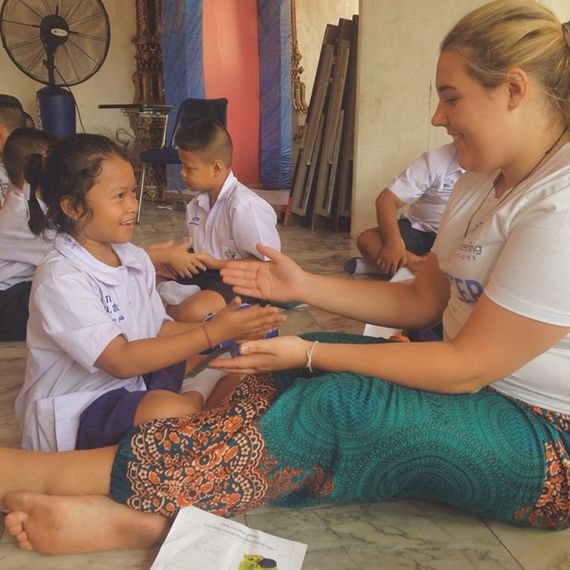 Surin, being eight hours away from Bangkok, is the extreme opposite from the big capital. It's a small city with a lot of culture and anyone who has been there can tell you that you stand out like a celebrity. I absolutely fell in love with Surin and made the best memories there. Spending four days and working in an Elephant Village, with no Wi-Fi or any connection to my home in Canada, was the most incredible experience in my life. I felt so connected to the people and the culture around me and was able to appreciate so much more in my life when I witnessed the huge differences in the Surin community to mine back at home. The happiness and serenity that I experienced when I was in the Elephant Village was beyond anything I'd ever felt before.
At the Elephant Village we were lucky enough to be able to ride the elephants, which was definitely a highlight of my trip. Not only that, but we also cut sugar cane, fed the elephants and had a free afternoon in which we were able to kayak along the river close by. Two other girls and I were so upset at the time because we fell into the water twice when we wanted to stay dry but it ended up being a really great memory and still something I laugh about.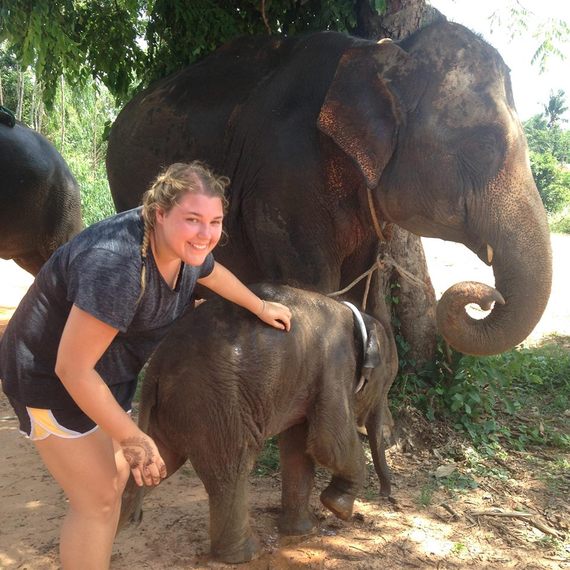 After leaving the Elephant Village, we volunteered another four days at a temple childcare, playing and teaching the sweet children there. I really enjoyed this experience, as we were again able to engage in the lives of the local people and their children. The following weekend was a free weekend and we were given the opportunity to cross the border into Cambodia for 2 nights. This was definitely a big highlight of the trip, as we made our way to Angkor Wat Temple, which is a massive temple that is so beautiful and has so much history. After visiting the main tourist attraction, we spent the rest of our nights enjoying the markets and getting massages and pedicures!
Back in Surin, the last stop on our trip before heading back to Bangkok at the National Park, Khao Yai. We went on a two-hour trek through the forest, saw so many animals, watched a waterfall, fell in love with the gorgeous view from a lookout point, and of course, took lots of pictures! It was the perfect way to end off the trip before we went back to Bangkok!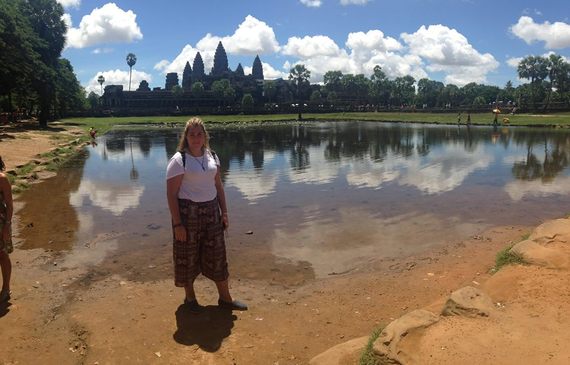 This trip was beyond extraordinary. I learned so much about the world and myself and now am inspired to see more of what it has to offer. Volunteering changed the way I see the world and, to me, was the difference between being a tourist and being a traveler. Volunteering in Thailand with Volunteering Solutions has opened my eyes to so many opportunities. I plan to explore as many of them around the world as possible.