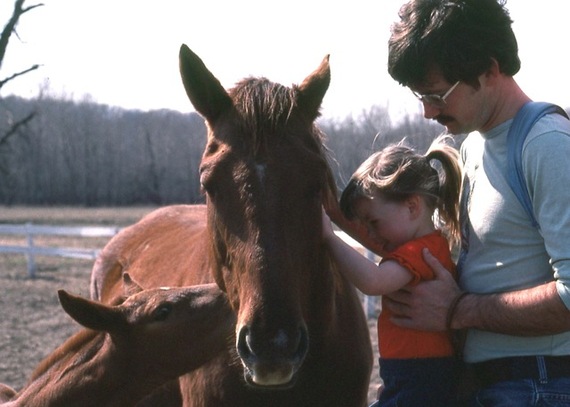 My earliest memory of feeling hopelessly sad was when I was about 9 or 10 years old. I had severe asthma and had been in the pediatric intensive care unit with pneumonia. For weeks afterward, I was on a lot of medication. That is when I first remember feeling out of step with the world. For me, that feeling of alienation is the most pervasive and debilitating aspects of depression.
During my teenage years, I suffered from what is called major depression. I was hospitalized for seven months. I didn't want to leave the house and I flatly refused to go to school. I just wanted to curl up and reread all the books from my early childhood, as if they could deliver me to an earlier, happier time in my life. Finally, my parents suggested hospitalization.
In the psychiatric hospital, I came of age. I learned that I loved listening to The Cure. I pierced my own ears several times and they got infected. I shaved the side of my head. I also learned that making art was my passion and it has been so ever since. In the hospital, I made many friends who remain close to my heart, though I have no idea how to find them now. They were the only people who stood on my side of the warped glass, looking in at the world from afar.
A descent into depression is comprised of a few stages. Sadness presages despair and endless tears, which give way to numbness. Finally, there is a state of complete emptiness, which can be a relief. To feel better, you have to climb back through all those stages: the hollowness, the numbness, the grief, and then sadness before there can be any happiness or pleasure. I never seriously thought about killing myself, but I do remember thinking I would never feel happy again, so what was the point of life?
It is darkly funny that patients with a condition marked by interminable pessimism would be so difficult to treat with medication. It took months of experimentation to find something that helped. Prozac made me crazy and agitated. Lithium made me listless and sleepy. Zoloft did nothing. Paxil worked a little and so that's what I continued to take until I was in college.
When I left the hospital and rejoined the "real" world, I felt a permanent displacement. The effort of getting through my days, turning in homework, and pretending to be a "normal" teenager was all I could muster. I just wanted to disappear.
It wasn't until I was in college that my depression lifted. I became excited about school and living on my own. I saw my future as a ladder of goals I would work diligently to reach. Sometimes I would wake up and feel that empty chasm opening up inside of me, but I would tell myself in a clipped Mary Poppins-esque voice to keep going, "spit spot."
And that seemed to be the solution for a long time. To not stop. To just keep going and throw myself into work and life. I thought I knew how to manage my depression. However, I think I may have ignored rising signs for a long time.
One day back in January of this year, I lay in my bed all morning unable to do anything but listen to my pounding heart and racing, panicked thoughts. I felt a constant feeling of impending doom. I couldn't stop thinking about certain subjects that caused me the most stress and made me feel most powerless. I was consumed with thinking about every possible catastrophe that might befall me. That's when I knew I needed help again.
This is known as generalized anxiety disorder and, at least for me, it is the other side of depression. It is closely linked to all the negative thinking that causes depression. In a way, it felt much worse and more terrifying than depression because it was frenetic and exhausting and brutal. Depression might call to you with a steady stream of voices saying, "you are worthless" and "nobody cares." Anxiety, on the other hand, shouts at you: "You're an idiot," and "What the hell are you thinking?"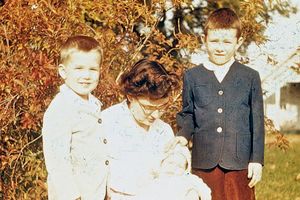 Depression runs in my family. Partly due to the grief of losing a child, my grandmother suffered from depression in the decades before adequate treatment was available. She was hospitalized herself at one point. My father, too, has been dogged by depression and anxiety. Like me, they have both found relief from modern antidepressants.
When I wrote the first version of this piece, my father wrote that Grandma once told him "I'm sorry I may have passed this on to Heather." He responded to her that "Well, we passed life on to her as well."
Andrew Solomon says in The Noonday Demon, "Depression is the flaw in love. To be creatures who love, we must be creatures who can despair at what we have, and depression is the mechanism of that despair."
The more fiercely I love, the brighter and more beautiful the world can appear. However, each time I feel that joy and connectedness, the more I fear and mourn its loss, even while I still have it. It is in that empty pause that depression is born.
Related