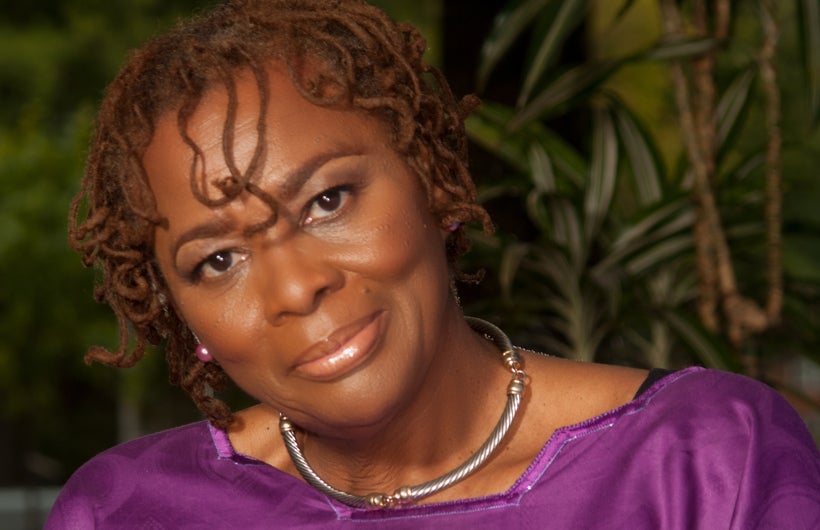 "People talk a lot about legacy. For me, that means making sure that my life has purpose. It was important for me because a lot of patients I help, look like me. I wanted to help to create a different world for other patients of color in the future, particularly those that have been historically underserved." - Thelma Jones
Diagnosed in 2007, with a rare form of breast cancer, Thelma Jones underwent treatment and is undergoing hormonal therapy. Since 2008 and 2011, Jones has served as a trained volunteer with the American Cancer Society and the American Cancer Society Cancer Action Network. As an advocate, she has given hope to thousands of people. As the recently retired D.C. State Lead Ambassador for ACS CAN, Jones has lobbied both national and local public officials for funding of tobacco control and cancer research. In April 2010, she established the Thelma D. Jones Breast Cancer Support Group, the signature program of the Thelma D. Jones Breast Cancer Fund in Southwest D.C..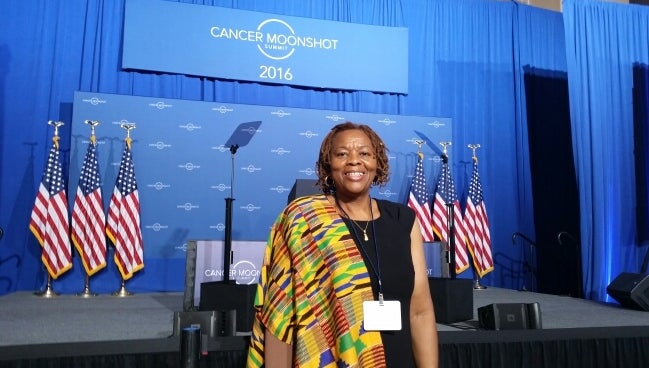 TJ: I am a community activist, philanthropist, breast cancer survivor, advocate and founder and board chair of the Thelma D. Jones Breast Cancer Fund. I am also a parent, grandparent, and a doting pet owner.
MK: How old were you when you were diagnosed with breast cancer and what stage were you?
TJ: I was 55 years old when I was diagnosed with Stage III breast cancer as a HER2+, with a rare form of breast cancer with an unknown primary. According to my then surgical oncologist, it was rare because 95% of the women in the U.S. are diagnosed with a known origin of their cancer; 5% are diagnosed with an unknown primary or origin. According to my then surgical oncologist, I was one of the 5% with an unknown primary.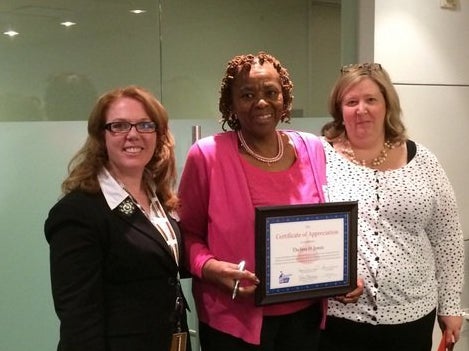 MK: What was your mindset at diagnosis?
TJ: I was quite confused and afraid, especially when my doctor advised me that the cancer was rare and that we should schedule surgery soon. Uncomfortable with my oncologist's diagnosis as it related to his suggested treatment, I asked for and sought a second opinion. The second opinion treatment (shrink the large matted tumors with neoadjuvant chemotherapy so that we could see the lay of the land) was totally different from the first one (schedule surgery soon). With two totally different treatment options, I was even more confused and had become dissatisfied and slightly distrustful of the recommended treatments since they varied greatly, so I sought a third opinion. Though still confused and afraid, my level of confidence changed as the third opinion was similar to the second one and both were women surgeons, including one specializing in my particular diagnosis. There was some relief in knowing that I had medical coverage that allowed flexibility to really explore the best treatment option. I completed several rounds of chemotherapy, had a lumpectomy and 34 lymph nodes removed, 15 of which were cancerous or didn't clear the margins. This was followed by six weeks of radiation. I've been on a hormonal therapy since 2008.
MK: How did your breast cancer diagnosis change your life?
TJ: It gave me a sense of purpose and encouraged me to turn my challenge into an opportunity to help others.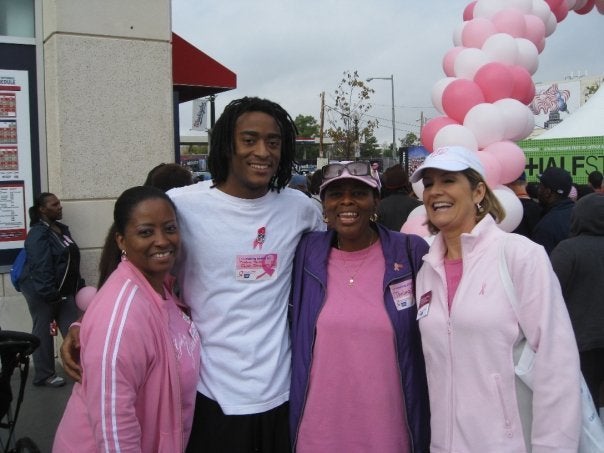 MK: What do you wish you'd know before being diagnosed with breast cancer?
TJ: I wish that I knew the importance of having a regular mammogram, as early detection offers better treatment options and a better quality of life. I ignored the warning signs of the lump underneath my right arm when I discovered it in September 2006 and didn't seek medical attention until March 2007. By then, I was experiencing a late stage of breast cancer that forever changed my life.
MK: How has this experience awakened you to yourself and your purpose?
TJ: I know now that having regular checkups and mammograms are key to a healthy lifestyle.
MK: Tell me about your advocacy work.
TJ: As a veteran Ambassador for the American Cancer Society Cancer Action Network, I lobby Congress for funding for NIH and to help ensure that cancer remains a national priority. My advocacy work also includes lobbying the D.C. City Council on increasing the tobacco tax and smoking cessation programs, among other things. In addition, my advocacy work includes writing letters to the editors and testifying or doing speaking engagements on a local, national and global level, including places such as the U.S. Congress, The White House, the World Bank Group and the DC City Council, among others. I give speeches on awareness and every stage of the cancer continuum. As founder and board chair of the Thelma D. Jones Breast Cancer Fund, I facilitate a monthly breast cancer support group which provides a safe space for breast cancer survivors and caretakers – men and women – to share their stories, find hope and encouragement, resources, and give voices to those who are struggling with their diagnosis.
MK: If there was one thing you could change about breast cancer and how people view it, what would that be?
TJ: It would be leveling the playing field so that African American women received the same quality of care as White women, so that our mortality rates become lower.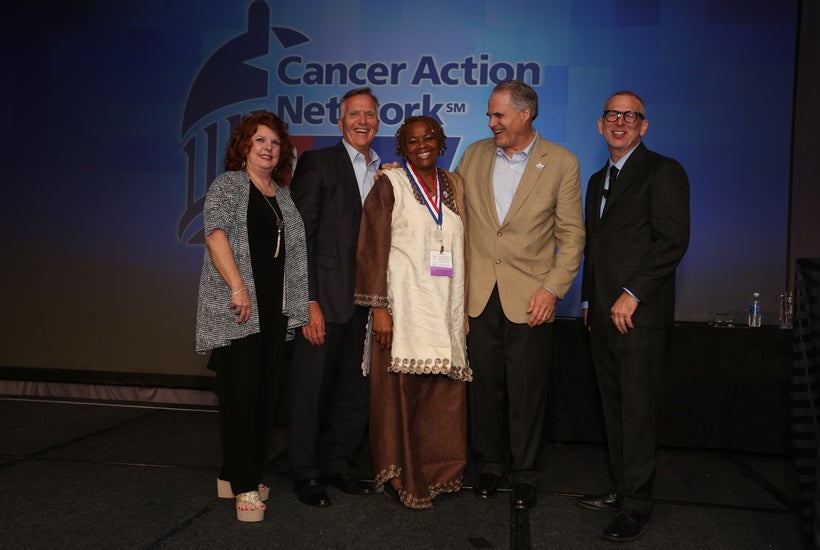 MK: Why is it so important to you to support other women with breast cancer?
TJ: Under normal circumstances, women go through a lot; and breast cancer compounds the situation of our daily lives. Supporting other women is paying forward and cementing part of my legacy in giving my time in helping others to either live a better life or reach their full potential.
MK: What would you tell a newly diagnosed young woman?
TJ: That breast cancer is a complex disease which can be frightening and confusing, and it's normal to experience these emotions, and having a good support system is important. Be an active participant in your treatment, follow your doctor's instructions and ask questions. Also, I would tell her that there have been many advances in breast cancer and women are now living much longer.
MK: Has cancer changed how you see adversity?
TJ: Yes, because there is so much inequality in the treatment of the disease and it shouldn't have to be that you live or die depending on where you live. I'm also still learning not to sweat the small things and to live each day to the fullest.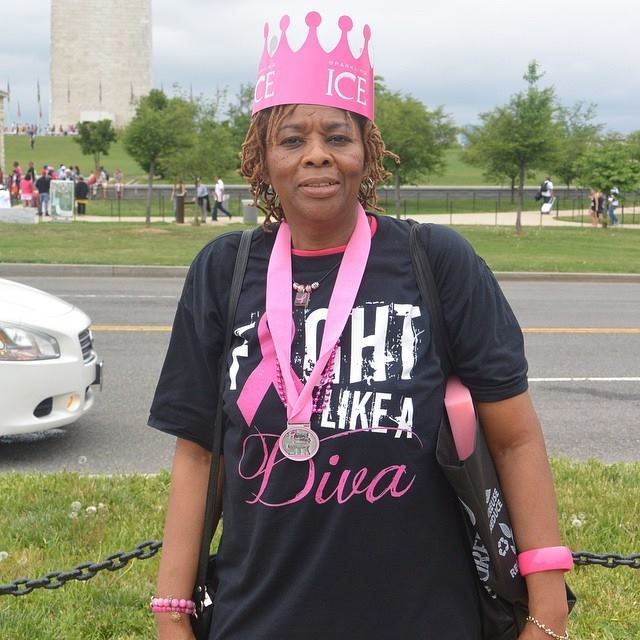 MK: What one word defines you?
TJ: "Altruistic", as this is a major part of my family legacy and who I am. My parents were extremely altruistic as sharecropper farmers in rural Snow Hill, NC. They set an example for my seven siblings and I that will forever remain with me.
Recognized for her outstanding civic efforts and breast cancer advocacy, Jones has been featured in print, radio, TV, social media and websites. Jones is the recipient of a 2017 DC City Council Resolution on the Occasion of her 65th Birthday and the 5th Anniversary of the Founding of the Thelma D. Jones Breast Cancer Fund. She received the 2016 State Lead Ambassador of the Year Award for the American Cancer Society Cancer Action Network, the 2010 Mayor's Award for Community Service in the Category of Lifetime Achievement and the White House Champion of Change Award.
Calling all HuffPost superfans!
Sign up for membership to become a founding member and help shape HuffPost's next chapter
This post was published on the now-closed HuffPost Contributor platform. Contributors control their own work and posted freely to our site. If you need to flag this entry as abusive,
send us an email
.