The silver dollar features President Franklin D. Roosevelt and scientist Dr. Jonas Salk, who played key roles in the March of Dimes work to conquer polio, on the coin's head or obverse side. The coin's reverse is the image of a baby being cuddled in the hand of its parent, symbolic of the March of Dimes mission today to help each and every one of the 4 million babies born in the United States each year get a healthy start in life.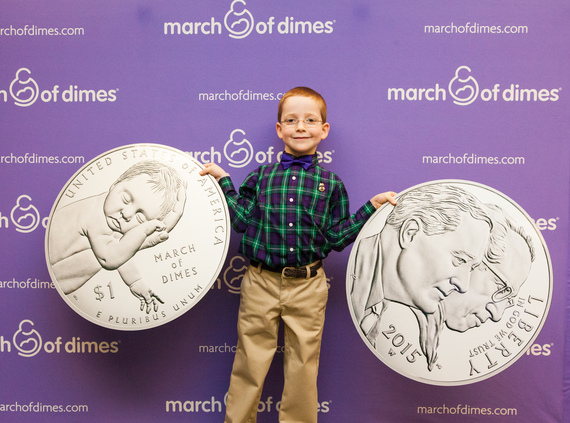 We used to be able to hold my son, Aidan, in one hand like it shows on the coin, he was so tiny.
Aidan was born 12 weeks too soon. He spent 49 days in a neonatal intensive care unit and I worried about him every day. Leaving the hospital without my baby was the hardest thing I've ever had to do and I'll never forget that empty feeling. He was so small, my husband's wedding ring fit around his wrist.
The March of Dimes has been working to prevent preterm births, like Aidan's. Unfortunately, Aidan's experience is not that unusual. Like Aidan, about 400,000 babies are born too soon in the United States each year. Preterm birth (birth before 37 weeks of pregnancy), is the leading cause of death in babies.
I know I was one of the lucky ones. It took nearly two months of care in a hospital newborn intensive care unit, but thanks to the work of the March of Dimes, I was able to bring my baby home.
Today, Aidan is a boisterous, happy, budding coin collector and the March of Dimes Silver Dollar is among his prized possessions.
We were there when the United States Mint held the ceremonial first strike of the March of Dimes Commemorative Coin at West Point. Aidan met U.S. Treasurer Rosie Rios, who not only signed a dollar for him (her signature is on all US bills), but she became a close friend who recently helped Aidan with his school science fair project on how coins are made.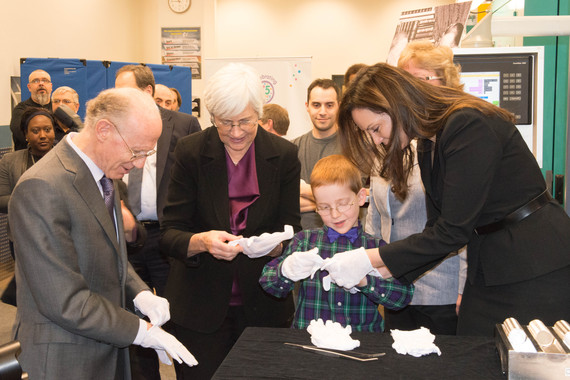 Our family has a long history with the March of Dimes. While Aidan and I are the face of the prematurity side of the mission, my father was a "polio pioneer" -- one of the first children to receive the Salk polio vaccine. My husband's uncle had polio as a child, and our families collected and rolled dimes to support the cause. We want to see prematurity conquered, just as polio was.
Sales of the Commemorative Coin support the March of Dimes work. It helps support researchers who are working to discover precisely what causes early labor, and how it can be prevented. It pays for educational programs that help women have full term pregnancies and healthy babies.
We hope that every family in America buys at least one of those coins. Think about that impact and how together we can conquer preterm birth.
Calling all HuffPost superfans!
Sign up for membership to become a founding member and help shape HuffPost's next chapter