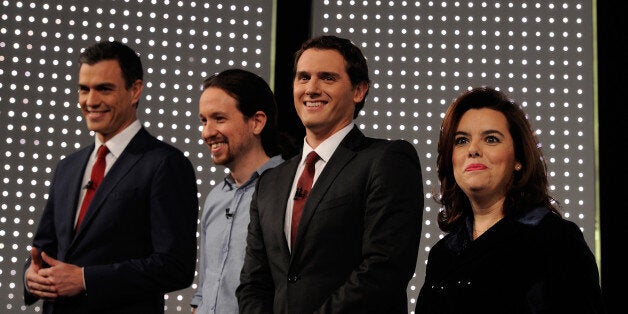 There's no question about it: this electoral campaign is exciting. They all are, really, but never before have we seen four parties compete to win and, beyond that, play a relevant role after Election Day. The collapse of bipartisanship, the birth of the unknown in Spain, the rampant fragmentation in parliament, and the need to reach an accord just to go to the bathroom, have all plagued the country and will test our democratic maturity.
But I admit that I spend some days a little depressed, off in my observatory in Brussels, suffering from the syndrome of a little country oozing with interviews and debates involving the election's big four. Do the new politics result in our no longer living in a community? Can the overwhelming work that lies ahead in modernizing Spain leave us without a vision, convinced that there's no way to do it without an out-of-this-world plan?
"They should ask Alexis Tsipras if it's necessary to have clear ideas of the European Union in order to introduce real change at home.."
During this campaign, we are acting like a small country. I'm not referring here to the geographic dimensions of our country, nor to our population or GDP, although according to those metrics we are a medium-large country in the European Union (fifth in population and GDP, behind Germany, France, the United Kingdom, and Italy; and second in geographic size behind France). I'm speaking here of the "smallness" that accompanies countries that, regardless of their size, have little influence beyond their borders and forget that the best way to defend their national interest is through sound foreign strategy. Spanish policy, during these electoral moments, suffers from a pronounced navel-gazing.
I was amused by the debate organized by El País. Freshness and desire abound within Pedro, Pablo and Albert, as they're called. But it seemed to me like a tease for the voters who were permitted the luxury of comparing the candidates' recipes for Spain without a single word about the E.U. Not for sentimental reasons, clearly. Instead, because they didn't tell us how they intend to (honestly) implement everything they put forward. Haven't we learned that without a European strategy the government of each European country is worth nothing? Have we forgotten how pale Zapatero appeared in May of 2010? Or, how Rajoy, after completing four years, raised taxes and cut spending because he forgot to mention during the campaign that we have certain obligations as members of the Eurozone? They should ask Alexis Tsipras if it's necessary to have clear ideas of the European Union in order to introduce real change at home.
Is it too much to ask that the candidates -- at the time of their greatest audience -- explain to us their thinking regarding the European Commission's plan for distributing the refugees; a plan that is urgent, but that, at the moment, has not achieved more than distributing just dozens of the 160,000 refugees previously agreed upon. What do they think of the plan to suspend the Schengen Area during a period of two years, which could potentially become an indefinite suspension, and would result in an overnight loss of the great freedoms that transformed Europe into a unique region in the world?
The candidates could also stand to explain what they think of the report that the European Commission will make public this week, in which they insist that the next government should make more adjustments and broaden labor reform to reduce inequality. How would they reconcile the petitions in Brussels with the economic proposals of the different parties? Pray tell.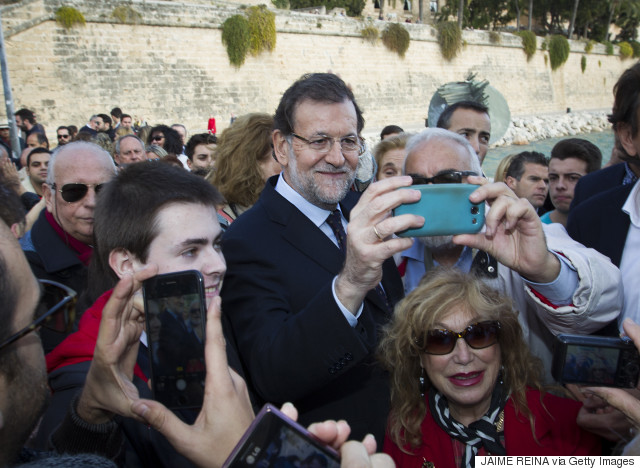 Prime Minister and Popular Party leader Mariano Rajoy poses with a supporter for a selfie after a meeting in Palma de Mallorca, on December 9, 2015.
Special mention should be given to the state of denial that pervades our little country regarding the reality of the war in Syria and our international responsibilities, and the way we have looked the other way as President François Hollande, in defense of his attacked city -- which is, in reality, also our own -- asks for our help. Solidarity doesn't end after sending some flowers. We haven't said either "yes" or "no" in response to his request for help. Instead, it has been "Not now," because we're in the throes of a campaign -- as though the election could suspend our most basic obligations.
With a deep envy, I have followed the mature and serious debate that has taken place in the United Kingdom and Germany in recent days.
British members of parliament dedicated an entire day to debating whether or not to join the bombing of ISIS in Syria. It is not an easy decision. The Labour Party split its vote, while its head of international politics, Hilary Benn, gave a formidable speech (15 minutes that are worth your attention) in favor of intervening, while his leader, a pale-looking Jeremy Corbyn, who is against the war, leered at him. Ultimately they voted 397 in favor and 227 against. An exercise of democratic maturity, especially if we consider that, under different circumstances, two years ago when David Cameron turned up at Westminster to ask for authorization to bomb Syria, his lordships told him "No."
Germany has also dedicated time to debating this issue. Last Friday German Members of Parliament voted in favor of joining the coalition that is fighting ISIS in Syria and they will deploy up to 1,200 soldiers that will pursue non-offensive operations. That is a decision that won't be easy for Germany, especially if we take into account the issues that still haunt German society regarding the use of force abroad.
Pedro, Pablo and Albert dispatched with the issue of Syria in one minute the day they discussed it. Rivera was in favor of providing military support to France; Iglesias was against; and Sanchez threw out some vagaries, neither affirmative nor negative, displaying the same uncertainty with which he has sometimes disparaged labor reform, and at other times not.
It was fortunate that Rajoy told us during his chat with Bertín Osborne that he got to go to the White House thanks to a coincidental meeting with Obama in a hotel gymnasium in South Africa. Elliptical diplomacy. But as I was watching our president eat mussels in primetime, I couldn't stop thinking about an interview that Obama gave to a columnist from the New York Times, Thomas L. Friedman, in which they talked for an hour about international politics, specifically the Middle East. One hour recorded on video in the White House. I understand that there are different formats, but will we ever have a president that can speak for an hour without a script about international politics with a reporter like Friedman? I hope so, after Election Day.
This post first appeared on HuffPost Spain. It has been translated into English and edited for clarity.
REAL LIFE. REAL NEWS. REAL VOICES.
Help us tell more of the stories that matter from voices that too often remain unheard.