 This is the story of a French girl named Fany who one day sent an email to about 50 girlfriends and three years later had 800,000 subscribers to her My Little Paris e-mail newsletter and the crème de la crème of French luxury brands bending over backwards to reach her subscribers. She achieved this without a drop of funding or marketing. My Little Paris is proof that 1) a simple idea can go a long way if you know your audience and follow your heart, and 2) Internet start-up success isn't always about the tech.
If you're interested in starting or improving your own business or nonprofit (yes, you too), whether the online or brick-and-mortar variety, there's a lot you can learn from the My Little Paris story.
Fany Péchiodat, being a jeune parisienne branchée (young Parisian in the know), had a bag of secrets that her girlfriends were constantly dipping into. They were always asking her where to go for the best/wildest/coolest/most romantic _____ in Paris. So she decided she would share what she knew by sending tips to her friends by email. A couple of days after sending out her first tip, she had dozens of women she'd never met clamoring to be added to her list, and it occurred to her she might be onto something. A short time later, she teamed up with her sister Amandine Péchiodat and artist friend Kanako Kuno and created My Little Paris.
Inspired use of an uninspiring tool
My Little Paris is much bigger now (more on that below), but the seed from which it sprouted was its email newsletter, which is still the source of about half of the company's income (advertising). However, this is not your typical ugly email newsletter jammed with links and ads, reeking of desperation, screaming for you to click on something, anything, please, go to my site, read more, buy something...
Each My Little Paris newsletter contains one tidbit of information. One. A recent newsletter revealed the location of the oldest tree in Paris and encouraged subscribers to enjoy a relaxing read under its branches. Another, sent out after 48 straight days of rain, told subscribers where to find the last umbrella repair shop in the city. Another introduced them to a company that delivers a complete, ready-to-go picnic in a basket.
And My Little Paris sends out a newsletter every single day. Sounds like a lot, right? It did to me too. For the record, I abhor e-mail newsletters. But I subscribe to My Little Paris and I love it. It's the digital equivalent of one of those perfumed cards stuck between the pages of fashion magazines in my inbox every day. You know how you can't resist taking a whiff? I will probably never have a pedicure in that rooftop garden with the killer view of the Eiffel Tower! But I took a moment to admire the artwork and project myself into the picture for a very quick mental getaway before moving on to the next -- ordinary -- email.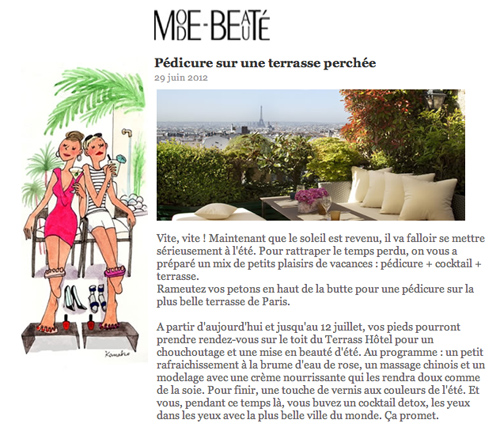 Each My Little Paris newsletter contains one "banner" ad and one newsletter a week is a "partner newsletter." That is, it's sponsored (and clearly marked as such). Partner newsletters promote a product, service, or brand and include a giveaway or some special deal for subscribers. In the case of both partner newsletters and banner ads, the sponsor's message is seamlessly incorporated into the My Little Paris universe, which makes for a soft, yet compelling sell.
My Little Paris won't send out partner newsletters unless they're promoting exactly the kind of thing their users would appreciate (they think of their sponsors as "invited guests"). And the company requires that each "partner" provide that exclusive giveaway or deal to its subscribers I mentioned. For example, the French luxury handbag brand Lancel was opening a new store in Paris and wanted to announce it to My Little Paris subscribers. For a five-day period and while supplies lasted, My Little Paris readers got a free leather care kit just for showing up. If they bought something, there was an additional treat.
A lesson in charm and chemistry
In addition to the delightful secrets shared daily and the hip, flip and chatty editorial voice of the company, there is one element that truly defines the newsletters and the entire My Little Paris universe: Kanako's art. Her winsome parisiennes lend warmth to the company's look and feel and contribute significantly to a brand image that is more BFF than BIZ.
In fact, Kanako's work is such an essential part of the My Little Paris DNA that some of the world's biggest companies let her have her way with their brand image. Can you imagine?
My Little Paris's 800,000 subscribers, the 50-60 percent open rate for e-mails (5-10 percent above the market average), and a 12 percent click rate on sponsor links (compared to the 1 percent market average) are among the factors that give the company so much leverage with their advertisers.
The company's success with users is due not only to its unique ethos and personality, but also to its serendipitous positioning: My Little Paris occupies a very sweet spot between the monolithic institutions that are traditional fashion/lifestyle magazines and the more accessible and intimate fashion/lifestyle blogs.
Girls just wanna have fun
The My Little Paris site is essentially an online women's magazine with mini-articles on beauty, health, fashion and lifestyle that mirror the content of the newsletters.
The site itself wouldn't win any design or UX awards. It's fairly chaotic and navigation is not very intuitive. But, really, the last thing you'd want would be for this site to go all corporate and conformist.
The company's various offerings are kind of all over the map, too. There are iPhone andiPad apps (that don't do much, though they're cute), and e-cards. Several niche My Littles with their own newsletters: -Kids, -Wedding, -App. A couple of other My Little cities (Marseille, Lyon). Print versions of My Little Paris and -Lyon. My Little Video, featuring a daily video curated from around the Web. My Little Radio, which uses a Deezer player for playlists with themes like "hangover" and "singing in the rain." There is even a limited edition My Little Doll; a refrigerator magnet of one of Kanako's parisiennes with magnetic clothes and accessories designed by Zoe de la Casas.
All of this is evidence of the company's youth and adventurous spirit, and proof that they take their mission to continually surprise and inspire their users seriously.
My Little Box: subscription commerce done right
Just over a year ago, My Little Paris launched its My Little Box product, which has been a huge success, doubling the company's revenues the first year. My Little Box is essentially a real-world incarnation of what the newsletter offers; for 15.50 euros a month, subscribers get a themed box of goodies in the mail (My Little Christmas Box, My Little Detox Box). You can only subscribe to My Little Box if you're in France, for now.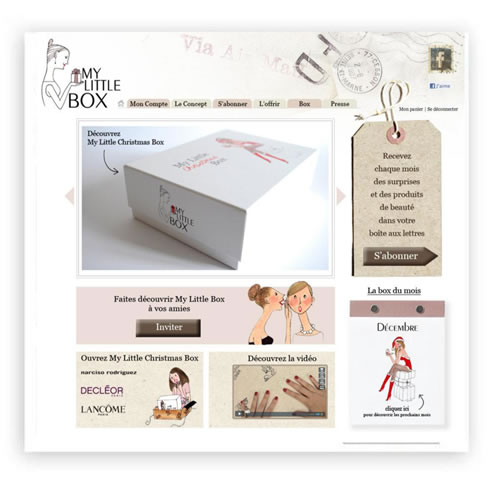 Each box contains samples and gifts provided by partners that are wrapped and ribboned and packed by employees of My Little Paris. A box may also contain a My Little Notebook, a very clever bit of co-branding. As in the newsletters, sponsor content is given a My Little Paris makeover in booklets designed by My Little Paris that feature Kanako's work: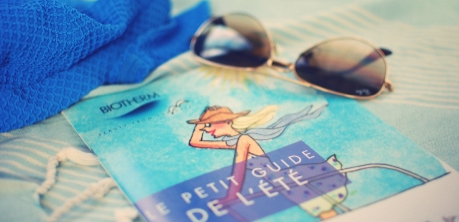 A company born out of generosity
When Fany sent her first email, it was an altruistic and generous act that laid the foundations for the company's culture. Today, the founders of My Little Paris strive for "magic" and what they call "the wow factor" in everything they do. Because of the sincerity and generosity of My Little Paris, and the magic, its users trust the company to have their best interest and happiness in mind, they're enthusiastic, and they're evangelists. Beyond the sheer numbers, this makes My Little Paris users even more attractive to brands, which hope some of that love will rub off on them.
One of the ways My Little Paris engages and gives back to its users is through creative prompts to get them to share what's important to them, ultimately making them feel like they're part of the family. For example, the project, "Mon père est trop cool" (My dad is too cool), was launched for Father's Day this year. My Little Paris created a mini-site to which users were invited to upload a vintage picture of papa and a little note about why he was so cool. The results are irresistible.
Creating and maintaining a positive culture
Nothing makes you feel as good as knowing you've helped someone, right? An unexpected side effect of the success of My Little Paris was that the company soon started changing the lives of others for the better. The fact that the work done at My Little Paris has a positive effect goes a long way towards motivating employees and maintaining a healthy and positive company culture. Take for example, the day a newsletter featured Handymade, a company owned by Marion, who makes custom pin-up style bathing suits. The day the newsletter came out, she got 1,000 orders (she was used to about 10) and some major press coverage.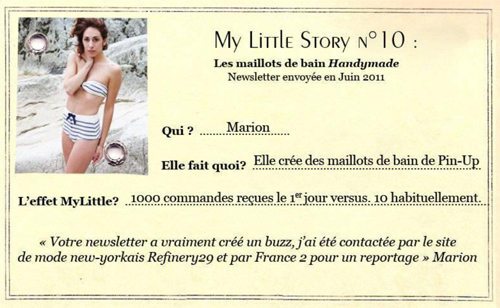 Everything about My Little Paris, from its site, to its products and features, to the atmosphere in its offices, is bursting with playfulness and enthusiasm. The company is clearly a reflection of the spirit of its founders, and Fany has gone to great lengths to maintain the freshness of the company's outlook as it has grown. She publishes a "culture book" every year for employees, one of several tricks she learned in the early days from monthly meetings with friend and mentor, Nick Swinmurn, founder of Zappos, the world's leading online shoe retailer. He also taught her a lot about customer engagement, relationships and loyalty. What she didn't learn from Nick, she got from picking the brains of leading entrepreneurs by devouring their biographies.
MyLittleParis does have an English version of its newsletter, but it only comes out once a week. They say they don't have a big enough English-speaking audience to send it out more often. I think we can change that, don't you?
Support HuffPost
The Stakes Have Never Been Higher
Related
Popular in the Community