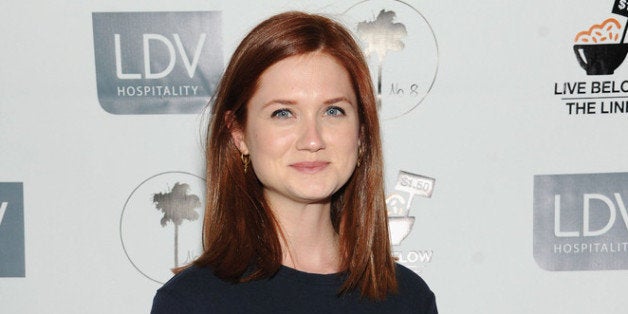 2014 marked my third year of taking the Live Below the Line challenge. I was first introduced to the charity, The Global Poverty Project, through a friend and their campaign, Live Below the Line, struck me as a really direct way of having a personal, albeit short term consideration of the choices forced on people living in extreme poverty.
The Live Below the Line (LBL) challenge is a five-day challenge in which your food and drink allowance cannot exceed $1.50 a day. This is the amount the 1.2 billion people in extreme poverty live on each day for everything; food, water, health, education, housing, transport and much more.
So my challenge begins... and after constantly telling everyone my number one tip for LBL was to plan, I, of course, woke up to day one of my challenge with no forward planning or food and a busy morning ahead. By 4 p.m. I had only consumed water and was feeling very weary. I finally reached the New York Mart on Mott Street in Chinatown where I had been advised to go for very cheap prices... and boy were they right! Most of the signs were in Chinese and some of the vegetables I didn't recognize, which of course, added some humor to the task. I needed to both shop for my five-day challenge and a LBL curry dinner I was cooking for friends that night. I left the store with a bag of rice, pok choi, onion, carrots, leeks, bananas, three bagels, pasta, tin of chopped tomatoes, flour, tin of chickpeas, a Japanese pumpkin and cooking oil.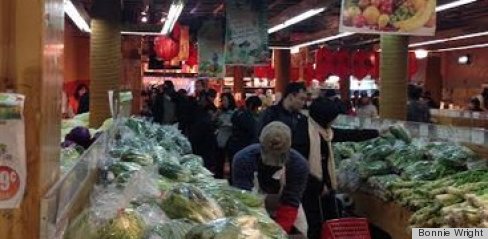 I ran home to eat my plain toasted bagel and cook my meal for my guests... who I later discovered had not been informed that it was going to be a LBL dinner, as my boyfriend had failed to mention this in his text! Leaving me with a table of weary and forlorn-looking guests who I think were after a boozy Sunday dinner. However, after I explained the challenge to them and my ambassadorial relationship with The Global Poverty Project they became interested and the table opened up into an interesting debate on poverty, food waste and even living in poverty within a rich cosmopolitan city such as New York. The dinner was a success. I even managed to master chapattis, a simple and cheap bread alternative; they contain just flour and water with onion as the filling.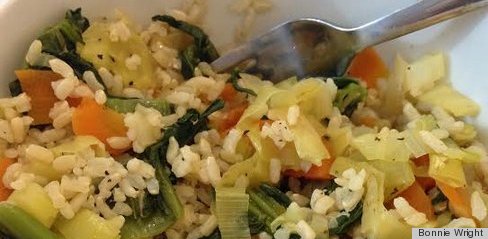 Day two: A banana for breakfast and off I headed to the Huff Post Live where myself, Hugh Evans founder of The Global Poverty Project and actress Bridget Moynahan were going to be talking about the LBL challenge. I had been feeling rather nauseous all morning and just before going live I did actually vomit. Now I am not sure if that linked to the challenge but it did really put into perspective how health issues for the people living in extreme poverty become a vicious cycle because they cannot replenish their energy through quality sustenance which then effects their ability to work and look after their family.
Day three: Another banana for breakfast, a toasted plain bagel for lunch... the challenge began to really affect my energy levels and concentration. I grumpily cooked myself carrots, onions and leeks with rice for dinner. An early night as there isn't much to do when all you are thinking about is food and dare I say it, a glass of wine. The hardest part of the challenge I find, is how alienating it is having no freedom of choice. We are so used to spontaneously meeting with friends for a drink or bite to eat but when that option is not there it gives a strange feeling of being excluded and lonely.
When I visited Oxfam (one of the partners of the LBL campaign) projects in Senegal two summers ago I was touched by how the community helped to support one another. One mother explained how today she may have food to feed her family and a little extra which she willingly shared with her neighbor knowing full well tomorrow it maybe her that required a helping hand.
Day four and five: When the end for the challenge is in sight I am very aware of how lucky I am that this is not my everyday reality, it is only five out of 365 days in a year I live below the poverty line for my food and drink.

I am grateful for this opportunity to highlight and support the 1.2 billion people living below the poverty line through raising awareness including for myself, my friends and my followers on social media. Also through my sponsor page I received many generous donations that will go towards The Global Poverty Project's work in ending global poverty. My week served as a valuable pause for reflection and gratitude that I do not have to make daily choices between adequate food, medicine or education for myself and my family.
Empathy is more effective than sympathy.
Popular in the Community