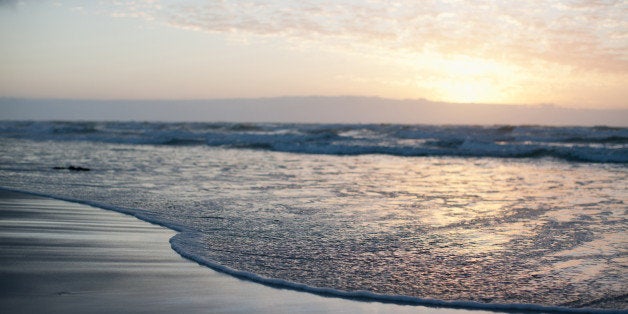 For most people, September means back to school, back to work, and back to routines. For me, it means my annual beach trip. See, for the last 13 years, my "summer" beach trip is actually in September. I return to the same area each year. here are less crowds and gorgeous weather. (So what if I have to dodge a hurricane or two every once in awhile?)
But most importantly, this is the week each year where I unplug from work demands. The work email and phone are turned off and I let myself stop for a week. No logistics, no juggling of multiple priorities, no racing out the door. I put my umbrella in the sand, grab a pile of books and sit by the ocean for hours on end.
Oh my ocean, how I've missed you.
This particular strip of sand and water always connects me to what I value most. Because the first time I was here, I watched a picture perfect September beach day turn into horror as our country was attacked. I remember frantically calling my friends, family and colleagues and letting them know I was on vacation and not at my job, in downtown DC. I anxiously tried to connect with loved ones in DC and New York to check on them and make sure they were OK. I raced to find a TV that could confirm what we heard on the radio, what was happening in New York, the Pentagon, and in a field in Pennsylvania. I cannot come back to this place without reflecting on the importance of holding loved ones dear and close and celebrating every moment we are together.
Beyond this, though, is the ocean. The steadiness and awesome power of an immense body of water. The ocean is always there, and gives me wide-open freedom to think. It seems to tell me it can take care of everything, it will keep producing waves, it's not going anywhere. It has been here before for me, and is here again. I can relax.
But the most important thing the ocean gives me is space. Space to dream, space to think, space to breathe. It allows me to slip into the delicious nothingness where possibilities and dreams surface and are given room to breathe. I stare out at the ocean and let the expanse of the water give me permission to let my heart, brain and soul expand too.
A recent article in the Huffington Post highlights these benefits for your brain and body when you're close to water. This quote specifically rang true for me:
In our always-busy, screen-saturated lives, we don't give our minds much of a chance to rest and wander freely. But when we do, the mind switches into a different mode of engagement, known as the default mode network -- the brain network associated with daydreaming, imagination, consolidation of memories, self-referential thought, insight and introspection. The default mode network is extremely important for creativity -- which is often why we find that when we turn off our brains for a moment and get in the shower, activating that default network, that we suddenly come up with the insights and ideas that eluded us while we were sitting at our computers desperately searching for the solution.
You bet. Because a long walk on the beach with my dog opens my mind to options I hadn't previously thought of. Sitting in a beach chair looking at the waves gives me pause and relaxation, and allows introspection to happen. And at the end of my beach week, I have peace, rest, optimism, and possibility. New ideas have come to me, and new ways of looking at old problems have surfaced. The "default mode network" has been dusted off, optimized and been a super producer this week.
And through it all, the waves crash, and tide comes in and out. The steady rhythm of the ocean stands in like a mantra in yoga or meditation. I have relaxed and recharged.
So thank you, my beloved beach, for always restoring my sense of self. Thank you for remaining constant, and as you continuously renew yourself, I too can continuously reinvent my future. You've borne my burdens and given me introspection in return. I love the gift of your waves, your depth, your possibilities, your horizon. But what I love most is your immense space, and the space you give me every time I return.