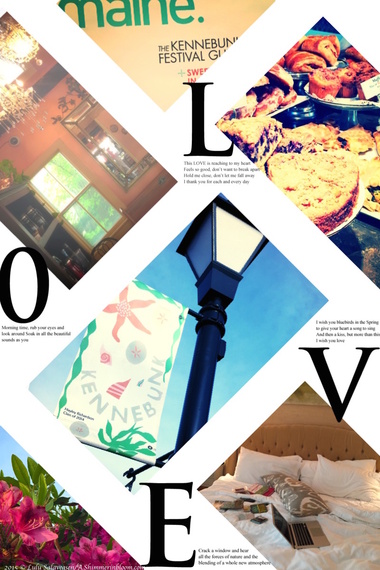 I have fallen so deeply in love. I am not even officially divorced. My life is in that numinous sweet spot of healing and new beginnings. Like I quoted in the video that's making waves, "Honor the space between No longer and Not yet." -Nancy Levin
It was the last thing I wanted when I planned a last minute trip to get to some solitude, to write, and bunker in somewhere beautiful with the option of the beach.
"I want a fudge shop, cobblestone, east coast beach town" is what I told my friend.
She suggested: "Kennebunkport, Maine." I didn't even look it up but booked it all. I trust her. Always have.
The whimsical, voyage up the coast from Boston to Maine was one of those magical surreal days. The entire day was one full throttle sweet (and a bit scary) synchronicity. It left us a bit buggy eyed and laughing. I'm starting to worry that my company, as it's shown back home in Chicago, is a bit of a precarious risk one takes.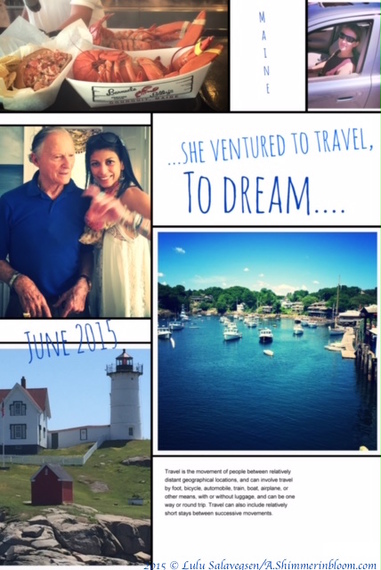 Between brunching ten feet away from the Bush Family to a random wave-in from Hwy-1 to receive a personal tour of the "Wedding Cake House" by its eighty-eight year old owner, James H. Barter. That would be plenty, but peppered in were some jaw-dropping psychic readings, bizarre manifestations that plopped in front of us like a cartoon movie.
We'd say: "I need a...(blank)" and a quaint and perfectly-placed vendor of such would appear. As would whatever exact trinket, perfume, flour-less chocolate chip peanut butter cookie we needed inside. There were small revelations at "Nubble Lighthouse" and large existential talks over sushi. More on all that later.
Today I woke to the dream state that I was alone. The air smelled of salt and faint cotton candy and birds were nearly wing-elbowing each other to sing my morning to break. A dream it was not. I indeed am in one of the most organically rustic, yet commercialized places, just enough for my sometimes snobby comforts.
An early riser I was up at five am. I meditated in my gorgeous room at The Grand Hotel. My third floor room was adorable yet chic and I felt like even the shower water sparkled. I'm telling you coastal Maine is magical.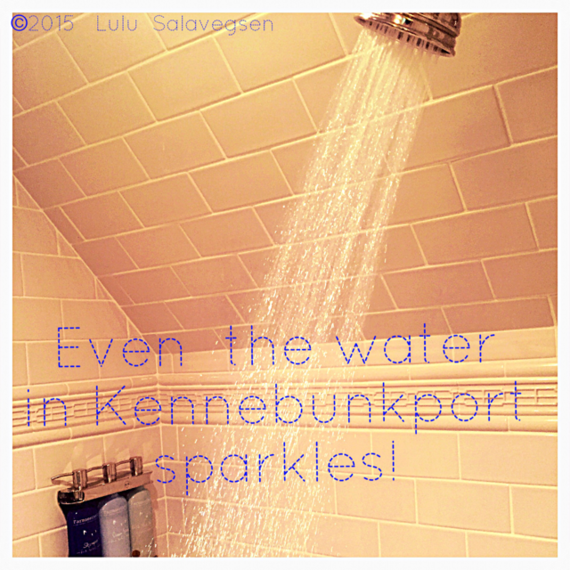 I meandered in that quiet dawn hour. Only joggers and managers spraying down their store-fronts like a European vintage silent movie witnessed my affair stretch her legs out. I squatted at small signs, and put a hand to my chest at the site of the full bloomed rhododendrons that rose as if to salute the history and the present of harmonious nature and community.
Not even a two minute walk from the hotel, I happened upon a small bakery/coffee house called: "Mornings in Paris". The Anais Nin and wistful Montparnasse-poet born in the wrong era said to herself: "Mais, bien sur!"
I promptly walked in (after taking pictures.) The woman with a thick french accent had so much perky radiance and genuine jovial spirit, I was sad I couldn't order a cup of her. I asked for anything "chocolaty" to which she suggested "Salt and Silk."- A dark mocha with sea salt caramel.
"Err.....C'était le coup de foudre."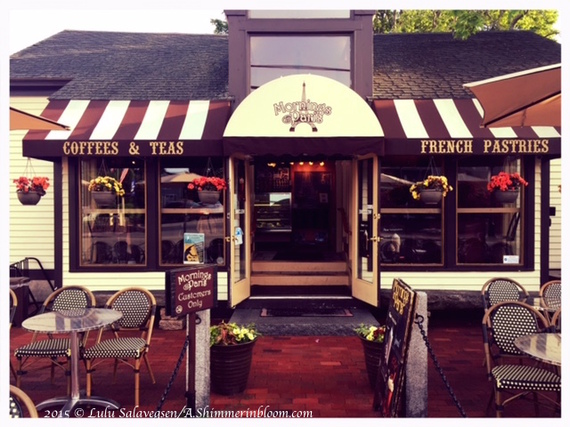 Since I am a romantic, and some strange energetic pixie dust is swooping around me like the antithesis to the Peanuts character "Pig-Pen", I shall venture back out to see where the day decides to take me. Kennebunkport is like a summer spell I don't want to snap out of.
More to come soon as I must get into the sun-soaked fresh air and experience the beach, shops and gregarious energy buzzing in harmony with nature's beauty that this town seems to vibrate on.
Stay tuned. I love Kennebunkport, Maine. I'm daydreaming of walking into a real estate agent office...
~~~~~~~~~
"Shimmer with a smile. Life is hard, bloom anyway."
The Huffington Post
Google+
Twitter
Facebook
Instagram