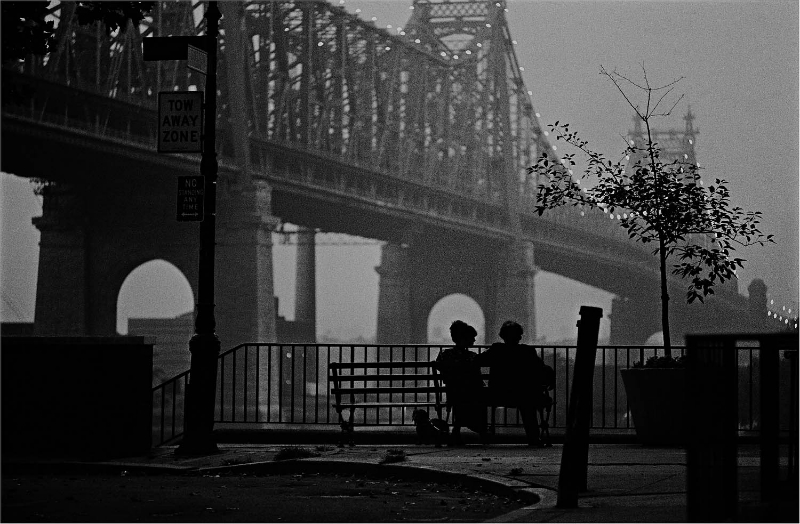 Brian Hamill Photography
As a professional photographer since 1965, I have had many "meaningful defining moments" that I was lucky enough to capture. Frozen fragments of time out of context. Looking back, my photographs of Muhammad Ali and John Lennon, especially wearing his Elvis pin on the rooftop of the Dakota and sitting writing lyrics at his kitchen table, strike me as near the top of the list of my important work. And later, I got to take some meaningful, some say iconic, still photographs on several wonderful motion pictures. One of those photographs became famous. I took it 36 years ago on the early morning of August 14, 1978.
In 1970, I did stills on my first movie in Rome. In 1976, I met my fellow Brooklyn mug, Woody Allen, and he hired me to work on Annie Hall. He also hired Gordon Willis as the DP. I was thrilled. I had been a big fan of Gordon's work. I had met him a few years earlier on the set of a film called The Parallax View. He looked like Rembrandt and his wonderful ballsy, appropriate lighting enforced that side by side comparison image. I knew Annie Hall was going to be a special movie from the get-go. As it turned out, it was a very special movie, winning a cluster of Academy Awards and I felt privileged to have worked on it. Woody was cool. He still is. He is a friend. Gordon was cool too.
Sadly, Gordon Willis went back to nature last May 18, but he leaves behind a great legacy. After he lit the very first shot on Annie Hall, he turned to us in the camera crew and said: "Is my lighting funny?" Woody and I worked on 25 more movies after that first one. We had lots of laughs working the streets together. Gordon Willis did 10 of them. Woody would be the first one to admit that he learned tremendous filmic skills from Gordon. We all did. He was a master. He was a visual partner to the written word. He altered the visual consciousness of the movie world and the memory of his huge talent should be respected and honored.
My third movie with the "dynamic duo" of Woody and Gordon was Manhattan. For my dough, it is Woody's masterpiece. It is visually astonishing. It is a love letter to New Yorkers with beautiful black and white imagery matching a blend of funny and heartbreaking words written by the other master. The city was the co-star. On August 14, 1978, the dynamic duo was talking quietly about the staging of the next shot. We were on East 58th near the end of the street. It was almost dawn. The 59th Street Bridge loomed large in the background with its existing lights defining it in a majestic, urban way. Other elements in the foreground included an unlit lamppost, a "prop" bench, a concrete potted tree, and a fence. After a long "walk and talk" scene, Diane Keaton and Woody end up sitting on the bench with a dachshund named Waffles under it. Gordon decided the shot would be done in the pretty available light. Woody agreed. I got right next to the Panavision camera. I could see we were ready to roll. I framed up my Nikon and the image I pre-visualized moved me -- I saw magic -- and clicked the shutter. The tableau I photographed spoke to me. It said: "You owe thanks to two dudes." I felt I had just captured in a photograph the visual motif of the movie.
Thanks, Gordon. Thanks, Woody.
My image became the poster for a great movie. In that sense, it is a historical document. I have been told it is a known photograph around the world. As I stated, I am lucky. After doing several movies with Gordon, and getting to know him better, I broke through his silent, stoic dignity by calling him: "the Marlon Brando of cameramen." I meant it sincerely. To this day, Marlon Brando is my favorite actor. Gordon would chuckle and mumble a reply thinking I was being my usual street-mug, wise-ass self. But I really was paying the man the best and most respectful props I could muster. Gordon was my favorite cameraman, a true maestro of composition, light, and the lens.
Quiet on the set... speed... roll camera.
Click...
For further information and a look at more of Brian Hamill's work please check out his website: brianhamill.com.