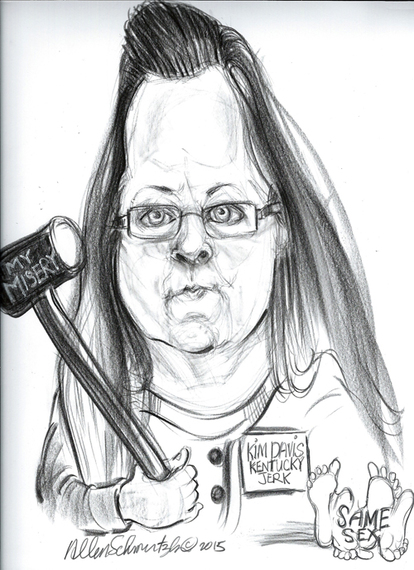 Please God, say something, anything, maybe, use your cell phone, which I know can never run low on battery power. Call our secular-elect religious leaders. Call Mike Huckabee, Scott Walker, Ted Cruz and the rest. Only you can steady these lunatics, who claim a war against Christianity is being waged. But first, call Kim Davis, she is in Kentucky, but you already know that.
Surely you want to save her from herself. She doesn't deserve to be in prison. She has mental silliness, the same one that is going around at near epidemic levels. The symptom of a delusional proclamation of your divine intervention upon their mundane life giving spiritual guidance to discriminate and break the law is easy to diagnose. These poor souls think you hate most people, and so, they feel empowered to impose their religious ideas on everyone else.
By now, most educated people realize, dear God, that you were probably a Socialist and created everything and everyone, ALL the same, in that ALL is created in your image. You created folks that created laws, secular and religious. You created folks that created languages that inspired ways to glorify you. Remind us, all languages are equal, made up of ideas that you created. Remind us, all immigrants are people too and equal members of your flock. Remind us, that all sexuality is your doing. Please, help free and send Kim Davis back to her very many beloved families because they are all equal members of your flock.
I know not when we have gone astray from your word, but God, it is time to hand off another tablet, or better yet, post it on your Facebook page with a selfie and let it go viral to the cloud, with a hoped for result to re-educate and steady those foolish and deluded enough to pervert your First Amendment. And God, end the senseless misery, bless America.