Being a teenage mom automatically carries with it the stigma of a young girl ruining her life. People expect that she isn't intelligent or capable of making the best decisions and they tend to treat her accordingly. With the popularity of television shows like Teen Mom on MTV, these days teenage moms are filed away as automatic failures.
Not so, says 19-year-old Amari Bryant, who has just entered his freshman year at Texas State University. Bryant is an academic scholar who graduated at the top of his class at Pembroke Pines Charter School in South Florida. Bryant was recruited for the Texas State University basketball team and given a full scholarship to college for his athleticism.
Bryant was also a 2012 finalist for The Miami Herald Silver Knight Awards program which recognizes outstanding students. Beyond his talents as a scholar-athlete, he was also selected as a People to People Ambassador where he traveled to China to represent the United States because of his winning personality, scholastic achievements and ability to motivate others.
When people meet Bryant they often express that he is a young man who is destined for greatness. What they don't see is the undeniable fact that Bryant was raised by a woman who many would have deemed a failure in the making.
"My mom was 14-years-old when she gave birth to me," Bryant said. "I knew my mom was a young mom when I was around 5 or 6 because of the way people reacted to her. I loved my mom so much that it didn't matter to me."
Bryant's mom, Claudienne Hibbert, succumbed to the natural curiosity about sex at an early age. At 14 she found herself pregnant and wondering how this incident would impact her life. "So many people thought she wouldn't finish school because she had me," Bryant remembers. "They thought she wasn't smart enough to go to college, but she did."
Hibbert managed to graduate with the rest of her high school class and among the best of her high school class earning admission into the University of Florida, a premiere university ranked 14th overall among all U.S. public universities according to the US News & World Report.
Bryant remained with his grandmother during Hibbert's first year of college, but joined her the next year as she continued her studies. Bryant admits at that time he was an energetic kid who was full of mischief which set a damper on Hibbert's scholastic goals. After a year of living in the college town with his mom, he moved back to South Florida and lived with his godmother while Hibbert completed her bachelors degree.
There were no sad faces as Bryant waited for his mom to graduate from college. "I have always had a big support system and I was my mom's only child so my grandmother, my aunt and so many of my mom's friends looked out for me," Bryant says.
The years following his mother's college graduation were wrought with the typical hardships that all college grads face. She and her son moved back in with her mother while she undertook the arduous task of trying to find a job and build a career as she supported her son through his educational and sports activities.
"It wasn't easy having a single mom, not having a father around, moving from place to place, seeing my mom cry when I wasn't doing well in school," Bryant recalls. "It wasn't easy seeing my mom cry when my father wasn't doing what he needed to do as a father either."
According to Bryant his mother never asked for child support, instead deciding that she would figure out how to make it on her own. After years of studying and toiling with her son by her side, Claudienne Hibbert is currently one of the most accomplished realtors in South Florida.
Bryant says watching this type of resolve from a woman that many didn't believe had a chance at life inspired his growth and helped shape his vision for his life. As his mom grew up, he says, he grew up too.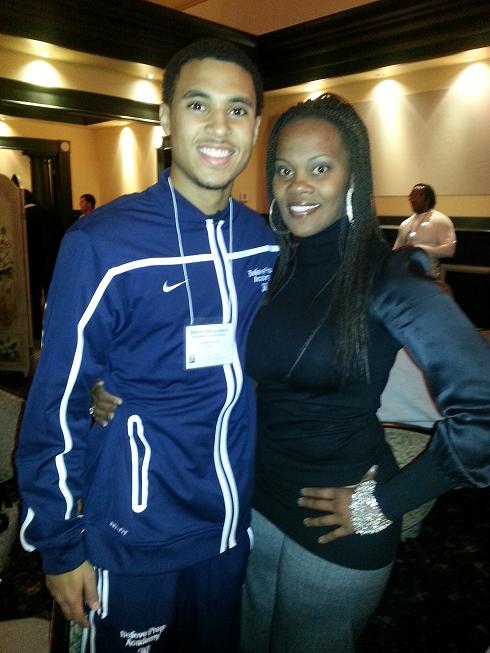 "I got to watch my mom transition," Bryant shares. "I got to watch her build her business going from a North Miami office and moving on to a nicer office in Aventura. In '08 the housing market crashed and a lot of people quit the business but she saw it as an opportunity to hang in there and make a name for herself. I watched her move us from one neighborhood to the next, with each home being better than the last. I watched her build her dream, go through different relationships and now she's 34 and she's engaged to a man she loves. That is what you call strength and vision."
Because of Hibbert's influence and tough love, Bryant now falls just short of being a perfectionist. Hibbert was her son's biggest fan and worst critic, a double edged sword that Bryant says set him up for his ultimate success. Bryant learned that he had to raise his hand, ask questions and be confident in himself while his mom demonstrated these skills in her own life. He was also admonished time and time again to never give less than his best effort.
Bryant picked up his mom's 'can do' spirit and developed a love for other motivational speakers and writers including his ultimate inspiration, former NFL player Eric Thomas, who he says he listens to every day.
From inspiring minds like Eric Thomas to the sharp eye and wit of his very own SuperMom, Bryant couldn't help developing an attitude of forward motion that is seemingly unstoppable.
"My mom is now one of the best realtors in South Florida and because she was a teen mom she could have easily sat back and felt sorry for herself and did nothing with her life," Bryant asserts. "People were saying she wouldn't make it but she wasn't that type of person."
"When people tell me they can't do something or that they don't have enough resources, I remind them that it takes failures to succeed and the more you fail the faster you succeed," Bryant continues. "My mom and her mission to provide us with a comfortable life gave me a sense of tunnel vision toward my own dreams and I am extremely grateful that God put her in my life at the very time He did."
Popular in the Community