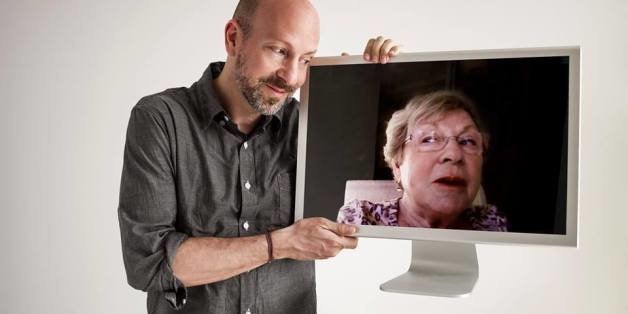 What do most mothers want for Mother's Day? A visit from their kids, according to a recent study by iTOK, a tech advisory firm. That probably wouldn't surprise documentary filmmaker Joshua Seftel of Brooklyn, who built a YouTube series around his phone conversations with his 78-year-old mom, Pat. The show, "My Mom on Movies," has been running for three years. Pat's observations about everything from "50 Shades of Grey" to Kris Jenner's mothering skills are fodder for the conversations that have made Pat a celebrity in her Sarasota, Florida snowbird community.
Over the past three years, Pat has become a YouTube personality and "My Mom on Movies" is much more than just a project about pop culture. It's about a mother-son relationship and the importance of staying connected with the people we love in a fast-paced digital world, said Seftel. The YouTube series has led to speaking engagements and appearances, like the one at the Sarasota Film Festival where Pat introduced each movie with a little of her own commentary. The duo has appeared on CBS S​unday Morning​, NPR, in ​The Times of Israel​, and ​The Boston Globe ​to talk about their unique story and the way social media can be used to reconnect. Lately, they've been invited to travel together to ​speak​ at major events around the United States.
"Just the other day, I was in the market picking out lettuce," Pat Seftel told The Huffington Post, "and some stranger came up and asked me if I was just on CBS Sunday Morning. It's strange a little, you know?"
For their Mother's Day episode, Seftel and Pat critique one of the most famous moms around, Kris Jenner.
According to the iTOK survey, only about 26 percent of the moms who were hoping for a visit actually think they'll get one. The study said that two-thirds of the mothers don't know how to video chat and one-third don't know how to open an e-card. That certainly wouldn't be Pat.
After his dad died, Joshua and his sisters got their mother an iPad, hoping she'd use it to stay in touch and stay involved. She took to the new technology quickly, and soon mother and son were video chatting. That's when Seftel, an award-winning filmmaker, got the idea of turning his mother's insightful, funny commentary into a web series. And what began as lighthearted conversations about pop culture became an intimate, edgy, and often humorous documentation of how, after four decades, a mother and son discovered a new way of connecting to one another in the wake of loss.
"When I first got her the iPad, I wasn't sure she'd like it or ever learn to use it," says Seftel, 46. "But now it's always by her side, and the fact that she can use the technology has opened up new worlds for her. It's even made her a star."
Once a technophobe, 78-year-old Pat now uses her iPad to watch Netflix, send Snapchats and emails, and surf the web. She says she can "Google just about anything! I even talk to it. There's this thing on Google where I saw a little microphone. So I take the iPad and I hold it up and talk real fast and then all of a sudden ... it's there!"
Pat says she's especially grateful that the project has brought her closer to her son. "We're partners now on this project," she says. "How many people get to do a project with their son?"
An accomplished filmmaker, Joshua Seftel directs features ("​War, Inc." ​with John Cusack, Ben Kingsley and Marisa Tomei), Indie docs (​"Taking on the Kennedys"​), and TV and radio (​"Queer Eye," "This American Life")​. His new documentary, "T​he Many Sad Fates of Mr. Toledano," ​recently premiered at the Tribeca Film Festival.
Here are some of Pat's favorite moments:
Calling all HuffPost superfans!
Sign up for membership to become a founding member and help shape HuffPost's next chapter
BEFORE YOU GO