*Scroll down for photos of cool moms and to add your own*

Enter any department store changing room, and you're bound to hear the same two phrases: "Try it on" and "I don't want to, Mom." As humans, we're hard-wired to rebel against our parents and control our children. And this species malfunction is most obvious during shopping trips. At least that was my experience. I never wanted to dress like my mom. She didn't know me or where I was coming from and so on and so forth.
And then one day, everything changed. I mean everything.
I had a wedding to attend, and I needed a fancy purse--the kind without strings or straps that you have to hold in your palm all night--the kind that can only fit a few nickels, and--if you're lucky--a tampon. The kind only moms own. Rifling through my mother Marilyn's closet, a collector of these props, I accidentally pulled out a crocheted belt from the '60s. I dug a little deeper and came across a suede fringe vest. Both were items I'd been coveting in stores--the knockoff versions, of course. And here I was in the presence of the real thing. I asked my mom when they were from. Her replies: "Oh, that's from a SoHo boutique. I used to wear that when I was an art student at NYU."
"That? I wore that to a party in the West Village in the late '60s. I remember Barry Gibb was holding court by an indoor swimming pool in the middle of the living room. Lots of pot smoke."
Wait . . . what?
My digs through the years eventually led me to the mother lode: two white photo albums stuffed with pictures that I found tucked in a cabinet in my parents' living room. When I slipped the first one from its hiding place, a brittle, faded snapshot fell out. Mom?
"Oh, that's when I went to Jamaica for the weekend with my friend."
"My rent was low; things were reasonable back then. If there was a great last-minute deal, my friend and I would just take off. We stayed at the Playboy Club in Ocho Rios. It was a total party scene."
Who is this woman, and what did she do with my mother? I wondered. And more to the point, can I borrow those bell-bottoms?
It's not that I didn't know my mother had a past; I just didn't realize there was so much of it. And that it was so good-looking. I'd been trying for years to acquire the femme fatale hairstyle she flaunted in the pictures. I collected bracelets for months to pull off the kind of arm accessory she let dangle in front of the camera effortlessly. And the men? I didn't even know they made them like that.
I realized then that I will turn into my mother. If I'm lucky.
Those pictures triggered a life-altering revelation--the kind that compels a daughter to start, and more importantly maintain, a blog. I'd spent the past few years editing fashion and lifestyle articles for the New York Daily News, where I'd insert the term "style icon" in stories about Audrey Hepburn, Grace Kelly, Angelina Jolie. Finally, I'd found my own. The blog My Mom, the Style Icon began as a tribute to Marilyn's buried fashion past. But everyone I showed it to would insist that his or her mom had some incredible style, too. They weren't exaggerating.
Submissions piled up from around the world, including Canada, Iran, Ireland, and Chile. While the countries, eras, and fashions varied, the subtext of the submissions was the same: awe. It was as if people were emerging from an apocalyptic cloud of smoke, each holding a pic¬ture of her mom, saying "It all makes sense now."
Photo submissions became homages, memorial tributes, boasts, and, in some cases, apologies to mothers. It's hard to imagine your mom as a person, even less a teenager, unless you see photo evidence. It's like meeting a different person--one you may have been friends with. All of the pictures in the following pages were submit¬ted by people who made that monumental discovery and learned a valuable lesson in the process. Style isn't just about the clothes; it's about the way they are worn. That's to say, with no regrets.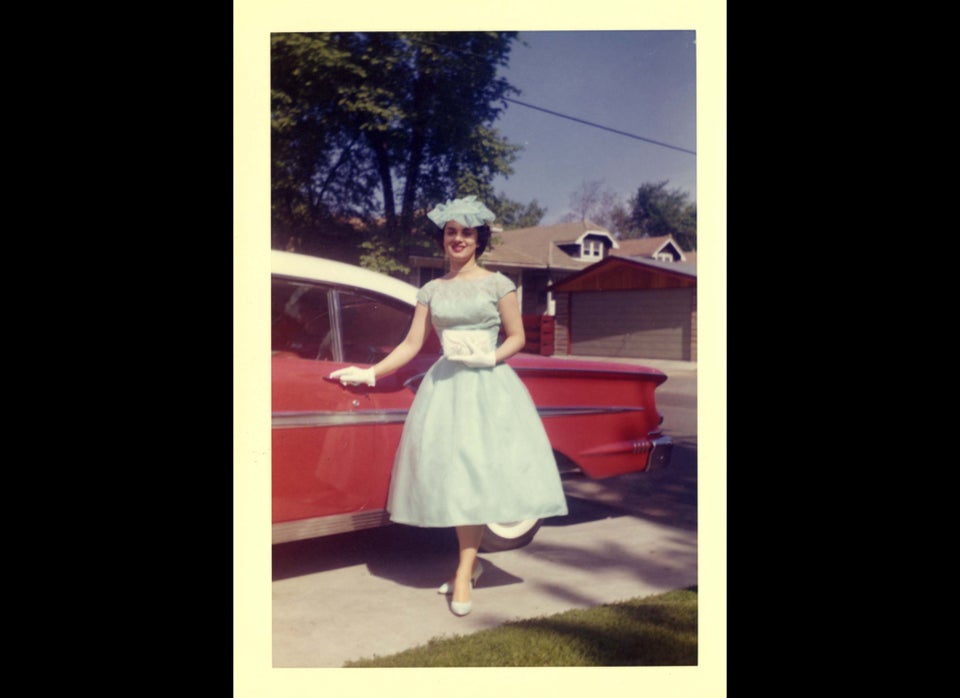 Related