Review: "The Artistic Furniture of Charles Rohlf" at the Huntington Art Collections. Now through September 6.
Charles Rohlf was a popular 19th century theater actor who, at age 44, opened his own furniture design studio. He was never as commercially successful as he would have hoped and closed it after ten years in 1907. Despite the lack of sales, the striking design of his furniture had a transformative effect on the idea of furniture as art, driven by Rohlf's emphasis on simplicity and elegance. He could not be considered part of the lean, minimal Arts and Crafts movement because he incorporated then-radical forms into his functional art and made diverse influences from around the globe appear new in his carved embellishments of bureaus, desks and other domestic accoutrements. Rohlf has only recently come to the front of the line in the scope of considering furniture as art, with some scholars positing that he was an integral influence on Charles Makintosh, Frank Lloyd Wright and Gustav Stickley.
Unlike my fellow Los Angeles art critics, I cannot claim to know everything, nor insist that my point of view should share equal footing with every exhibition's scholarship. When it comes to artistic furniture, one of my many self-involved colleagues could certainly windbag up an observation that sounds intelligent regardless of its connection to the subject. Me -- I know nothing about artistic furniture. So instead of pretending to or waiting for another critic to pretend he does, to review the exhibit, "The Artistic Furniture of Charles Rohlf", I will offer you my mom's review. Having received the press kit for the show in advance of the Huntington's exhibit for Mother's Day, I invited her to see a gallery of unique furniture, all of it older than her.
My mom likes chairs. All of her children know this because she has a collection of authentic miniature chairs arranged in a prominent display cabinet on view whenever any of us visit. My siblings and I have studied the chair collection with its five-inch Eames chairs and the officially licensed Frank Lloyd Wright chair reproductions at 1/8 scale. Don't assume that my brothers and sisters are aesthetes, though. We are studying the collection so that for her next birthday, we don't buy her a model chair she already has. After fifteen years of collectible teapot reproductions at every holiday, she started unwrapping doubles and triples of the ones on display and suddenly there were toy-sized fine art chairs on the shelves and therefore fresh gifts to buy. Not only is she a miniature chair lover, but at 79 years old, she had to sit on a total of six benches just walking from the entrance of the Huntington to the far gallery building housing the Charles Rohlf show and back (A telling quote: "This place would be so nice for my friends, but our Red Hat Ladies club could never do something with this much walking). So when it comes to sitting, she is an expert.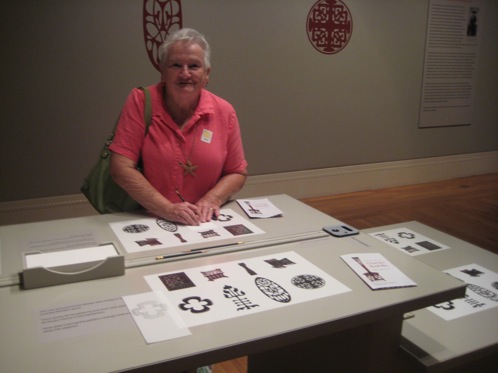 My mom at the tracing station of the Charles Rohlf exhibit
After a half hour at the show, here are some of her observations:
She was disappointed that there were no examples of the furniture in use, nor were any moving parts moved out of their closed setting. She pointed out that on the Antique Road Show, the first thing that they do when examining an old piece of furniture is to search the drawers and other moving parts. There was not a single dresser or desk with an open drawer. There were no photos of the furniture being used.
She loved the artistry and carving of Rohlf compared to the Arts and Craft aesthetic of Wright, Stickley and Makintosh (She has seen plenty of work by all three A & C masters). She understood not being allowed to sit in the irreplaceable art objects but she voiced certainty that comfort would be assured in them by the fact that Rohlf's seats appeared higher off the ground than those of the other noted masters. So if having seven kids did not confirm it, her appreciation of embellishment assured me that she is not a fan of minimalism.
A pseudo-educational section features the patterns of Rohlf as silhouettes under glass with tracing paper and pencils at the ready. Visitors are encouraged to trace Rohlf's myriad design patterns. My mother had a great time at this, noting that in her day, tracing books were bigger than coloring books.
In summary, mom disliked the stiffness in the show's presentation but was able to understand and appreciate what it was about Charles Rohlf that was exceptional and important. And she went ga-ga over the educational component.
So if you like furniture that your great grandparents did not let your grandparents play on, would love to spend the day at the bucolic wonderland that is the Huntington or are setting up an internet date with someone who claims to love woodworking, then "The Artistic Furniture of Charles Rohlf" is for you. You will see an artist whose response to the turn of the last century's most elite tastes met with the demands of form; his solution was to hand-carve and construct peace between the utilitarian and the beautiful and then sit a spell upon it.
But a parting lament from mom: "We drove all this way and the gift shop didn't even have any miniature chairs for my collection for sale, they're just not thinking."
REAL LIFE. REAL NEWS. REAL VOICES.
Help us tell more of the stories that matter from voices that too often remain unheard.