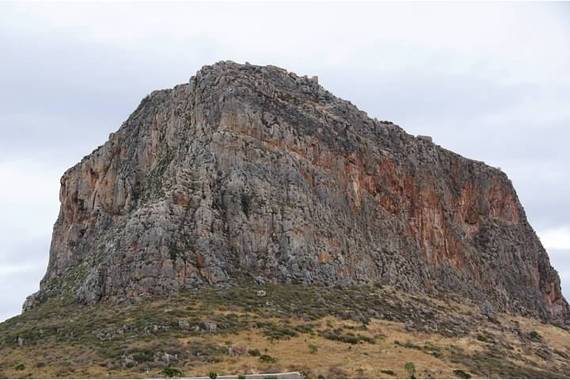 Monemvasia is a hardscrabble chunk off the eastern coast of the Peloponnese peninsula --an island stuck in time, its back to the modern world, its face to the cerulean sea. My attraction was immediate, deepening over the course of mere hours. It's a rocky piece of post-antiquity Greece, a remarkably romantic walled village, a place I'll never forget.
We've come from sophisticated Nafplio, three hours up the coast, and are headed across the Peloponnese to Olympia. Our decision to stop in Monemvasia hardly gave me pause as we progressed along our route, but now that we're here, the island has me in its hold. An earthquake in 375 AD separated the natural rock fortress from the mainland, leaving it to stand on its own. I'm not prepared for what we see. The visual impact is astonishing as we approach. Indeed, native son, Poet Yiannis Ritsos referred to Monemvasia as a "ship of stone."
The name of Greece's answer to Gibraltar derives from two Greek words, moni and emvasia, meaning "single entrance." Indeed, its tenuous connection to the mainland is a narrow, 650-foot causeway. We walk across the unremarkable asphalt link, follow the gravelly road that curves around the base of the rock and reach the car-free village's entry.
We know little about what we're about to see, but once we step through the iron gates and a vaulted stone tunnel to the undulating, cobbled streets, I'm instantly enchanted. The hamlet gently rises from the sea, nestled in the shadow of a massive stone iceberg. Absorbed by the pristine beauty of a whole town of castles, private townhomes, squares and churches, so colorful and welcoming in contrast to the dusty, craggy approach, I forget that contemporary life exists. The quaint village maze, some of it cut directly into the rock, is so unlike the whitewashed, blue-roofed islands of the Cyclades; Monemvasia is a tawny-toned blond. A warm, honey-thick blanket of well being matching the ochre of the buildings envelops me. I hold tight to my husband's arm and gush, "This island is magic. I want to stay for days--weeks even."
But alas, my plea is for naught as he shakes his head. Our itinerary allows only an afternoon.
As we wander, I feel connected to all who lived here before -- those who wore these pathway stones to a shine and eroded indentations in the stairs. I imagine not ship owners and captains of trade but young mothers with small children, widows whose husbands were lost to the sea and unassuming purveyors of grains, fruits and vegetables. Thoughts of their daily lives warm me. I belong here.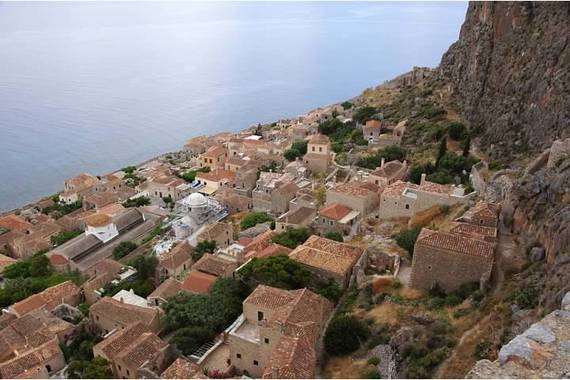 In contrast to so many fortified towns, Monemvasia has sweeping views, with no walls blocking the expanse of the seemingly endless Aegean. The imposing prominence is ever-present above us as we stroll the constricted arteries of the medieval town on the seaward side of the island, hidden from the mainland. I long to peek inside the tall, narrow townhomes and inns packed tightly one after the other that line the winding lanes, imagining cool interior stone chambers with afternoon sun filtering through gauzy curtained windows. I glimpse a balcony through swirled black latticework overflowing with a profusion of red flowers overhead and stop for a moment to imagine myself a resident, sipping a glass of crisp, Greek white wine on a painted wooden chair.
But we have much to explore and time is short, and so we soldier on.
The island is 1,000 feet wide, a kilometer long, and rises 300 feet to a rugged plateau. Residents of the ancient region of Laconia seeking refuge from barbarian invaders in the sixth century initially settled it atop the rock. Development migrated to the base of the vertical drop, leaving the lofty construction to fall into disrepair. Over the next many centuries, Monemvasia enjoyed a long reign as a powerful commercial port (it was a well-established stop for ships sailing between Venice and Constantinople) and went back and forth between Venetian and the Turkish control. During the Greek War of Independence in the early 1800s, the island was finally liberated.
Monemvasia is steadily resurging in importance - this time as a tourist destination. The medieval sandstone buildings -- mushroom, flamingo and Parmesan colored - have been lovingly restored, many of them converted into boutiques and hotels. There are numerous inviting spots for a drink or a meal and friendly proprietors smile and say hello, kalimera, as we stroll by. We don't have the luxury of succumbing to the intoxicating aromas of Mediterranean cuisine: herb-crusted grilled seafood, vegetables and lamb. We have secret spots to explore.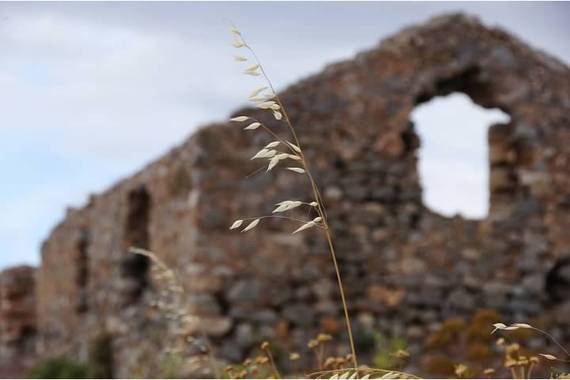 The rock of Monemvasia is daunting but we're always up for a good hike and head to its heights. A series of steep switchbacks flanked by pink and white oleander behind the town takes us by the ruins of churches and formerly grand Byzantine residences and through a crooked tunnel entrance into the walls of the abandoned fortress at the summit. We wander the overgrown grasses dotted with red poppies, and scramble over the ruins of the former "Upper Town." Among the rocks and chaparral, toppled walls and sandy cisterns of the acropolis stands the sole remaining intact church, Byzantine Agia Sophia, hanging precariously onto the cliff. We enjoy it from a distance since time is tugging us back down to the sea.
Before descending, we gaze down across the orange tiled roofs of town. Here and there, blue and white Greek flags interrupt the uneven checkerboard palette. The view from the summit is vast and awe-inspiring, yet the delights I absorb most deeply are those we discover once we descend back to the Lower Town. The bougainvillea blossoms spilling down a rocky wall. The curve of the stony banister at the entry to a church. A sparrow pecking on an aluminum pail filled with oranges. A perfect square casement framed in beige and set in a tangerine wall and on a neighboring building, a series of rectangular windows shuttered in soft pastels. I spy a shimmering slice of the sea through a narrow arch set between buildings, the sea singing in the golden cast of late afternoon.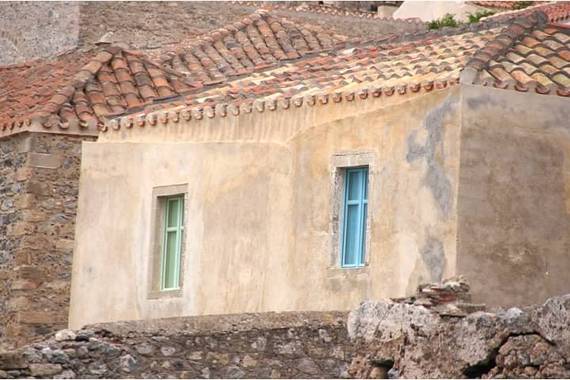 But the beauty I'll remember most is the unexpected kindness of a Monemvasian innkeeper.
The lower village labyrinth swallows us as we make our way back to its heart and we soon find ourselves lost. My usually reliable inner compass is failing me in the unpredictability of blind cobblestoned alleys and stairs that lead to locked portals. "It can't possibly be this hard to return to the center of town," I sigh in frustration. We don't have a map -- never thought we'd need one is such a small town -- so we're backtracking and recalculating, occasionally turning in circles. We must be at the edge of town because the streets are abruptly deserted. The late day shadows have lengthened and we really must be on our way. Is my lower lip quivering because we must leave this beautiful place or as a result of being hopelessly lost?
Then, as so often happens in Greece, a stranger comes to our rescue. A spry older woman in sensible black sandals and a baseball cap recognizes our plight. She beckons us across the street with a spirited wave. "The central square?" we ask, pointing in the general direction we believe it to be. She nods her head in understanding, gives us big smile, animatedly speaking Greek and heads off down an alley, suggesting we follow. She leads us under arches, up stairs, down a narrow passageway and then points us in the right direction. But before releasing us, she invites us into her property in front of which we've stopped - the Likinia Hotel.
She beams with pride as she hands us the establishment's card before whisking us into the breezy, vaulted lobby with marble floors. We're in a renovated monastery we read on a plaque, part of Monemvasia's castle turned boutique hotel. Our escort leads us through the common areas with high arched ceilings of blond stone and into an unoccupied guest room. The walls and linens are chalky white, the ceilings, window frames and handmade furnishings of dark walnut. We steal a glance into the rustic yet marble-clad bathroom, all modern conveniences at the ready. This is Greek perfection, I think, as I gaze out the window and down to the terrace below.
The proprietor manages to tell us with charming, halting English that her son studied in the US and that she loves Americans. We never learn her name because she is excitedly speaking words we do not understand but her message is clear. I am proud of my hotel and I want you to come back and stay. I so want to stay as well, for a quiet candlelit dinner with my handsome partner to the sounds of the sea under glittery skies, but the westering sun is lying low and we must be on our way. It's later than we'd hoped to depart, but the trade-off is a bond with a loquacious local. Arriving on the island, I'd conjured the personas of citizens long gone. And now, we end our visit connected to a woman in the here and now. I must return to see her. We will return to Monemvasia I vow then and there. To this rocky island. To this place of beauty. To this inn and its gregarious owner.
We leave the charming, flower-filled village with renewed conviction that Greeks are the kindest people in the world. The Greek word xenos means both "foreigner" and "guest." To be a foreigner in Greece is to be an honored guest - especially in Monemvasia.