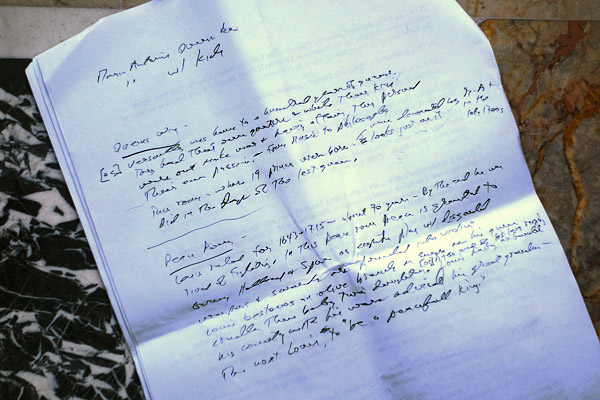 One of the most exciting creative challenges in my work is fine-tuning a television script as we film the show. While I try to leave home with a good script, I've learned that there's no way to polish it until we're right there and we know what images we have to work with. We check our gear at the desk upon arrival at a great sight like Versailles and "scout" the sight with the producer and cameraman. Then producer Simon and I sit down to tighten and flip-flop and rewrite. We need to decide what passages are "easy to cover" (in other words, can be illustrated by vivid visuals) and what items are boring to cover and therefore need to be done with me talking to the camera (an "on camera"). Here in Versailles, one room was closed and several other bits I was excited about just wouldn't "read" well for TV. And we decided to add the queen's wing and follow the war room with the peace room so we could end on a more positive message. Here's what we wrote and filmed that wasn't originally in the plan, but made our coverage of Versailles much better for the eye (and more meaningful, as well):
[on camera] Versailles was home to a hundred years of queens. They had their own quarters and, while their kings were out making war and having affairs, their wives pursued their own passions -- from philosophy to music.
This room, where 19 princes were born, was decorated by Marie-Antoinette and looks just as it did in the days of the last queen.
Louis ruled from 1643 to 1715. By the end, he was tired of fighting. Here, in the Peace Room, peace is granted to Germany, Holland, and Spain, as cupids play with discarded weapons and swords are pounded into violins. Louis bestows an olive branch on Europe as his queen cradles their baby twin daughters.
[on camera] At the end of his long reign, Louis, having exhausted France with his many wars, gave this advice to his great-grandson, the next Louis: "Be a peaceful king."