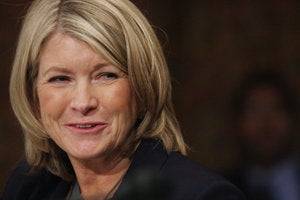 A little more than a year ago, my mother, Martha Kostyra, or Big Martha, as my family called her, passed away. She was 93 years old and lived a robust and active life almost until the end. She read The New York Times everyday and enjoyed cooking and traveling. And since she was the only one among her many friends who still had a driver's license, she shuttled them all around town to their various appointments. Soccer moms in the SUVs had nothing on Big Martha in her Volvo!
It is impossible to overstate the impact of the loss of a beloved family member. But as great as the loss was, the impact of my mother's life was even greater. Over the years, I learned so much from mom. She taught me about the importance of home and history and family and tradition. She also taught me that aging need not mean narrowing the scope of your activities and interests or a diminution of the great pleasures to be had in the everyday. In fact, the very opposite was true for her!
Throughout her long and productive life, my mother inspired me in countless ways. But her example of healthy aging is perhaps her greatest legacy. It was also the inspiration for the creation of The Martha Stewart Center for Living at Mt. Sinai Hospital in New York City.
The Center, which is dedicated to my mother, opened its doors a year ago and has already established itself as the premiere facility for the coordinated, comprehensive, out-patient care of older adults leading more robust and vital lives. It is not about aging. It is about living -- living gracefully and healthfully with energy and enthusiasm even as we grow older.
I could tell you all about our medical staff, which includes 20 geriatricians, as well as cardiologists, nephrologists, endocrinologists, nutritionists, psychiatrists, gynecologists, and pain specialists. I could also tell you that every patient is assigned to a clinical social worker to help them and their families with the many social and financial issues that accompany aging. That's not to overlook the weekly wellness lectures and yoga, tai chi and meditation classes, or the fact that every Mount Sinai medical student rotates through the Center for Living so that they graduate having had some exposure to managing the care of this special patient population.
But I think what one of our patients had to say during a recent visit is perhaps more illuminating. He was a new patient -- a newly retired internist who came to the Center to see one of our geriatricians. She took an exhaustive medical history and completed a thorough physical. At the end, the patient told our doctor that in his 40 years of practicing medicine, he had never been through, much less given such a comprehensive exam. "Now," he said, "I understand the value of geriatric medicine."
Understanding the value of geriatric medicine is now more important than ever. Our population is rapidly aging and the older members of our society are living longer. Do you know that those of us who reach our 65th birthday are nearly twice as likely as our grandparents to celebrate our 90th birthday? Yet there is currently 1 geriatrician to every 8,500 baby boomers. That is clearly not enough. At the same time, the current economic situation is throwing into even sharper relief the inadequacies of our already troubled healthcare system. We have arrived at a crossroads at which we must reimagine how we care for the older members of our society and, as important, how we support those who care for them.
My siblings and I were fortunate that our mother remained in good health almost until she died. Not everyone is so lucky. As our society ages, many of us will find ourselves assuming caregiving responsibilities for older friends and family members -- or needing a caregiver ourselves. In fact, more than 75 percent of Americans receiving long-term care rely solely on family and friends to provide assistance. The majority of these caregivers are women, many of whom are also raising children. Often, these women are working outside the home as well.
Caregiving can be a rewarding experience, an opportunity to help a loved one in ways great and small. But it can also exact a physical, emotional and financial toll. Caring for an aging parent or loved one can be another full-time job. In fact, 43 percent of baby boomers have taken time off from work and 17 percent have reduced hours to help care for an aging parent. They do this at a time when their expenses are rising. One recent study found that half of those caring for a family member or friend 50 years or older are spending, on average, more than 10 percent of their annual income on caregiving expenses. Many dip into savings and cut back on their own health care spending to cover the bill. Is it any wonder that family caregivers are at increased risk of developing depression, anxiety, insomnia and chronic illnesses?
We need to find new ways to support caregivers at the same time that we do our best to help the older members of our society continue to live robust and vital lives as they age. We owe it to those who cared for us when we were young. We owe it to future generations who will help care for us when we are old. And we owe it to ourselves so we can continue to live healthy and productive lives for many, many years.
I hope that everyone who, like me, intends to live a very long and productive life or who faces the challenges of caring for a loved one will join me in helping to raise awareness of these important issues.