The phone began ringing early Friday morning. Friends and family wanted to make sure that I had heard about the Supreme Court ruling legalizing gay marriage in all 50 states. I was elated. I picked up the phone to call my mom and realized that I could not reach her because she was on a plane to New Zealand to visit family. I can't wait for her to return so we can share this news in person.
As a child, I never could have imagined this day coming in this way. Our lives were filled with fear and secrets in a culture where discrimination, violence and hatred towards lesbians and gay men was so pervasive. I was afraid all the time of people asking me questions about my mom and our home life. I knew and had seen the very real consequences for our lives and her livelihood. As a little kid, I became adept at changing the subject with friends, parents of friends, teachers, everyone. I was afraid walking in the city at night when we were all together and afraid for my mom when she was out at night with her partner. My brother told my mother to lie about who her partner was and pleaded with her to wear certain kinds of clothes and not others. I knew why he did it. The teasing from kids and the not subtle messages from teachers were in great abundance. And though I didn't say things out loud, I also had my own internalized rules for the secrets and lies I told. When my best friend in middle school finally cornered me by asking a direct question that I could no longer avoid, I felt like my heart and lungs would stop functioning as I formed the words.
As it turned out, she responded really well. It was an amazing feeling.
I also could not have imagined the victory coming in this way because when I was a child, marriage was not the dominant issue the gay and lesbian community was fighting for. In fact, many in the community I was raised in rejected the notion of marriage. Their demands were for rights that seemed more pressing, such as safety and equality under the law in employment, schooling and housing. And as the great plague ripped through our lives killing so many vibrant gay men, we simply wanted their lives to matter and to find a way to save them. The complete dismissal of the AIDS crisis by our nation meant a death sentence for so many. I was so scared that my mom would get the "gay cancer" that everyone was talking about in whispered voices around us kids.
Yet, through all of this I knew, even as a small child, how meaningful it was that my mother insisted on a life of truth, beauty, love and justice. Her courageous choices were about her, and they were also very much about us, her kids. She knew she had to live a life that would show her children how to fully live. I will be forever grateful for the gift that this has been in my life.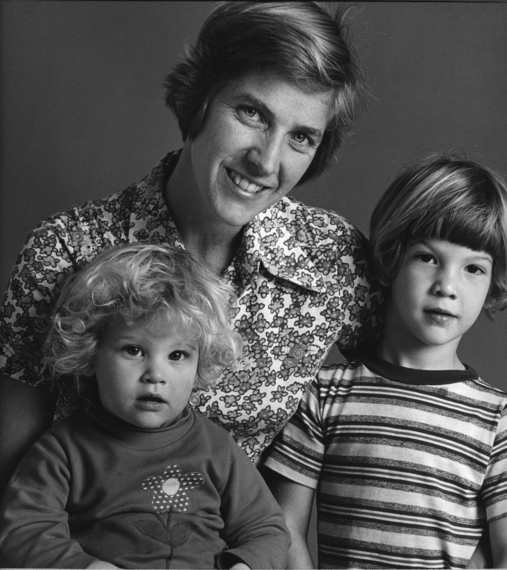 This morning, we see how the arc of history bends with the slow and steady persistence of so many. A new narrative emerged that shined the light on many of these issues in unforeseen ways. As Jews, we know how powerful our stories are to shape who we are and how we see our selves as a people. The narrative of love and marriage in the United States has been transformed, and with it great change has come. Incredible change. I am so blown away by how far we have come. And at the same time I know we have so far to go.
The week's reading from the Torah (Hebrew Bible) that coincides with the Court's decision is Chukat. It recounts a moment when the people near the end of their journey through the wilderness gathered and sing at a well. There is love at the well for our people (most of the mates meet at a well) and in this verse (Numbers 21:17) it speaks of the people singing together at a well. But interestingly the portion does not mention Moses. Before, when we made the great exodus from Egypt and crossed the sea, the verse says "az yashir Moshe"; it was Moses who led the singing. This time it is "az yashir Israel." It is not one single leader, it is all the people leading the song. After years of traveling in the wilderness, struggling through the wilderness, the song is now our song. I glance at Facebook and already it is filled with so many incredible images of couples and weddings. Many of these couples that I see I had the honor of standing under the chuppah with and officiating their marriage. Some of these were before marriage was legal in California, and some of them were after. They were all valid right in the moment they happened. Love was declared witnessed and affirmed by those gathered and by the presence of the divine.
Today is a day of awe and celebration for all the very real protections and rights under the law that this decision brings. And the song is ours to sing. The path forward is ours to name. There is much more for love to do. Much more song to be sung.
Safe travels across the seas, Mama. What a journey this has been.
PHOTO GALLERY
Celebrations Of Same-Sex Marriage
Calling all HuffPost superfans!
Sign up for membership to become a founding member and help shape HuffPost's next chapter