A single day's work can be transformative for any Veteran, especially one fighting his way back from homelessness and addiction. I know this because I am a Veteran and was once in need of not only a well-paying job but a safe place to live. I got both with help from the U.S. Department of Veterans Affairs (VA) and formed my company, Veterans Moving Help, to provide the dignity of work to other Veterans.
My journey wasn't easy. I'd been in the U.S. Army and benefited from its strong support system. When I returned home in 1987, I lost that system. Living in a rough neighborhood in Florida, a drinking habit became a full-fledged addiction to alcohol and drugs, including crack cocaine. Connections to family, including my daughter, frayed. I was homeless, living in abandoned homes or shelters. This was my situation for the better part of two decades.
Time after time, I vowed to be a better father to my daughter. I wanted to get clean, but couldn't break the cycle. Then one day a fellow Veteran who'd faced similar struggles came back to our neighborhood from a VA substance use treatment center. He was sober and healthy and now owned a car.
A Fresh Start and Safe Housing
He inspired me to seek help from VA, and I enrolled in a 60-day substance use inpatient program run by the North Florida/South Georgia Veterans Health System. I received care from a number of high-quality counselors, many of whom were Veterans who related to my situation. They provided constructive advice and helped me begin my recovery.
Another turning point was getting set up in bridge housing funded by VA's Health Care for Homeless Veterans (HCHV) program. Having a safe, stable place to live gave me the peace of mind to focus on my skills as an entrepreneur. While there, I had access to a number of other VA resources, including the (now-expired) Veterans Retraining Assistance Program (VRAP), which gave me business management training. Through VA dental services, my teeth were fixed, which boosted my self-confidence.
Eventually I got the idea to focus on a career in moving services.
I started by taking a job advertised on Craigslist. Enlisting a few of the homeless Veterans I was living with in the bridge housing, we loaded and unloaded some self-service moving trucks. It was hard work, but we built a real camaraderie that day. We were proud to work again and put money in our pockets to support ourselves. Demand for our services grew as more and more people in the community heard about the opportunity to hire Veteran movers.
What started as a few homeless Veterans unloading trucks in Florida has now grown into a national company called Veterans Moving Help, which I formed in 2013. People email me requesting moving support, and I connect them to majority-Veteran moving crews.
These jobs pay about $25/hour. We work in cities across the country, including Atlanta, Phoenix and Washington, DC. We move homes, offices, truckloads and just about anything else. I was honored recently to move a 92-year-old World War II Veteran who was a member of the Tuskegee Airmen "Red Tails" fighter squadron.
Former Tuskegee Airman Stephen Lawrence shakes the hand of Veterans Moving Help's owner Gregory Sledge, who helped move the 92-year-old World War II Veteran from his Gainesville, Florida, home to an assisted living facility.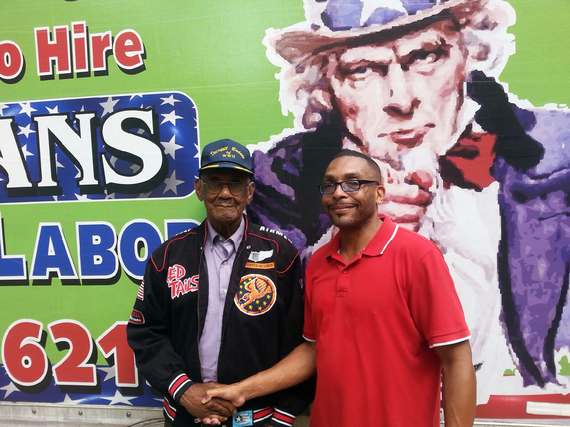 For now the moving jobs are temporary, and driven by local demand. However, I hope to expand and employ Veterans full time. Currently, I am exploring opportunities in three areas: packing and unpacking rental containers, moves on military bases and jobs moving assisted living residents. This summer, during the peak moving season, I expect to employ more than 250 individuals -- the vast majority Veterans -- for jobs nationwide.
Peak moving season is around the corner, and I need Veteran movers, including those who are experienced, licensed and insured (although these are not necessarily required). If you, or a Veteran you know, are interested in this employment opportunity, fill out this application on our website. Anyone can hire Veterans Moving Help by reserving our moving services online.
Being able to form Veterans Moving Help fulfills my lifelong goal to become a business owner and keep my work in the military and Veteran family. I hope my story inspires other Veterans to keep striving, even when success seems impossible, because dreams really can come true.
Related
Popular in the Community