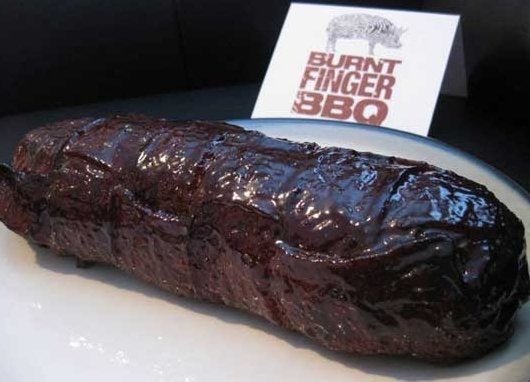 Enrolling in culinary school turned out to be a prescient kind of life-style insurance. When the economy tanked, my friends and I started cooking. We found that, for a fraction of the price and with a little creativity, we could cook a three-course meal that would cost $45 per person at any reasonable establishment. While the setting is never luxurious (screws routinely fall out of my table, which causes all guests to crowd on one side, for stability,) the food is.
It began a few months ago, when I offered to cook a bacon-themed dinner for my boyfriend on his birthday. I had decided to make a salad (boring, save the goat cheese croutons), Beef Bourguignon (which calls for braising cheap cuts of meat until they become "fork tender," a term of expertise I picked up at school and enjoy using almost as much as "mouthfeel") and caramelized-bacon-and-chocolate-chip-cookies (Oh. My. God).
He invited two friends: W, a financial analyst, and A, W's roommate, a web developer. Both A and W work in fields I do not quite understand, though I know their days involve numbers and computers (whereas mine involve words and roast chickens).
A few background notes: W bowled competitively in high school (his average was a 205), and A once famously rewired his house so he could sit outside in the sunshine and play videogames. In their spare time, they create websites for fun. Their most recent, "Nanosolutions," provides "small solutions to small problems." This site is frequented predominantly by W and A's friends who are unemployed or bored at work.
Nanoproblem: I like french fries, but I know they're bad for me.
Nanosolutions:
1. Moderation.
2. Deal with it.
3. Wrap them in spinach leaves. It's a dish we just came up with called "Spuds in a Blanket".

Nanoproblem (from user "Rihanna"): When it rains, everyone tries to crowd under my umbrella.
Nanosolutions:
1. Stop making oaths all over town that you'll stick it out to the end.
2. Stop carrying an umbrella. Consider a waterproof jacket with hood.
As is the case with all my friends who work in the realm of numbers and computers, I harbor secret feelings that they may speak in binary code in their apartment ("010110?" "11010!"), and use English around me merely as a courtesy. When they do speak English, it's a contemporary patois -- a combination of real English and something out of a Vista manual.
W: So is your UGC 120 over 90 bit rate biz dev?
A: Eh, we like to stick with GPV pointers and URK twiblets.
W: I see your point, but what about running function series extrapolators with my MIZ-
ROPS?
They are my go-to guys for all questions Excel and tech-related (I am an avid reader of W's blog, Excel for Poets), and despite my technological illiteracy, we have a common passion in food. When they entered the apartment, W crowed, gleefully, "We could smell the bacon from the hallway!"
I wondered if my love of cooking, combined with the pride I felt when Drano unclogged my shower, meant I was doomed to the dreary Updikeian life of a bored housewife.
But then I served them the food.
The boys politely slogged through the arugula salad, keeping abbreviations to a minimum, but when I brought out the beef bourguignon, the table became silent. The pasta had clumped together, but they didn't care. One bit into a chunk of braised beef and moaned, quietly. Another crunched on a thick-cut bacon lardon. (We'd been trained to cut our lardons big in school, at the request of our 250-pound instructor: "I didn't get this way by eating lettuce," he said, disparaging the "puny French chefs" who prefer their bacon cut into "teeny crumblings.") They asked for seconds. Then thirds. One excused himself to the kitchen to "tidy up" and licked the pot. By the time I brought out the chocolate-chip cookies, each topped with a thick piece of caramelized bacon, all three were lying on the rug, moaning with gastro-erotic contentment.
The next day, W and A called, returning the favor: would we like to come over for some grub? We headed over to eat another tasty meal in their apartment. While all screws were intact, the floors sloped in on the four sides of the living room, making for a sink-hole-like dining situation.
Eating at an angle has never tasted better.
After our weekend of gourmet dining at minimal expense, BF and I vowed to continue his birthday dinner celebration with different friends, cooking at various apartments throughout the city, keeping each three-course meal under $15 per person.
Tune in as I trace this little experiment over the next few months. I'll even throw in some recipes so you can give it a shot yourself, starting with this one:
Caramelized-bacon-covered (pre-made) Chocolate-chip-cookies
1 roll Pillsbury Refrigerated Chocolate Chip Cookie Dough (Ok, I didn't say this, but I didn't have an eggbeater, so last minute I ran to the corner store...make cookies if you're more industrious than I)
Two generous handfuls brown sugar
Six slices bacon (thick cut, if possible)
1. Preheat the oven to 350 degrees
2. Rub each bacon slice generously with brown sugar on both sides
3. Place sugared-bacon slice on foil-lined pan (or, if you don't have a pan, on a tray you fashion, innovatively, out of foil, like I did... just be careful when transferring in and out of oven)
4. Bake until crisp (about 15 minutes), or, if you're impatient after 10 minutes (like I was), take out of oven and fry in piping hot pan on both sides, like you would bacon for breakfast, until crisp. Cut each piece into thirds.
5. Meanwhile, follow Pillsbury recipe (your oven will already be heated to 350 degrees), and make 15-20 cookies. Once cookies have been baked, let rest for 5 minutes, then place one piece of bacon on each cookie. (Feel free to double up.)
6. Feel the love of bacon.