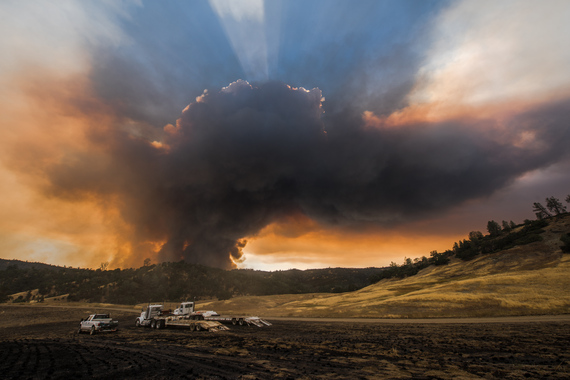 "No one is leaving this valley. The road is blocked at both ends by the fire, so stay put! It's gonna get really hot and windy. Do not shut your vehicle off!" said the fire chief.
I didn't have to ask why. Large fires create their own microclimates as they suck all the oxygen out of the air; an engine needs extra oxygen at initial ignition. The sun was overhead and shining brightly, or so I assumed, the sky was almost completely blocked by smoke. It was 5:30 pm, dark and everything was dirty orange.
I tried to set up a second camera to record the approaching onslaught, but my eyes, wind blasted with hot smoke, were desperately flushing water through my tear ducts. I wiped away the water with the sleeve of my shirt, but it only pushed salt, soot and dirt further into my eye sockets. When the heat from the fire, still an entire ridge away, became too much I jumped back in the cab. After several unsuccessful attempts I finally got back in the truck and stayed there. At least I already had one camera running time lapse setup an hour earlier.
The cab of the truck was filled with buzzing like a team of leaf blowers at six in the morning. The door had only been open for seconds at a time, but it was enough for dozens of fleeing insects to make their way in. They kept getting inside my shirt. It felt like they were crawling under my skin, biting. No one talks about how creepy large fires can be.
The heat came in powerful rattling gusts. I felt it pressing through the rolled up windows of my truck, and worried that the flare resistant coatings would melt off my lens outside. Then I worried about other more fleshy things melting. Sparks and embers whizzed past my truck as it was battered about by the chaos. I hoped none of them would connect. My hand involuntarily gripped the fire shelter on the seat next to me a little tighter. The fire consumed an entire mountain right in front of me in seconds, and then just like that, it was over.
The blaze continued, gorging itself on the bone dry fuels covering the hills and mountains behind me, but I was still stuck. I waited for several hours before a CalFire media contact came to escort me and another news crew out of the valley. I stuck a camera on my windshield and recorded the drive out. It felt like I was taking a drive through Dante's Inferno.
Once I was safe the only thing I wanted to do was sleep, but I couldn't find a room anywhere. Every centimeter of my truck, camera gear and bedding was covered in soot. After shaking my blankets out as best I could I slept in the Walmart parking lot.
The #RockyFire went from 27,000 to 46,000 acres that night. It would grow to 70,000 acres before fire crews were able to contain it. Less than a week later in the exact same area the #JerusalemFire would burn 25,000 acres. A few days later the #PetersonFire would start and after that the #GradeFire. The entire state is a tinder box due to drought and increasingly hot summers.
FIREFIGHTERS NEED OUR HELP
As of this writing there are nearly 20 active fires burning in California. The five year average of acres burned from January 1st to August 22nd is 71,477 acres (111 square miles). In 2015 during the same time period 146,279 acres (228 square miles) have burned; more than double the average. Resources are spread so thin that CalFire has asked for help from retired firefighters and volunteers. Firefighters from New Zealand and Australia have even joined the effort and will be deployed in the hardest hit states such as California, Idaho and Washington.
Firefighters are in great need of our help too. Here are five ways we can all pitch in:
Reduce carbon emissions. Fire could care less whether you believe in global warming or not. The hotter and drier it gets the more fire likes it.
NO DRONES IN FIRE ZONES. If you're in a vehicle traveling at great speeds through the sky the last thing you want to be doing is smacking into other flying machines. When you fly drones air support for fires gets grounded. This puts everyone and everything on the ground at a much greater risk. Drones were a major factor in causing 30 vehicles to burn on the Cajon Pass (I-15) freeway earlier this year.
57 firefighters have died this year already. Text "WFF" to 41444 to find out how to support the Wildland Firefighter Foundation, which helps families of fallen firefighters get back on their feet.
Conserve water in drought stricken states (even if you're the proud owner of a mansion or golf course).
Make your property a defensible space by clearing brush and flammable yard waste around your home.
Jeff Frost is a US based artist who combines painting, photography, music and sound design into experimental short films created from hundreds of thousands of photographs. Frost's work is currently being featured as a major component of U2's Innocence + Experience tour. His films and prints have been exhibited in galleries and photo festivals worldwide. The American Society of Media Photographers (ASMP) named him one of the best photographers of 2014. Frost is creating an exclusive art piece with content created at CERN to be shown at this year's TEDxCERN event in October.
REAL LIFE. REAL NEWS. REAL VOICES.
Help us tell more of the stories that matter from voices that too often remain unheard.