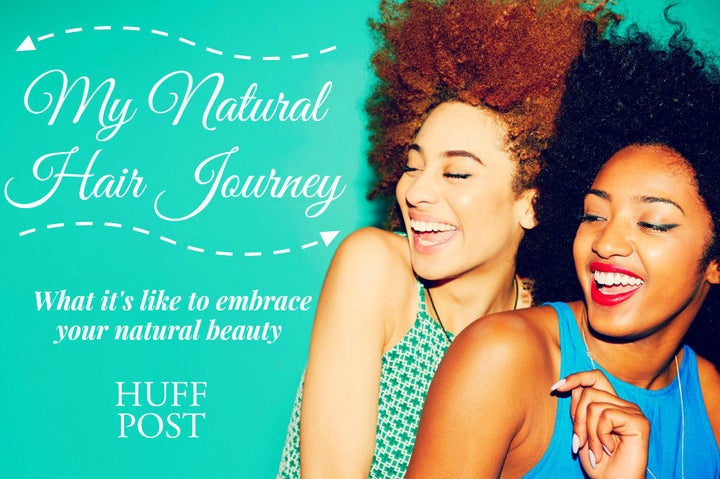 We've made a lot of progress when it comes to embracing what makes us unique, but there's one thing we seem to forget about: our awesome natural hair. 
Embracing one's natural hair -- especially after years of heavily styling it -- can be a truly liberating and exciting experience. It's more than just a "trend." It's a way of life. And with relaxer sales on a steep decline, the growing natural hair community can attest to that. They can also attest to some serious misconceptions people still have about natural hairstyles (like schools deeming natural hair worthy of suspension or style outlets calling Kim K.'s French braids a "new style.") So for that reason, we're launching My Natural Hair Journey, and we want to hear from you.
If you have transitioned to wearing your hair natural and learned a lot about hair care, self-love, beauty standards, racial identity and yourself in the process, we'd love to hear your story. Send a 500- to 800-word essay or an idea for a blog post to MyNaturalHairJourney@huffingtonpost.com. 
To get started, check out these enlightening personal stories on the experience of learning about and loving one's natural hair. 
With a busy career as an actress on 'Orange Is the New Black,' my life sometimes feels more out of control than ever. At the same time, I know that the opposite is also true: That I am the captain of my ship; I am the master of my fate. And I would never have known that if it were not for my hair.
Fall in love with your texture and your natural curls. Do not compare yourself to others, because this is your journey. That applies to products as well. What works for me may not necessarily work for you and vice versa.
I cannot and I will not say that I 100 percent adore my hair and feel great in it. The struggle is still very real for me. But I know that in time, maybe a couple years from now, I'll be at a different part of my journey and telling a different story.
Whether this 4C hair seems to twist on command or not, it's mine. It's beautiful and loving it means loving myself. Embracing my natural hair journey was freeing, exciting and worth every minute.
My hair isn't like a lot of the natural hair types I see on social media, and that's okay. My hair is special, just like me, so it requires special attention, time, care, and patience.
Calling all HuffPost superfans!
Sign up for membership to become a founding member and help shape HuffPost's next chapter
BEFORE YOU GO