New York Fashion Week, the biannual whirlwind of runway shows and presentations (the culmination of months that American designers have spent to create their vision for the next season), is upon us, and the big questions are too: what to wear in the snow? How long will it take to get to Brooklyn Saturday night? And, will the Marc Jacobs show start 3 minutes early as usual? As buyers, editors, bloggers, stylists and celebrities descend upon New York City from all over the world, it is a clear reminder of the energy and excitement that fashion creates on both the runway and the street. It's February, which means we're seeing fall 2014 collections, and at ELLE, we are already planning for our big September fashion issue. Here is a look at what I saw and did on Monday.

10 a.m. If it weren't so dark in the tents you could make out the army of dashing young men clad in @houseofherrera #herreralive t-shirts greeting us on our way into the Carolina Herrera show this morning. A refreshing way to start a Monday! A beautiful collection full of rich, earthy tones, pops of red, geometric prints, the most gorgeous opening silhouette and hints of transparency from someone who is truly the most elegant woman I know. She's so smart, charming and funny, and really understands what women want when they get dressed.

11 a.m. At Tommy Hilfiger. The skirts are short, the jackets are long and everything, everything, is plaid. Including the long finale blanket dresses. The set is piney and snowy and I had the charming company of Michael Clinton (President, Marketing Publishing Director of Hearst Magazines) who told me he's training for a marathon -- in Antarctica, in three weeks! I was also happy to see my good friend Heather Vandenberghe from Tommy, but realize it's definitely time for a drinks date with her as you can only cover so much territory standing next to the runway before a show. Side note; look for our upcoming piece in ELLE on Tommy Hilfiger's impressive CMO Avery Baker.
12 p.m. Alas, the real snow is tripping everyone up in Manhattan -- it's curtains up at my noon show, which is all the way downtown, but I'm still on 67th and Park, in front of the Armory where Tommy had his show.

12:30 p.m. At the office since there was no way to make it downtown in time. I work on finalizing our April cover, have two impromptu hallway meetings where we actually get a lot done, answer as many emails as I can, eat a grilled cheese sandwich (in solidarity with my 11-year-old son) and run back to the car to get to my next show.

2:50 p.m. Arrive at 3.1 Phillip Lim, actually early for a 3:00 show, which is at Skylight at Moynihan Station, inside the iconic James A. Farley Post Office across from Penn Station. I love the way Phillip played with proportions; the bold hits of color he injected in the collection and the big vests and belt buckles.
4 p.m. Rachel Dratch and Alan Cumming open Kenneth Cole's show with a funny short film in which Kenneth Cole -- gasp -- invokes the name of another designer. The show was styled by ELLE's own creative director Joe Zee and I have to say he did such a great job -- showing how a little styling can take beautifully cut basics and turn them into something street, sexy and sophisticated all at once. I spot my former neighbors Chris and Christina Cuomo having fun with Michael Strahan and Jon Bon Jovi, who have both coincidentally told us their secrets in our Cherchez la Femme column.
7 p.m. Zac Posen's show is in a small, intimate venue: almost hushed in a way. The hair and the styling both send me on a trip to the past of my very glamorous stepmother (the first of three -- is a fourth currently in the works? I digress...) who wore caftans to the country club during the day and smoked cigarettes out of lacquered holders and wore her platinum hair as high as possible -- but with no visible hair pins. Zac's dresses all have a sweeping quality to them, the gowns of course, but even the body-huggers: you must sweep into a room if you're wearing one of these.

8:15 p.m. This show marks Donna Karan's 30th anniversary in the business, and her impressive body of work over the past three decades is definitely something to be celebrated. The clothes are feminine and sexy, but mixed with that urban edge and grit that is both very New York and very Donna Karan. Our fashion news director Anne Slowey tweeted that it was "the Vagina Monologues." (The invite said The Journey of a Woman. Being one, I was happy to ride along.)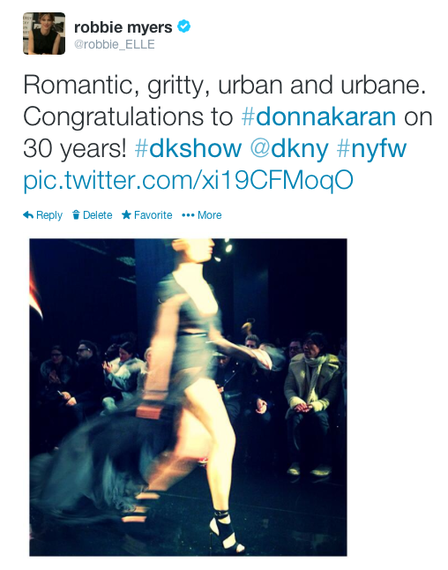 9:30 p.m. Barneys New York dinner to celebrate their amazing spring 2014 campaign -- Brothers, Sisters, Sons & Daughters, which features 17 transgender models -- and the accompanying film, both shot by Bruce Weber. The film is incredibly touching and thoughtful, and lovingly shot. It was inspiring to hear their stories and such a pleasure to be there and support this important project. After watching the film, I sit down to enjoy a late supper with my beautiful and serene seatmate designer Maria Cornejo.
11:45 p.m. Home. Check the mail, the email, the children, the locks. Goodnight!