As the bloated throngs staggered out of 23 Wall Street, I'm sure at least a few of them must have thought about the irony of stuffing their faces with some of New York City's most sophisticated food and drink for four hours -- all so that fewer kids across America would have to go hungry. I would have thought the same thing, had my brain still been functioning normally. But since all the blood in my body was in my distended stomach, furiously trying to digest the obscene amount of eats and drinks I'd ingested, I could muster little more than a "There's the uptown express train. Need to get home and go to bed."
But it is truly a wonderful world in which we live, where the most talented chefs in our fair city can come together with the charitably-minded and foodistically-inclined and, in one night, raise more than $900,000 for No Kid Hungry, an organization devoted to making sure low-income public school kids across the country have access to a healthy breakfast every school day.
No Kid Hungry has been raising money through culinary events since 1988. Monday night's NYC Night Out For No Kid Hungry, sponsored by Citibank, the Food Network and Disaronno, among many others, was the first one I've attended, so I can't knowledgeably compare it to the others. But I think if previous shindigs had been any better, there would have been at least a few cases where patrons simply exploded a la Monty Python's Mr. Creosote.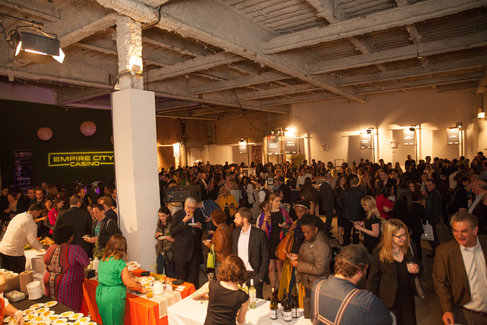 Eat a little food, drink a little booze, get down tonight. (photo courtesy Kat Hennessey)
Now, I did not get to sample the sit-down dinner which I'm sure was sensational, but which was open only to big-time donors and writers far better connected than I. But who needed a sit-down dinner anyway? The real action was in the walk-around tasting, where three floors -- three entire floors -- of the building were filled by more than 50 restaurants offering bite-sized samples of their fare, along with a dozen bars keeping the 1,000-plus attendees well-lubricated.
There was something for everyone on this night. Gulf shrimp salad with subtly spicy "fire and ice dressing" from Asia de Cuba. An earthy whipped Camembert and mushroom confit toast from The Good Fork. Sublime grilled beets with pumpkin seed-almond granola and Greek yogurt from The Little Beet. Firm yet creamy chilled fresh tofu with chili oil, cilantro and scallions from Bar Chuko. Surprisingly delicate Peking duck dumplings from Hakkasan.
The problem with bite-sized dishes is that it's so easy to eat way too much. What's another bite or two, right? Shank of the evening, you down a few, maybe with Middle Branch's Disaronno Sour (Disaronno almond liqueur, Plymouth gin, lemon juice) or Mulberry Project's Flood (Fidencio mezcal, Ford's Gin, lime, cilantro, Thai chili), and you think, hey, I could do this all night. You eat indiscriminately, greedily, gobbling everything in sight. An hour in and you're thinking, whoa, I'd better slow down. Only eat the stuff that looks really, really good. And that's when you find candied bacon on a stick from The Smith. Or an open-faced roasted pork sandwich on sourdough bread with ramps and tomatoes from Paulaner. Or rich, melt-in-your-mouth gnocchi bolognese from Davio's Northern Italian Steakhouse. Or my favorite dish of the night, spring kimchi salad with a creamy dressing over al dente noodles from Louro.
And then you're thinking, yikes, I should really just stop. This salty, crispy pretzel pork & chive dumpling with tahini mustard from Talde will be the last thing I eat tonight. OK, seriously, this creamy, decadent chicken liver puree with birdseye chili jam and Asian pear on a cassava chip from The Cecil is it. I'm done. Although now I'm thirsty, and that cocktail from Mace (lime aquavit, Aperol, beet juice, orange acid and Thai coconut cordial) looks delicious. Hey, why did the button on my pants just pop off?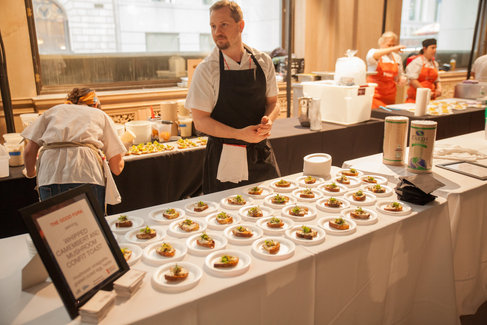 Whipped Camembert & mushroom confit toast? Don't mind if I do! (photo courtesy Kat Hennessey)
Oh, and did I mention the strolling oyster shuckers?
I finally finished the night off with a mini Cubano sausage sandwich with Swiss cheese and pickles from Jake's Handcrafted. With no room to spare for the addictive dessert cookies from Levain Bakery, I hightailed it out of there before I caught a second (third? fourth?) wind.
Dear reader, I list the above delights neither to confess my sins nor brag about how I got to eat the best the city has to offer, all in a single night. OK, so I am kind of bragging. But the real reason to mention all the deliciousness is to get you to participate in next year's Night Out (No Kid Hungry also does similar events all over the country; check their website for details). It ain't cheap -- the least pricey ticket to the walk-around tasting is $350. But it's for a worthy cause, and if you're as much of a pig as I am, you may just get your money's worth.