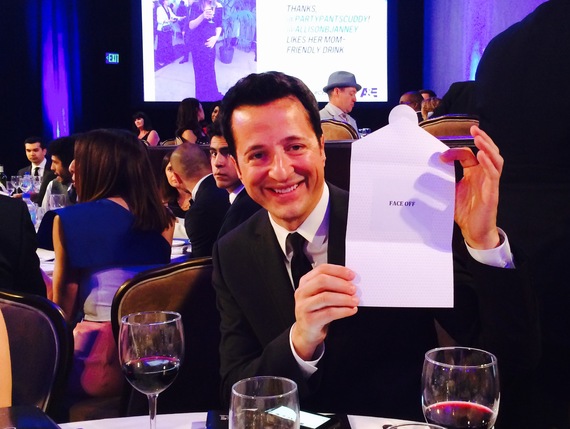 In fact, I love everything about an underdog. From the wonderful journey of how they got here to how happy they are to just be in the room/arena/stadium with their highly-favored competition.
But you want to know what I love even more?? When that underdog shocks the big boys and I'm there to witness it. And that is exactly what happened last night at the Critics' Choice TV Awards in Beverly Hills.
I was not only there to witness it, I was sitting at this underdog's table when the lightning bolt came thundering down from the television Gods announcing their show, Face Off, as the winner of the Best Reality Competition Series. The Syfy show beat murderer's row of reality competition shows: The Amazing Race, America's Got Talent, Dancing With The Stars, Master Chef Junior and The Voice.
Shocking, but well deserved.
In fact, it so shocked the shows producers, judges and even Syfy network president Dave Howe that it took them a couple of seconds to realize that their show had won. I was sitting next to one of the show's fantastic judges, Glen Hetrick, when it was announced and I could see the momentary, "Wait... did they say Face Off?" look of slight, yet startled confusion in his eyes.
"I looked across the table (at the shows producers) to see if anyone else heard what I heard," Hetrick told me, "and then suddenly we all realized it."
The table let out a huge yell, gathered themselves, figured out the best path to the stage (never an easy endeavor at these awards shows with dinner tables and a sea of people) and made the trek onstage to receive their award. I turned to Howe and shook his hand, congratulating him and he said to me, "This is HUGE for us. It means so much to the network, the show, the cast and crew."
I've been fortunate (during my years at Access Hollywood) to have seen that sense of gratitude, shock, thankfulness and joy many times when I've been backstage at the Golden Globes, Emmys and Oscars. I was often the first to chat with the winner as they came off stage, still euphoric and swirling in that amazing and often life-changing moment of winning the award. There are tears of joy, they want to call their parents and they've often asked me, "What did I just say out there?" I've witnessed some pretty special moments.
But, I have to say being at the table of the winner when their name is called is pretty damn special, too. I was at the Fargo table last year when Billy Bob Thornton won for Best Actor in a Mini-Series or Movie and Fargo won Best Mini-Series. However, it was not a big surprise as there was some heat and expectation that Fargo and BBT had a shot at winning.
The same couldn't be said last night for Face Off. All eyes and expectations were on the favorites with a proven pedigree. Even Face Off judge, Ve Neill, said to me as we settled into our chairs to watch the show, "We're just happy to be here. It's nice to be recognized."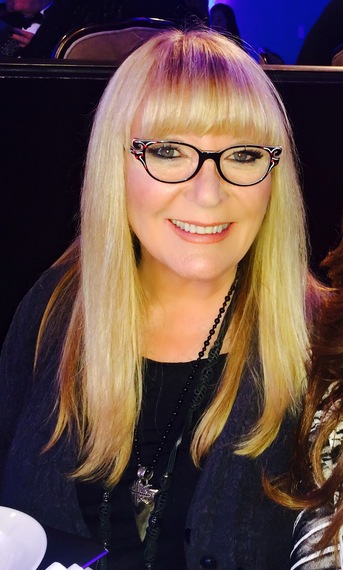 Wait, did I mention Neill's pedigree of three Oscars, two Emmys, four Saturn Awards and a BAFTA to go along with her Critics' Choice Award?
I say there very well could be a Face Off at the 2015 Emmys.
Calling all HuffPost superfans!
Sign up for membership to become a founding member and help shape HuffPost's next chapter