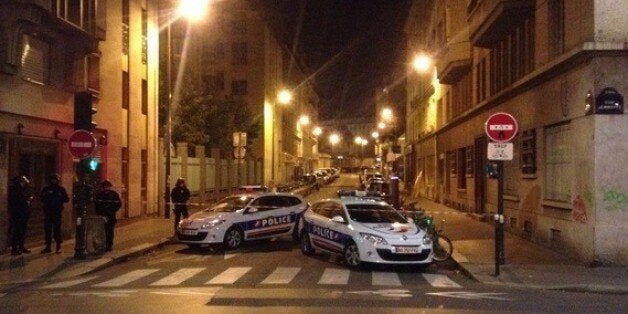 I was half a block from one of the Paris shooting locations last Friday.
I live in San Carlos, California, and work as a software engineer at Airbnb in San Francisco. Friday was day two of the three-day Airbnb Open conference for hosts. I flew to Paris on Monday to work at the conference this week. I am staying in a private room in an Airbnb listing in the 9th Arrondissement. The owners are a delightful married couple who just started hosting recently, after their daughter left for college. They made dinner for me my first night here, and we enjoyed the evening over wine and cheese.
Thursday morning, I awoke at 4:50 a.m. to get ready for my conference shift, which started at 6 a.m. in Parc de la Villette. I worked all day, had dinner with some Airbnb hosts who were attending the conference, and went to bed that night around midnight.
Friday morning, I awoke at 4:50 a.m. again to work at the conference. When the day's events were done, at 7 p.m., I made plans to go out to dinner in the La République area with some coworkers. I didn't know any of these coworkers well, and a couple of them I didn't know at all, so I was looking forward to connecting with them over dinner. One coworker named Jay is from our Paris office and had a car with him. So instead of taking the Metro, we drove to the restaurant where we had a reservation: Auberge Pyrénées Cévennes, at 106 rue de la Folie Mericourt in Paris. He parked around the block.
Around 9:30 p.m., the five of us were having a wonderful time, getting to know each other and enjoying an amazing French meal, when we heard five gunshots in less than two seconds: bang-bang, bang-bang-bang. The restaurant, which had about 30 people in it, suddenly got quiet. People looked around nervously. Some people thought someone had just set off some fireworks. To me it sounded more like gunfire. Nobody could be sure. Whatever it was, it sounded like it had come from just up the street.
The atmosphere in the restaurant had quickly turned from a lively Friday evening to unsure tension.
My French coworker started checking for news on his phone. After a couple of minutes, he exclaimed in French and told us that there had been gunfire at Le Petit Cambodge restaurant, which is 2-3 blocks away. It seemed odd that the shooting had been that far away but that we had heard it so clearly. We would find out the next day that one of the attacks had been much closer: half a block away, just around the corner, at Cosa Nostra restaurant (2 Rue de la Fontaine au Roi). That's why the gunfire sounded so close: it was. We had walked past this restaurant on the way from our parking space.
A few minutes later, more news by mobile phone: a second shooting. Then more news: a third shooting. A fourth shooting. Hostages taken. All in the La République neighborhood where we were. And a bombing at the Stade de France stadium, far from where we were. We had finished our main course and had not yet had dessert, but some people in our group were thinking about going home. I recommended we shelter in place and not try to go home. We did, and almost everyone in the restaurant made the same choice.
I began contacting my wife and friends, telling them the situation and letting them know I was safe. My first text was to my wife: "I AM FINE. Possible terrorist attacks in Paris at 4 locations. Started with 5 gunshots directly outside the restaurant where I am. Love you. I am safe. ❤"
I also contacted Joel, the husband in my Airbnb host couple, to let him know I was safe but would be home very late. He was happy I was ok but was also concerned, asked me to keep giving him updates.
The restaurant staff continued serving people and were very hospitable and friendly. We were trapped but we were warm and in a place with food  --  very, very good food  --  and water and drinks. The approximately 30 diners took turns sharing the three mobile phone chargers that a few people had brought with them -- an iPhone 5 charger, an iPhone 4 charger, and an Android charger.
After some time had passed, people started occasionally going outside the restaurant to see what they could see. The police had set up barricades at both ends of the small street we were on. A few people -- presumably residents -  were allowed in to our street, either on foot or bicycle, including one young woman with a Vespa-style scooter with the engine turned off, but no one was allowed out.
Around midnight Paris time, my 16-year-old daughter got home from school in California and heard about the attacks. She knew I was in Paris but had not been in touch with my wife, so she called me to see if I was ok. I told her I was safe in a restaurant with other people and would be there for a long time. She asked if she could tell her younger brother and sister, ages 13 and 11, about the situation. I said yes, but that she must start by saying "Dad is okay." She should not tell the whole story and leave them hanging til the end to find out how I am.
At one point during the evening, an hour or two after the attacks, a woman -- either an employee or a diner -- ran back into the restaurant yelling in French, "Everybody get on the floor! Under the tables!"
That was the scariest moment of the evening.
We all dove under the tables and waited. It would be obvious to anyone on the street that dozens of people were inside: the lights were still on, one person was talking on his phone, and one person's phone was still playing a news report video. We had heard that hostages had been taken at one location nearby, and I was afraid that we were a target for anyone looking to take more hostages. I posted on Facebook: "A woman diner just ran back into the restaurant and yelled everyone hit the floor. All hiding under tables now. Battery at 4 percent. If you don't hear from me it's probably just because of that."
After several minutes, people started coming out from under the tables. I posted an update saying I was still ok. What I heard from another diner, but had no way to confirm, was that a person in a car came upon the police barrier, perhaps wanting to go home, and did not want to yield when the police insisted they could not go through the barrier. The police had fired warning shots into the air to stop the person. Those shots were what caused the woman to run back into our restaurant.
I looked in the bathroom to find a good hiding place in case anything like that happened again. I found a small broom closet that could hold a few people if necessary, and made a mental note to bring people there if anything happened again.
Google Maps said I was about a 45-minute walk away from the Airbnb listing where I was staying. Even though it's November it was not very cold out, so that sounded like a good option. At one point, I went outside and very slowly approached a policeman, with my hands visible, to ask in French if I would be allowed to go through his barricade and walk through Paris. He said no, not through his barricade, but I could go out in the opposite direction. But I chose to stay because I didn't know how wide the circumference of the blockades was, so it might add considerable time to my walk home, and I wanted to stay with my coworkers.
At around 2:30 a.m., the restaurant owner announced that it was ok to leave.
The five of us Airbnb employees parted ways around 2:45 a.m., most of us going in different directions. I walked a block from Le Petit Cambodge, site of one of the attacks, and took the photo of the police barricade that you see above this article. Because we had been sharing phone chargers with other diners, my battery was not fully charged. In fact it was quite low. I tried to memorize the map back home but it was complicated. I walked for a while until my phone died, then hailed a taxi to take me the rest of the way. I got there at 3:30 a.m.. My host had stayed up until 2:30, but I had told him there was no need to wait for me.
I felt wide awake. I needed to unwind and to communicate to everyone that I was safe, and to check in on my dinner friends. I stayed up for another hour and a half, until 5 a.m. I had been awake for 19 hours on Thursday and now, on Friday night/Saturday morning, I had been up a full 24 hours. I fell asleep quickly and woke up at 12:30 in the afternoon.
The Paris police were recommending that people stay where they are, rather than go out. I stayed in. Day 3 of the Airbnb conference was canceled. My Airbnb host was gracious and accommodating, allowing me to stay extra nights if necessary, even though he will be out of town. He even offered to let me stay for free, but that will not be necessary.
I am thankful to be safe.
I will visit Paris again.
I am sorry to Parisians and to everyone who lost loved ones last week.
This post originally appeared on Medium.
REAL LIFE. REAL NEWS. REAL VOICES.
Help us tell more of the stories that matter from voices that too often remain unheard.