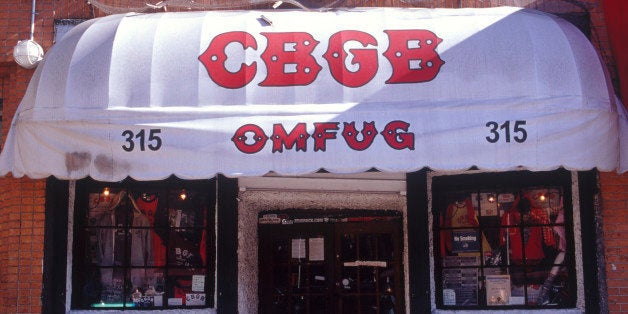 I knew my time was about up.
I was in my early 30's. I looked 26, but my extended stay at the club level in New York City was getting dangerously long in the tooth. It was 1986 and the Halcyon Days of CBGB/Max's were now years past. Things were still happening in New York, but, I was virtually alone in the "major" CBGB/Max's act that hadn't been signed. I knew that I had to get the right people involved immediately.
A casual acquaintance mentioned that Sara Lee had moved to New York from England and that she was now the best bassist in the NYC club scene. Sara was a minor but definite Prog & New Wave Rock Celebrity, having played in Robert Fripp's League of Gentlemen and the Gang of Four. A goil, huh!
I went and saw Sara play bass at the Peppermint Lounge in a band made up entirely of musical mercenaries (the kind of musicians that play in five different bands at once hoping one of them gets the big break). That meant she was available. And, there was no doubt, she was magnificent. Charismatic in an off-hand way that I found very appealing. This was the bassist I had to have right now!
I gave her a tape of five of my songs.
She called the next day, "Hello, Binky, it's Sara. Look, I am just gonna be blunt. I listened to your tape and, while you're good at it, your music is precisely the kind I detest. I'm sorry. Thank you for your interest, though."
"I'll pay you $50 a rehearsal and $100 a gig." That was in 1986 money, remember.
My money talked loud and clear to a semi-pauper Brit musician gal trying to make it in New York City.
I called Mick Leland, an amazing drummer when he wanted to be, but who had "retired" about a year earlier out of raw disgust with the music business in general. But, Mick, unlike me, was a New Wave Prog guy and when I told him the bassist in my new band was Sara Lee, his retirement was over on the spot.
Much as Sara professed to loath The Who/Thin Lizzy-style hard rock I was writing and playing, immediately following her first rehearsal with me and Mick, as we were packing guitars back into cases, she marveled in her charming Northern England accent...
"I really don't like this type of music at all, but, my God, it's so much fun to play!"
An immortal line in my life.
This trio, after only 5 gigs, was offered a little deal from Caroline Records...
"Go record a live show at CBGB and we'll put it out."
The band performed at peak levels. The recording came out beautifully. Steve McAllister, one of CBGB's sound guys engineered what I'm beginning to think is a historic document. NOT because of me and my music, but, because Steve so perfectly and accurately captured the wondrous sound of the room... that room being frickin' CBGB!
Released in June 1987, I got some amazing press in places like Spin, Billboard, Guitar Player, Musician, etc. By far my favorite review, because it so captured exactly what I was trying to do and not do, was, wonderfully enough, by the legendary and beloved Robert Palmer in the (Hold on!) New York Times.
Labeling it Rock Record of the Week, in the June 26th, 1987 edition, Mr. Palmer wrote...
"Though he performs frequently around town, Binky Philips may be more familiar to downtown record-shoppers as the man behind the counter at a leading disk emporium. One learns to approach debut recordings by such fixtures with caution, but this is an impressive beginning indeed. The music is neither postmodern, postpunk, nor post haste; on the other hand, there's nothing ''retro'' about it. It's tuneful, crunching, power-trio rock, alive with crackling guitars, a full-steam-ahead rhythm section, intensely felt vocals, and finely crafted songs that walk tall through adulthood's ironies and inevitabilities. One hopes to keep encountering Mr. Philips behind the counter, but the man obviously belongs on a stage.
Labels got interested. But, not soon enough.
Sara, who was by now a hot commodity, got an offer to do a Thompson Twins tour for $1,000 a week. She understandably left. Waaa!

Less than a year later, the B-52s later stole her away from the Twins. You can see Sara in the bubble bath in their "Love Shack" video.

Robert Palmer alluded to the fact that I ran a record store up there.
As the head buyer at St. Mark's Sounds for used and promo vinyl, besides 'civilians' dumping their old Billy Joel and Billy Idol, I primarily dealt with critics, DJs, label people... some penny ante, some serious. It was common to see the same rock critic come in once a week with 30 or 40 different albums or a club DJ come in with a record pool's weekly 50 to 100 12" singles to either sell or trade. And, yes, there were people from record labels who would regularly come in with 10 to 50 promo copies of the new Van Halen or Sade album to dump. Mailroom thieves. So immoral, ripping off a major label! I met many a friend this way... buying their promos.

When Caroline Records released the 5 song Live @ CBGB EP by me, Binky Philips, like every other label, they serviced it to at least 250 music biz types. Over a several week period after the label had sent out my EP, I had fun with various reviewers and writers, who, having not even bothered to see what the labels had sent them, brought my own record in to sell or trade. They'd would be mortified when I asked them if they'd at least listened to it before bringing it down to sell. Ooops!
One afternoon during these few weeks after my rekkid's release, a young guy who'd been in a few times to sell albums walked in with about a dozen discs under his arm. The one on top was mine.
Before I could launch into my usual teasing he said...
"I'm not here to sell these, Binky. I came by to tell you what just happened. I was in the elevator of the Tower Records building on 4th St and Broadway. The door opened and Keith Richards walked in [Keith's NYC apartment was in that building in the 1980s]. I said hello to him. Keith nodded and looked at what I had under my arm and said... 'Binky Philips, huh! I've heard he's quite good.' Cool, huh! I thought you should know."
I was in a daze for the rest of the day... to this day.
Calling all HuffPost superfans!
Sign up for membership to become a founding member and help shape HuffPost's next chapter