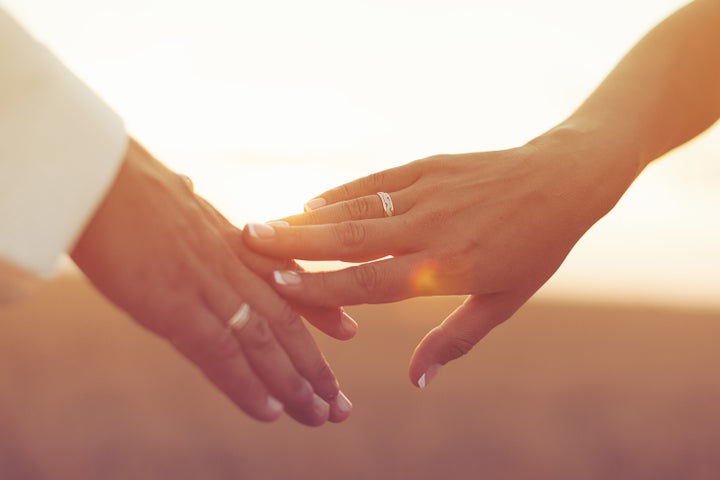 This week I RSVP'd to a friend's wedding. Their save the date magnet on my fridge is a photo of them standing toes deep in the ocean, their arms cradling each other in embrace, in mid laughter, her head tilted up, exhaling joy from her parted lips.

Soon they will begin their adventure as a married couple, traveling through life on an insane rollercoaster fueled by love, bliss, tears, laughter, sorrow, joy, connection, and commitment.
It reminds me of Space Mountain, my favorite ride at Disneyland. The reason it's my favorite is that you ride entirely in the dark, with pinpricks of stars flashing by you as you tango with the unknown, entirely at the rollercoaster's mercy.

Relationships, like the marriage they're embarking on, take work. I know when I first got married I was incredibly naive about the vows I took. Sure, I said all the right words but what I really meant was, "You make me so happy/I want to be with you forever. Lalala."

I think this is a common denominator in our culture -- this search for happiness, and the jumping around like leap frogs on Lilly pads. I do commend this search, for happiness is one of my highest held values. Years ago, as I recovered from my eating disorder I had no clue who I was without it, or so I thought, and so I questioned everything in my life out of desperation never to go back to the disorder. As you can imagine, this caused a lot of upheaval in my life and yet God had my back and worked magic and miracles to sew my life back together.

That time period granted me a few stunning gifts. I emerged with a deep intrinsic knowing that love is the answer to every question, that God orchestrates life's chaos into music, and that intentions can come true without focusing on the how.

I learned that love is a choice, not a feeling. It's a choice that we sometimes have to make minute-by-minute. I mean really, who lives in a fantasy world where they feel love for their family, friends, or partner all the time?

The beauty and magic of this choice is that it's available to us all the time, no matter the circumstances of our lives or the rough patches we go through with our families, careers, or friends.

The path of love is the most excellent way. Energetically love is the highest vibration on earth (it's included in Joy, Knowledge, Empowerment, Freedom, and Appreciation). When we live in love things energetically change.

And although love has been debated for centuries, and is the talk of poetry, defined and redefined, it's a slippery little buggar and can be hard to pin down. For love is many things, and shows up in many different forms.

And so, as I'll soon witness the joining of my friends, my heart is full for them. It bursts with their unknown triumphs and struggles, their days of darkness and of bliss. May you forever openly share your desires, wants, and needs until they are resolved. May you laugh so hard you can barely breathe. May you adventure and travel, and grow and explore from the confines of the safe nest you'll build together. May you always lean into each other through any storm, like you are on the beach in your save the date photo. May you build a life that is full of little joys. May your hearts be full and overflowing. May you love each other in the most excellent way.

Soon their ride shall begin full of exhilaration, drops in their stomachs, shrieks of joy and apprehension. The world is set is motion with stars flying by as they hold on white knuckled with smiles on their lips.

Like Space Mountain we all ride in the dark, towards an unknown future, with this person riding next to us, holding our hand. As the saying goes, "We may not have it all together but together we have it all."
I wish you Love: Truly. Madly. Deeply.
Love Never Fails.
And now I will show you the most excellent way. If I speak in the tongues of men and of angels, but have not love I am only a resounding gong or clanging symbol. If I have the gift of prophecy and can fathom all mysteries and all knowledge, and if I have a faith that can move mountains, but have not love, I am nothing . . . Love is patient, love is kind. It does not envy, it does not boast. It is not proud. It is not rude, it is not self-seeking, it is not easily angered, it keeps no record of wrongs. Love does not delight in evil but rejoices in the truth. It always protects, always trusts, always hopes, always perseveres. Love never fails. - 1 Corinthians 13: 1-8