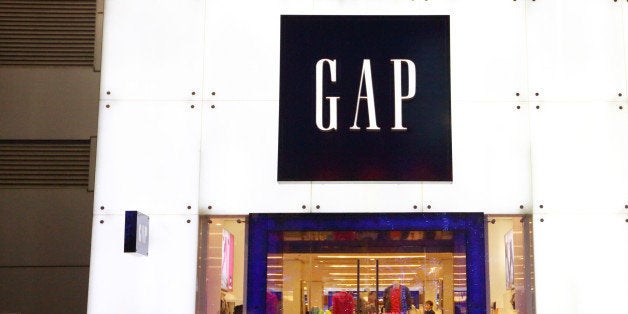 I went to the mall the other day to buy new pants.

Turning 30 on the heels of a significant breakup had my old pants working overtime, and I'm pretty sure the seams were just a few shifts away from going on strike. As it turns out, I'm not the kind of person who stops eating under the influence of emotions. I stop sleeping well and I stop exercising, but I definitely don't stop eating. So when I say I went to the mall to buy new pants, what I mean is I went to the mall to buy new, bigger pants.

Phew! I feel better already.

I've been buying all of my work pants at the Gap for years. They have a line of Curvy pants that are moderately affordable, don't lose their shape after washing, and most importantly, they fit! They slide comfortably up over my unfairly proportioned hips and seamlessly cover every bit of junk in my trunk. I still remember the day I discovered them. I even took to Facebook to share my excitement! It was a very big deal.

My last visit to the Gap, however, was different. I swung in on my lunch break, intended to beeline it to the trouser section, grab a pair or two to try, head straight to the fitting room, glance in the mirror, and make my way to the checkout. Fifteen minutes, tops.

It wasn't that simple.

I made one trip around the store, hurriedly skimming in shopper-with-a-purpose mode, and didn't see my pants. So I slowed down and went around again, my eyebrows growing increasingly furrowed with every passing section. Halfway through my third full circle, it hit me -- this Gap didn't have any grown-up pants! They had jeans, and leggings, and jeggings. Capris of countless different colors. Yet almost nothing that could fit into a business casual dress code, and most certainly nothing that would fall into a "curvy fit" classification. Suddenly, I felt out of place.

The clerk tying knots into scarves at the front of the store must have noticed how tightly the strand of hair from the front of my face had wound its way around my index finger, and finally offered her assistance.

"Can I help you find anything?"

"No, thank you," I smiled. "Just lookin'."

I was too ashamed to ask about the Curvy pants for fear that she'd take one look at my hips and suggest a different store. I decided to make one more trip around, this time in the opposite direction to scour from a different perspective, but still no luck. The sudden change in direction just made me dizzy.

"Screw it," I muttered.

"Did I just say that out loud?" my inner voice took over. "I have GOT to stop doing that. ...Seriously though, screw it. I'll just buy 'em online."

So back to the parking lot I went. No navy blue Gap bag. No pants.

(To clarify: I was wearing pants, I just wasn't carrying any.)

After work that day I optimistically jumped onto the Gap website, typed "Curvy Pants" into the search field, and was met with this:

"We are currently out of curvy pants, but here is a selection of pants that may interest you."

"Excuse me, what?" inner-Kate chimed in. "How can the Gap just be out of my favorite pants? Are they discontinued?? They can't be discontinued. Curvy isn't a trend that just goes out of style."

The selection of pants that were supposed to interest me had names like Skinny Mini Moto Skimmer Khakis, Broken-in Straight Khakis, and Ultra Skinny Pants. What are the chances that a person who enters "curvy" into a search field will be satisfied with results that contain the words "skinny," "straight," or "ultra-skinny"? I can't imagine they're good.

Don't get me wrong -- I know plenty of curvy girls that can pull off skinny-pants flawlessly, but these are not the kind of girls who regularly set off automatic hand dryers with their back sides as they're leaving public restrooms.

I ended up buying some curvy pants elsewhere, but for the sake of research I sent a quick email to Gap customer service inquiring when they'd be in stock again. A few days later, this message appeared in my inbox:

Thank you for your e-mail regarding the Gap Curvy Pants. Unfortunately, we do not have any information regarding stock dates for current or future merchandise at this time. We apologize for any disappointment or inconvenience this may cause. As a fashion retailer, we continually strive to create new designs and, as a result, our collections are constantly changing. We frequently bring popular products back, so we will be sure to share with our merchandising team your desire to see this product in the future.

In the meantime, we thought you might like to check out the Perfect trouser pants as an alternative. Below, we have provided a direct link for your convenience.
Translation: We discontinued your pants.
My interpretation: We discontinued your pants, fatty.
If I had any desire to reply (I don't...), I think it would go something like this:
Dear Gap,

Thank you for your suggestion. I once owned a pair of Perfect trouser pants. The back puckered out every time I sat down, leaving about two inches of space between the waistband and my lower back. I actually wore them out one night and came home to find a piece of gum that someone spit out had inadvertently landed inside the pucker and, thanks to the heat of my body, melted over a good portion of my right butt cheek. I think I'm probably too imperfect for your Perfect trouser pants.

I'm very curious to know what went down at the Gap buyers meeting where the decision to discontinue my pants was made. Did the President of Pants get hip-checked on the bus by a grumpy voluptuous bully that morning and form a sudden agenda against pear-shaped people? Was there a market research presentation with evidence showing women with birthing hips are less likely to buy new pants during an economic upsurge? Was there a pie chart involved?

Oh... pie. I hope there was a pie chart involved.

...I hope it was a pie chart à la mode.

I'm obviously disappointed that you stopped making my pants, but I know it's nothing personal so I'll try not to lose any sleep over it. I take more of an issue with the suggestions I've gotten from your website and customer service agent. The labels on these recommendations are body-shaming. They make me feel inadequate, inadequacy makes emotional, and emotions make me hungry. How do you expect me to rock those Skinny Mini Moto Skimmer Khakis if I can't stop eating my sadness away?

I admit my experience is unique, but the end result is not. I have all of these hot friends who don't believe they're hot because they're drowning in unrealistic expectations of beauty. You a-holes have failed me by contributing to these ridiculous ideals, so now I have to stop giving you my money.

In a nutshell, Gap, it's crap.

Sincerely,

Kate
REAL LIFE. REAL NEWS. REAL VOICES.
Help us tell more of the stories that matter from voices that too often remain unheard.