Last year, I was a first-time nominee for my short documentary, Facing Fear. Amidst the hoopla of press, screenings, parties and rubbing shoulders with celebrities, it was tough at times to keep perspective as to why I actually made the film in the first place.
I fretted over what to say to Christian Bale, seated at my table at the Oscars luncheon. I worried about my wardrobe in TV interviews. I stressed over securing tickets for crew to the actual Academy Award ceremony.
When asked what it was like to be nominated, I toed the party line.. ."it was an honor to be recognized." We do not make documentaries to win awards nor make money and if that is the pinnacle for you, then you are probably in the wrong profession. The exposure we received for our small film and the opportunity to start a discussion on tolerance, hate and forgiveness was first and foremost when we set out on the arduous path of making the film.
Was it possible to lose sight of what this actually was all about? Indeed! When my sons, Joaquin, 6, and Lorenzo, 3, started chiming in, it certainly didn't help. The mention of "Oscar" or seeing daddy on TV turned the talk to whether I was going to win. In their world it was all or nothing. This was the World Cup final and I was Lionel Messi.
As much as we have stressed the importance of having fun in all their endeavors, with winning as a byproduct of the experience, they were laser-focused on daddy bringing home a statue and provided me with the only real "pressure" to win. If I was lucky enough to win, I had a special message for them in whatever I would say.
While my wife and I attended the ceremony, the boys were glued to a TV at home trying to catch a glimpse of us among McConaughey, Blanchett and Streep on the red carpet, pausing the show anytime they saw a blue dress that might have been mommy.
They were living room cheerleaders, holding up handmade signs with my name on it like overzealous fans in the arena grandstand.
When the big moment came and I didn't get called to the stage, the boys were almost in tears. For me, this whole experience was just the beginning of amazing new opportunities... for them, this was a crushing defeat! I certainly was disappointed not to be able to recognize everyone who contributed to the film (including them) in front of a global audience, but I got over it within hours.
When we arrived back home, the boys had only overcome some of their grief and gave me a huge comforting embrace that put a final coda on the whole experience for me... or at least so I thought.
A couple months pass and I have come down from the high of the previous year. I have all my mementos, and perks from the Oscar run stored away for future nostalgic reflection. I'm back in my routine, including picking up Joaquin, from his weekly ceramics class. Suddenly though, I am barred from entering the actual studio where he is working on a new piece. It slips out that this creation was a super secret gift for the coming Father's Day.
Our house was already chock full of his many clay creations... a plethora of plates, cups and saucers in every size. We had a menagerie of animals, a cornucopia of fruit and even a pizza slice re-imagined in earthen form. We had even started to look into new storage options for our massive collection. When he smuggled home his newspaper-wrapped masterpiece, I only knew it was not significantly larger than anything else we already had in our stockpile. I secretly hoped for something for my office desk to relieve some of the clutter at home.
It's the morning of Daddy Day and after a made-to-order breakfast in bed, Joaquin proudly presented me with the wrapped gift along with a beaming smile and a look of anticipation I had not yet seen in his short history of juvenile gift giving.
As I opened it up I saw a small statuesque-looking man staring up at me. A sleek bald head with both arms folded over what appeared to be a sword ran the length of its legs to the pedestal below the feet. It was painted in its entirety in a muted mustard gold and the eyes and face were not quite recognizable.
This was not what I was expecting and I gave the requisite thank you before he asked, "Do you know what it is?" I racked my brain. I could see he had rehearsed and played out it this moment in his head for weeks. He was prepared for Daddy to be awe struck by his new creation and I was not holding up my end of the bargain.
After some fatherly procrastination and just before I had to actually fess up to my ignorance, it hit me. It was Oscar!!!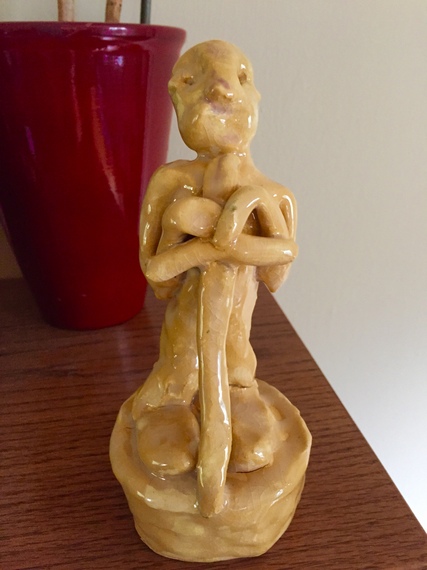 It was not plated in 24 karat gold, it stood a good 5 inches shorter and weighed well under the 8.5 pounds of the official Academy statuette. The knight holding the crusader sword was "abstract" in the best possible way. Its base was not the traditional reel of film but rather just a solid foundation of terra cotta. Instead of being cast, molded, polished and buffed by world-renowned RS Owens & Company, mine was hand-formed, glazed and fired with love at Kids n' Clay.
My Oscar does not need the official trademark ® while he now sits on the mantel alongside some of his clay comrades.
If there was any need for further perspective as to what the whole Oscar experience really meant in the grand scheme of things, it was all put into crystal clear focus by a 7 year-old boy with a heart of gold. I can honestly say that I would not trade my Oscar for his bigger, shinier counterpart being handed out this week.
Popular in the Community