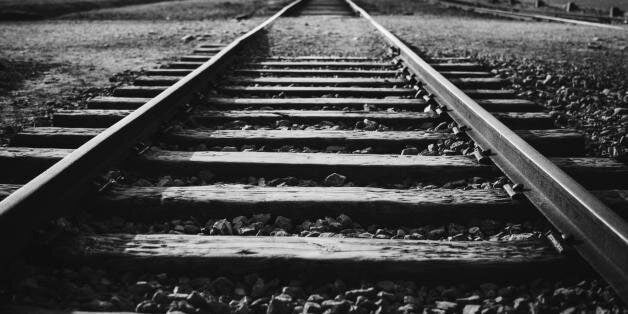 Very often I look at the pictures of my grandmother Paula. She was warm and loving. I imagine my conversations with her, sitting on her lap. I hear her. Her voice makes me feel strong and indestructible. I look at the pictures of grandfather Pál too. He is sitting at his desk, white shirt and vest. He has a mustache, like most Hungarian men. He is a little rough, but very proud of his three boys Bandi, Pisti and Dénes, my father being the youngest. Then I remember the photograph of the three young men taken in 1939, the one which has been hanging in our home forever. There is a little piece of paper glued to the glass. On the paper, my grandfather had scribbled a note: "If anyone finds my sons, please hand them this photograph."
I never met my grandmother or grandfather. On July 17, 1944 they left for Auschwitz in the fruit cars ( a lot worse than cattle cars, these had no ventilation at all) provided by the Hungarian Railways (MÁV) crowded together with hundreds and hundreds of other Jews from the town of Pápa, in Central Hungary. It is known that the Hungarian gendarmerie and the municipality was helpful in rounding them up, herding them into a ghetto a few weeks earlier. I try to imagine their journey, and how they survived the excruciating travel they had to endure, before they arrived to Auschwitz to their certain death. They might not have made it. Or if they did, they were among those who were sent to the gas chambers upon arrival. They were old and frail.
This week the civilized world is remembering the liberation of Auschwitz 70 years ago. We are honoring those who perished and celebrating those who had the luck and the will-power to survive. This is important, but for me it is just another week when "memories" pop up suddenly, for no apparent reason, without any rational explanation and mostly without context. The Holocaust has grown under my skin; it is with me every day. My personal window on Auschwitz is open, and I can't close it.
I am proud and grateful, that unlike many Jewish parents in Central Europe, my father chose to share with me the horrors of the deportations, the persecution of Hungarians of Jewish descent and the Nazi extermination camps at a very young age. I was 10, when he first explained to me, that there was a village in Poland, where something very bad had happened to our family.
I was a grown man in 1979 when my father decided to visit Auschwitz, the one time he had the strength to do so. Father wanted to "see" his parents, his cousins Tibor and Éva, his uncle Lajos, his niece Zsuzsika, four month old at he time of deportation, "for the last time." Father, who had been hardened by the front, the Jewish forced labor brigades of the Hungarian army, the five years of POW camp in Russia, held my hand like a child as we walked through the gate of the death camp. He then broke down crying endlessly and whispered into my ears "I can't take it any longer." Years later,the night before he passed away, he went on and on about the Holocaust. He told me: "Not a day has gone by, that I have not thought about it."
It was good that many European leaders were in Auschwitz to commemorate this week. Poland is to be thanked for the respectful manner in which they did this. But to see the last major commemoration of the Holocaust before the eye witnesses are all gone become embroiled in present day political bickering is sad. I am a staunch critic of Vladimir Putin, but he should have been there too. The Red Army liberated Auschwitz, and that's a fact. President Obama should have been there as well. Not in order to please or impress Jews, but in order to send a strong message about his feelings, which I am now uncertain of. He should have walked past the gas chambers, past the Appelplatz, past the barracks, past Dr. Mengele's torture chambers. He should have been there, so that he would get a little closer to feelings of pain that survivors, millions of children, grandchildren and great-grandchildren of those who died in Auschwitz feel 70 years on.
A pain that just would not go away.
REAL LIFE. REAL NEWS. REAL VOICES.
Help us tell more of the stories that matter from voices that too often remain unheard.