Each year I write about people/shows I'd like to see get Tony nominations. These are people/shows that aren't necessarily going to get nominated. Indeed often they are people I think will likely not get nominations because of the amount of (often worthy) competition in their respective categories, but they are efforts I think should be recognized at least by me. This is not an exhaustive list, and some people that aren't mentioned below will likely get mentioned in my post-Tony nominations column.
Note that this year is a little different because I have yet to see three shows (stupid conflict between the theater season and the Jewish holiday), so I'm sorry for not including Tuck Everlasting, Shuffle Along or Long Day's Journey Into Night or the people contributing to them. No one involved in any of those shows will be mentioned below for their work on or in those shows, nor will the shows be mentioned. Sadly therefore this year I cannot even say that the list below consists of people I would nominate -- not having seen everything, I can't tell.

The list:

Five Best Musical nominees, as an idea: This doesn't exactly fit, but go with me. Under the current Tony rules, all that is needed to get to five show nominees this season is that the fourth highest vote getter and the fifth highest be separated by three votes or less. Whatever the ruling about Shuffle Along, this seems like a distinct possibility this season with the amount of shows people are mixed on. And I'm all for it!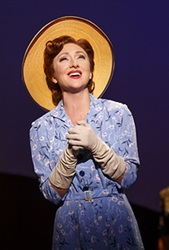 Carmen Cusack, leading lady of Bright Star: In a very, very competitive year in the lead actress category, Cusack isn't the lock she would be in other years. However her performance is really the heart of Bright Star, so she deserves to have her name called (and might). The show isn't all about her, but it revolves around her journey. Her performance is imbued with just the right amount of naïve enthusiasm when needed, and weariness when called for. A veteran of regional theater stages and the West End, this is Cusack's Broadway debut. And she is making the kind of Broadway debut audience members always hope to see. She is unbelievably confident up there and yet her vulnerability is palpable. She makes you feel for her character throughout, not just at the show's most dramatic moments. Read this recent New York Times story for a more detailed look at Cusack's journey.
Ana Villafañe, leading lady of On Your Feet!: It's sad that we very well might not hear Villafañe's name announced Tuesday. I'd be thrilled if we did. She is playing Gloria Estefan, she hardly ever leaves the stage and she's very good. Also, she does her thing eight times a week and has on Broadway for over six months. My friends went to On Your Feet! in early previews and just went again last week; they came out saying: "Her energy really hasn't waivered!" That's saying a good amount considering how hard she is working. Like Cusack, Villafañe is enjoying her Broadway debut. It's a special one and deserving of the praise she received. Her enthusiasm and clear love of the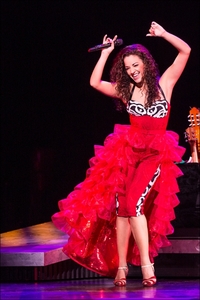 material helps sell her character and her show. If you haven't been to the Marquis Theatre, make sure she's not on vacation when you go, because I honestly can't imagine anyone being better in it.
Jennifer Simard, featured actress from Disaster!: I have real trouble picturing Simard being overlooked, but these featured categories are often tricky, even omitting expected winners, such as Avenue Q's Ann Harada. So let me say right now - Simard is perfect in this show. She's hilarious. She elevates the material. I don't always like broad performances, but every single time she took center stage I laughed. Renée Elise Goldsberry will undoubtedly score a deserved win in this category - she's giving my favorite performance in Hamilton - but no doubt in my mind Simard deserves to be on the shortlist. I suspect nominators will feel the same.

Kimiko Glenn/Christopher Fitzgerald, featured actress and actor from Waitress: Not having seen two of the big musicals this year, these featured categories are sort of hard to predict, but this duo was my favorite part of Waitress. I was expecting Fitzgerald to be great, because I love him. Glenn was more of a surprise. With her first act song she quickly established her character's quirkiness and she maintained her slightly off-kilter portrayal throughout. Plus she sounds exactly like I wanted her to.
Cicely Tyson/James Earl Jones, lead actress and actor from The Gin Game: Listen. I mean, listen. I don't understand how this play won a Pulitzer Prize. I do understand wanting to sit at the Golden and watch this show with these leads. And that is coming from someone who thought Tyson's last Broadway performance was one of the most overpraised in years.

Josh Rhodes, choreographer of Bright Star: I wrote a whole column about how much I like Rhodes' work on this show. There aren't many big dance numbers, so I feel he might not be an obvious choice. However let's all take a moment to recognize just how good his choreography is. He has a shot this year, but if it doesn't work out, I know he'll hear his name someday.
Keith Parham, lighting design for Thérèse Raquin: Yup. This is the kind of thing I notice. Lighting design. Thérèse Raquin was a piece that it was difficult to fully embrace, but it had many beautiful stage pictures, thanks in large part to the work of Parham. Often the design categories are filled with familiar names, but everyone has to have a first time sometime.
August Eriksmoen, orchestrations for Bright Star: I've written before about how I don't think most people (possibly myself included) understand what an orchestrator does. If you Google, you can find some material about what they do, interviews with orchestrators themselves and also composers speaking about their relationships with orchestrators. I've done some of those types of interviews through the years, so I'm more qualified to talk about good orchestrations than some. I therefore have some basis for saying that Eriksmoen does a great job with Bright Star. I wrote in my Josh Rhodes piece about how his choreography factors into the score. That wouldn't feel so seamless without, among other people, Eriksmoen. Also remember that Steve Martin and Edie Brickell are Broadway newcomers - they aren't used to this process. The songs they wrote could easily read as one-off banjo songs you'd hear in a bar in Alabama, but when you hear them at the Cort they sound fuller than that. Eriksmoen has worked with them to create a true Broadway score with a sound that perfectly fits the show. He's working with a small onstage band, but the music doesn't sound like it lacking an instrument (or five). That is all to his credit.
Photo of Carmen Cusack in Bright Star by Joan Marcus. Photo of Ana Villafañe in On Your Feet! by Matthew Murphy.
Calling all HuffPost superfans!
Sign up for membership to become a founding member and help shape HuffPost's next chapter