 Most people announce their engagement by calling a few loved ones or, at the least, by posting a romantic picture on Facebook.
As it happened, I was the last person to find out. My fiancé, Rich Orosco, wanted to do something special, something cool and something completely unexpected ... and the last thing I would ever expect was for him to be inspired by one of my favorite jokes! I always teased that I wanted to have a surprise wedding, entirely planned by someone else, where my whole job was to just show up. That way, I could avoid any potential bridezilla behavior and actually enjoy myself at the big event. Naturally, my girlfriends were horrified at the thought of me showing up to my "surprise wedding," as I am most days rocking a pony tail and yoga pants.
Rich, being a smart man and not wanting to upset the girlfriends, decided to throw a surprise pop-up engagement party instead!
It was a normal Sunday evening in June of this year. We were getting ready to have dinner at his brother's house to celebrate Rich's birthday. On our way out the door, Rich suggested we share a glass of wine in the backyard (I had been complaining earlier that week that we never just sit and enjoy our backyard).
This is where things started to seem slightly out of the ordinary: He asked me to close my eyes and I felt him move next to me. I didn't register what was happening, but he told me to keep my eyes closed and, as an actress who takes direction well, I kept them shut tight until he said "open."
There he was, on bended knee holding an open box with a perfect sparkling ring. He said "Will you marry me?" And of course , I said, "yes...Yes!!"
Then things really got crazy. Not five minutes after I put on the beautiful ring, a full-scale mariachi band came sounding up the driveway! My first thought was, "How did these guys know the gate code?" Then, I realized it may have been from one of the 60 plus friends and family cheering and dancing behind them! Party decorations went up in a flash, a taco truck pulled into the driveway and the tequila shots started flowing!
As tears of joy (and shock) rolled down my face, I couldn't believe the man I loved just pulled it off this spectacular surprise! It was an Oscar-winning performance indeed. I may even let him plan the wedding!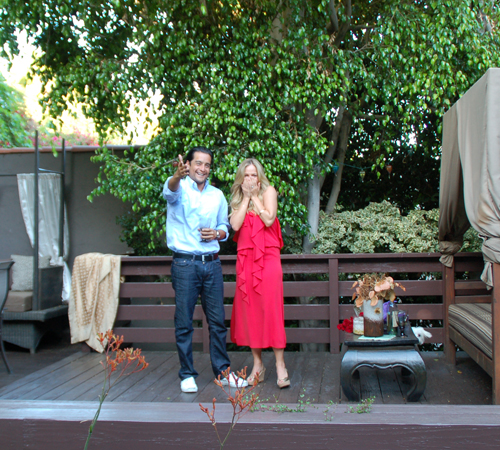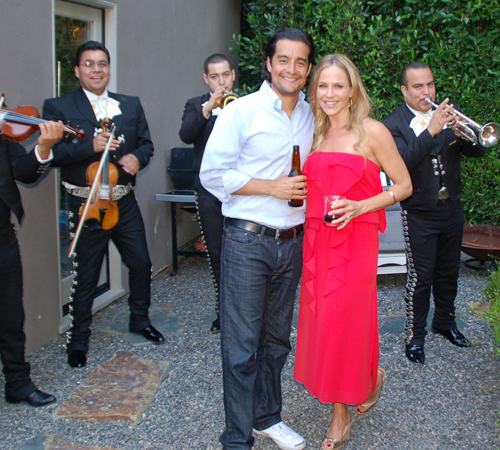 Related