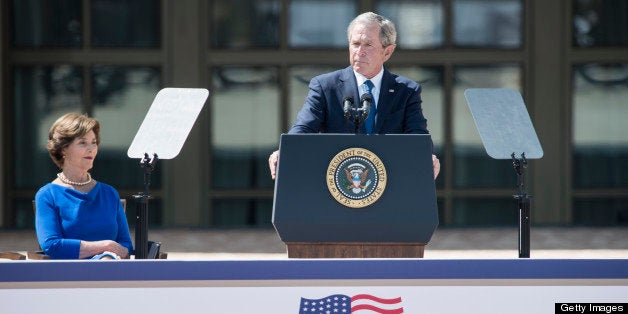 At first glance, a George W. Bush Presidential Library might seem like an oxymoron -- think, the Sarah H. Palin Institute for International Studies.
It was Katie Couric's question in the 2008 campaign, strolling with Palin on the sidewalk in front of the United Nations building while it happened to be in session, as to what newspapers Palin actually read, to stay informed on world affairs ("Oh, all of 'em, any of 'em"), that sank any chance of Palin's being taken seriously, ever, and branded the reckless McCain-Palin ticket as America's nearest miss in our history.
Likewise, the new library's Bush Institute, referred to as a "think tank."
When plans for the George W. Bush Presidential Library were announced, some years ago, I envisioned the perfect design: an empty shell containing a single book: The Pet Goat. As Ron Charles wrote for the Washington Post on September 9, 2011:
That was the short tale President George W. Bush was reading with students at an elementary school in Sarasota, Fla., when planes struck the twin towers in New York. The title, misquoted as "My Pet Goat," became a punch line for comedians and especially for filmmaker Michael Moore, who in "Fahrenheit 9/11" mocked the president for staying with the schoolchildren for several minutes while the crisis raged in New York and reading: "A girl got a pet goat. She liked to go running with her pet goat."

As goats will do, this one starts eating everything in the house but later redeems itself by catching a robber. Mission accomplished!
I started this day wanting to be generous. I really did. Intending, planning on it. It was very rare, and very affecting, to see five living presidents and their ladies sharing a dais in a vision of generous colloquy.
My generosity vanished when Senator Lindsey Graham, flanked reliably -- as usual, now -- by the bitter, sorest of losers, John McCain, went on the air immediately after the library dedication to accuse the Obama administration not just of incompetence and politicizing of the terrorist attack on the U.S. Embassy in Benghazi, but in the Boston Marathon bombing, claiming that radical Islam is again "on the march;" and that America needs to dial up our military.
Just as Obama finally managed to dial down Bush/Cheney's waste of blood and treasure in Iraq and Afghanistan that put us in this interminable economic recession.
Conspicuously, the huge "Mission Accomplished" banner, backdrop for Bush's May 1, 2003 parachute descent to the aircraft carrier USS Abraham Lincoln -- about six weeks after the launch of the Iraq war -- is missing from the $250 million facility.
Calling all HuffPost superfans!
Sign up for membership to become a founding member and help shape HuffPost's next chapter