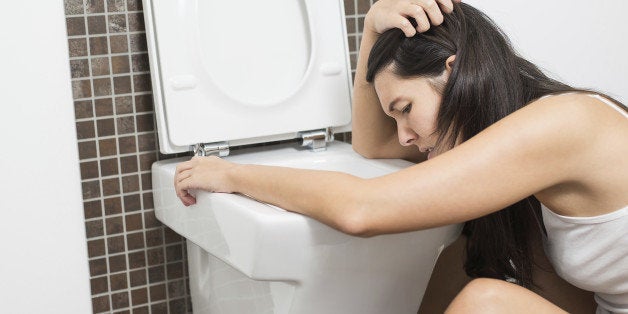 If someone would have told me how excruciatingly difficult my pregnancies would have been, I might not have had children. I love my kids- fiercely- I do. But my last pregnancy almost killed me. And prior to experiencing the incomprehensible love that can only be felt through bringing a child into the world, sharing a first look and holding their tiny, little hand in yours, I'm not sure I would have been willing to risk my life for theirs.
My first pregnancy was difficult. I was extremely nauseated and vomited daily for the first five months. My doctor diagnosed me with a condition called hyperemesis gravidarum and started me on a medication called Zofran, which I took regularly in order to keep food and fluids down. At about 20 weeks, the puking stopped but I remained nauseated for the remainder of my pregnancy. Since the Zofran allowed me to keep fluids down, I never had to fear for my life or my child's.
My second pregnancy was a different story. Within the first month, I was hospitalized for dehydration and anemia. I had tried Zofran and several other medications in hopes of keeping fluids down, but the hyperemesis was persistent. The fatigue that came from the dehydration and malnutrition made it nearly impossible for me to care for my eleven month old baby. I had trouble keeping my eyes open, couldn't stand for more than a few minutes at a time without becoming weak and dizzy and began experiencing debilitating migraines.
I was hospitalized a total of 6 times throughout that pregnancy to receive IV fluids and iron. The unabating nausea and vomiting lasted from the moment my son was conceived until the moment he came out. My son was born small but healthy.
People often wonder why I would endure a third pregnancy after experiencing what I did with the second. Honestly, a part of me held onto the hope that my next pregnancy would be different. I had two boys and thought that maybe if my third was a girl, my pregnancy would be easier. There was another part of me that knew deep down it was wishful thinking but I was still willing to go through it again if it meant bringing another precious life into this world.
I knew I wanted another child, but my third pregnancy came unexpected. We had planned to wait a few years but ended up pregnant, despite using birth control, eight months after our second was born. I knew I was pregnant the minute I took a sip of water at a Christmas party and was instantly struck with intense heartburn.
My third pregnancy was unfathomable. I literally could not get out of bed. I was vomiting from sun up to sun down, and sometimes all through the night. I couldn't drink anything without it coming back up. It was like having the world's worst stomach bug for nine months straight. I was in the hospital twice a week for the first five months getting infusions and was deathly afraid I would lose the baby.
The physical symptoms were unbearable; I imagine if I were to ever be hit by a bus and then dragged along the pavement for several miles, my body would feel similar to how it felt during that pregnancy.
More unbearable than the physical symptoms however, was the mental anguish of a mother who desperately wanted to be there for her babies but couldn't. A mother whose pain led to a dark depression; one that stole her desire to live.
Each night, when my head hit the pillow, I prayed that I would just die in my sleep. The anger I felt waking up each morning was followed by relentless guilt. Guilt for wanting to leave my sweet, innocent babies behind. Guilt for not being able to love and care for them in a way I knew they deserved. And guilt for wishing that the precious life inside of me had never existed.
My son was born a month early but aside from low birth weight, he was thriving. He never made a trip to the NICU and we took him home only three days after he was born. He was perfect. My mind, however, was not.
I experienced severe postpartum depression after he was born. I had repeated visions of dropping my infant in the lake and smiled in my mind's eye as I watched him take his last breath. I was unresponsive to his crying and had no interest in mothering any of my children. I was emotionally detached and void of any feeling. Thankfully, as a trained marriage and family therapist, I knew how to recognize the PPD and started on medication right away. I also had safety precautions in place to ensure I wasn't a danger to myself, or more importantly, to my boys.
My youngest is now two and a half years old and mothering him, and my two other boys, is the purest joy I have ever known. My first pregnancy was difficult. My second was debilitating. My third almost killed me, but I'd do it all again if it promised even a moment of the joy and love I find in them each day.