I took my time getting there, grateful for the slower pace as the roads turned more rural, familiarity receding in the rearview. My destination was a fixed point on a map on my phone screen. But I veered off course to snap photos, breathe in the clean, cold winter air and blast Cat Stevens' "Another Saturday" from the car speakers as I captured an abandoned farmhouse in the fading light. I felt the freedom and confidence that comes from being on the road alone, beholden to no one, turning off the beaten path into the unknown.
When I arrived at the inn on the corner, the bellhop escorted me to my room, told me there's yoga at 5:30 that evening. She must have sensed my reluctance, for she offered, "Another woman in your party may not attend; she just got here too." An out. Permission to do what I always do, what I do best: watch from the sidelines. Forgo immersing into this life and instead only bear witness. Skim, not sink in.
But if not now, when? Did I drive all this way to sit in a room at an inn, alone? Doing nothing new? Taking no chances? I chastised myself with a series of cliché motivational quotes. Then I sent frantic messages to a dear friend: What does one wear to yoga? Something I, admittedly, should have researched before I packed for the trip.
I selected my oldest, most comfortable black leggings and as I faced my self-doubt in the full-length mirror, the phone rang. It was time for yoga. Let us begin.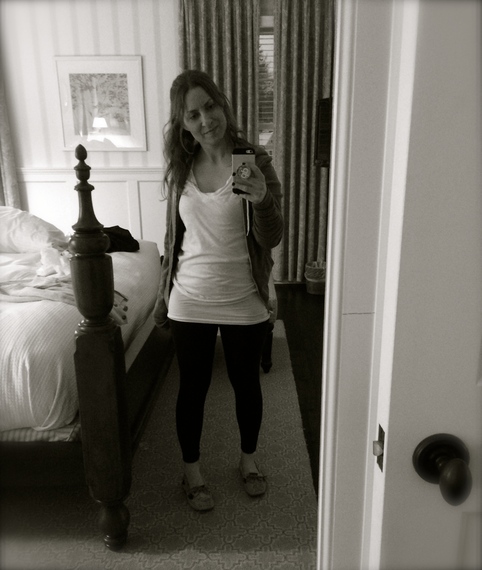 I'm terrible at yoga, it turns out. Oh, I know, you'll say it was my first time, it's a practice, you can't be bad at yoga. But let me stop you right there -- I'm bad at yoga. I'm OK with this. It's good to know.
The instructor's directions tumble out one right after another. I can't make sense of them. I've temporarily forgotten -- I mean plain don't know -- my left from my right. Everyone else seems experienced. The instructions come faster and faster and I'm lost. Utterly lost. I can't keep up or follow along. My neck muscles tighten. I'm worried about the hole in the inner seam of these old, old leggings. I'm wishing, wishing, wishing for it to be over.
I stubbornly keep at it -- not for myself, no. But so as not to disturb the practice of the others around me. Worried about everyone else. Not what's inside, not myself.
Listening, wanting -- to be able to do it, to do it right, yearning for positive reinforcement, for external validation. Failing. Falling. Unbalanced, unempowered. Horrible. Just horrible at this. My head hanging down, blood rushing, the strain on my legs is almost unbearable.
Realizing then, in that moment, this is how I live. Looking out more than in. Worrying about perception, appeasing others more than asserting myself. Never acknowledging the intensity of my inner strength, buried, somewhere down underneath it all.
I don't trust in my body. I don't give birth naturally. I don't dance. I don't assume I will find the rhythm or know the steps. I'm always wondering if I'm doing it right, who's watching, if I fit in. Mine is not a smooth path through this world. It's staccato, belabored. Unnatural, overthought. Nail-bitten. Lacking flow.
I can't get out of my own head.
I'm still on that yellow mat. It's mocking me. I set my sights on one thing: keeping my balance. It's a worthy goal. Hard, but achievable. For several seconds, I waver and wobble in place. Progress.
"Breathe," she says. And I realize... I forgot to breathe.
Here's the thing, the dirty little secret: I'm never present. My body is often in one place, my mind another. My children are young yet -- the oldest barely in grade school. My fingers fasten coat buttons while my mind wanders to what's next... what else... what's for dinner... do I need to buy oranges? Where's the baby? Has he gotten into the markers? What can I be doing in this rare moment while my children self-entertain? Wash the dishes? Prepare their school lunches? Clean up the strewn puzzle pieces in that corner? Lay out their pajamas? When I manage to make it out of the house alone, I smile through gritted teeth, where I hold all my tension, and worry about what the boys are doing back home. Often the pressure to be present bears down more heavily than the weight of everything else I'm carrying.
Maybe I'll be different one day. When the children are grown, when I can complete a thought without interruption, when my mind is no longer splintered and shattered and seemingly held together with scotch tape.
But somehow I doubt it. I've come to understand that this is who I am. Everywhere and always. I thrive on the chaos and overwhelm. On the complexity of being several places at once. On the fight to find myself in a life that could so easily edge me out. The me I know now is surrounded by boys and noise. And it's the struggle to find silence that makes it all the more sweet, that makes it mine.
Upon return, I quickly settled back into my life. Within minutes, I'm in the warm minivan, boys buckled in back seats, driving to pick up my oldest from after-school science. A weight lifted. An expectation fulfilled.
Suddenly, the song I had waited the entire trip to hear found me there -- on the road home, driving into the most exquisite sunset as the Northern State Parkway rose and fell... where I could be my whole self.
At first, I felt deflated that the retreat was over, that I had returned. That everything was still where I'd left it. That it was all waiting to swallow me whole.
But what happens right here, at 3 a.m., at my desk in the darkened yellow room with my sweet boys sleeping soundly nearby... this is my writing life. This is the life I love.
We can't make ourselves anything other than who we are. We can only, we must, bring our true, broken, flawed, idiosyncratic selves to the page.
As I hung my black skinny pants in the closet, the smoky smell of the fireplace from the prior day's workshop hit me and I was overcome. With nostalgia and regret.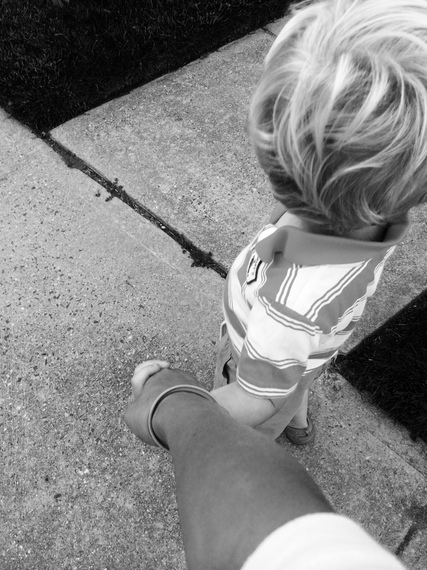 A version of this post originally appeared on Dina's personal blog, Commonplace. You can find Dina on Twitter @DinaLRelles.
Related