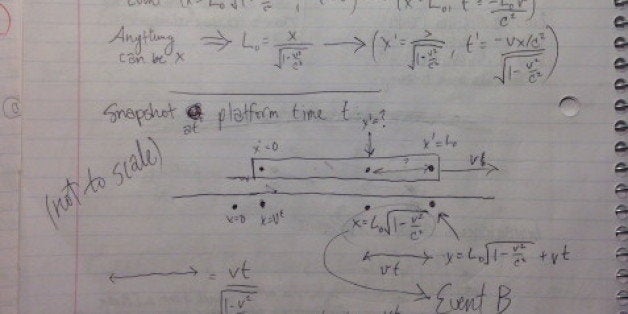 Ever notice that when you go roller skating, there's always one person who's either clutching the side of the rink or causing a 10-skater pileup after still another wipeout? That's me.
To say I'm not a natural at the sport might qualify for a world record in understatement. So naturally, I love it. Every bit of coordination and even IQ has to go into staying upright. Any problems I have before I lace up just seem to... fall away. I'm terrified and totally relaxed, all at once.
I suck at roller skating, and I love it.
That's what kept going through my mind when I got the latest report from our daughter, Katie, a freshman in college who's still getting used to how difficult her classes are. "Physics is kicking my ass," she said. "And I love it." There wasn't time to make sure I'd heard her right when she continued: "It's so interesting. I'm learning so much..."
She started to tell me what she's learning, but it was too much. She lost me after about a sentence and a half. I loved listening to her enthusiasm even though I didn't understand a word of it. Then she told me about her other classes, which -- while maybe not quite as difficult as physics -- were making her a better person. She's learning a lot in those, too.
I couldn't help but think of all the times she'd watched me on a roller skating rink, trying to keep from falling over with laughter at my attempts to keep from falling down. But that would be giving myself too much credit for the great attitude this young woman has.
So, we talked about her character. I recently read Donald Miller's book, A Million Miles in a Thousand Years. One of the elements of a good story, Miller says, is character transformation. No character transformation, no story.
I'll never forget the first time Katie got a B in high school. I thought I'd prepared her for that in middle school. I'd give her a little treat when she got a B. That got around, and Kate's teachers loved me for it. They sensed her going just a tiny bit easier on herself, and they gave me the credit. But a month before Katie started high school, she toured the university she's attending, and she decided she'd do everything in her power to earn a spot in a school that this year accepted 7.4% of the kids who applied. Getting a B in one of her high school classes wasn't part of that plan.
Now here she was, giving me the only report card that really mattered: "Do you know how much better I feel about myself by changing how I feel about grades?" she asked.
Before I could answer she added, "You know what I think of?" I didn't. "How you are about roller skating."
I don't know what grade she's going to get in physics, but I'm giving myself an A!