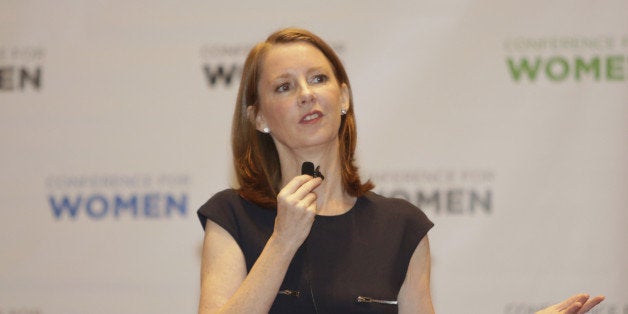 Gretchen Rubin has a gift for adding value to her readers' lives and opening up the conversation on everything from productivity to the meaning of happiness. Her new book, out today, is Better Than Before: What I Learned About Making and Breaking Habits -- to Sleep More, Quit Sugar, Procrastinate Less, and Generally Build a Happier Life. In answer to my questions, she shared her insights on how habits can free us, the importance of understanding ourselves, and the 21 strategies we can use to make or break habits -- and in doing so, begin to live the lives we want, not the lives we settle for.
Q) How did you get the idea to write your book, Better Than Before: What I Learned About Making and Breaking Habits -- to Sleep More, Quit Sugar, Procrastinate Less, and Generally Build a Happier Life?
A) For years, I'd been researching, writing, and talking to people about happiness, and I began to notice a pattern. When people talked about a big happiness challenge in their lives, they often pointed to something that, at its core, was an issue with a habit. "I'm exhausted all the time" is about the habit of getting enough sleep. "I want to write a novel in my free time, but I never make any progress" is about the habit of consistent work. So I became increasingly drawn to the role that habits can play in making us happier, healthier, and more productive.
Q) What's the one thing you hope readers will take away from it?
A) I hope that they will appreciate the power of habits to help us get the lives we want. It turns out that habits are the invisible architecture of everyday existence. Studies suggest that we repeat about 40 percent of our behavior almost daily, so if we change our habits, we change our lives. Habits are energizing and freeing, because they relieve us of the difficult, draining work of using our self-control and making decisions. No more agonizing about whether to go to the gym! Habits mean that you just go.
People sometimes say, "I understand how important habits are, but I just can't change my habits." I want people to know that there's hope! In BETTER THAN BEFORE, I identify twenty-one strategies that we can use to make or break our habits. That's a lot -- which is good. Because there are so many strategies, each of us can choose the ones that appeal most to us. One person does better by starting small; someone else, by starting big. One person does better going public with his habit; someone else, by keeping her habit private.
Along the same lines, I developed a vocabulary that we can share to talk about our habits. I'm a big believer in the idea that once we have a term for something, it's easier to think and act on it. So if you know that you're using the Strategy of Pairing to keep a habit, or that you're invoking the Lack-of-control Loophole in order to break a good habit, it's easier to spot such behavior in yourself.
It's not hard to change habits, when you know what to do.
Q) How should we go about starting to change habits and what can we do to increase the likelihood that these changes stick?
A)The most important step -- and a step that oddly, habits experts seem to ignore -- is to understand ourselves. There's no shortage of advice about how to change your habits. Start small! Do it first thing in the morning! Reward yourself! Be moderate! But while it would be terrific to discover some magic answer, the fact is -- as we all know from tough experience -- there's no one-size-fits-all solution. Each of us has to figure out, for ourselves, what works for us. When we identify key aspects of our nature, we can tailor a habit to suit our particular idiosyncrasies, and that way, we set ourselves up for success. In Better Than Before, I talk about the many strategies for habit change, and show how various strategies work better or worse for different people, given their diverse natures.
Just because a habit worked for Benjamin Franklin or Taylor Swift doesn't mean it will work for you. A good example of this? Morning people and night people. Sure, it makes sense on paper to exercise first thing in the morning. But if you're a night person, you're at your most energetic much later in the day. If your New Year's resolution is "Get up an hour early each day to exercise," you're not setting yourself up for success. Because you're a night person.
Q) Sleep was my foundation habit -- once I started getting more sleep, everything changed. What have you found helps people build new sleep habits?
A) Lots of things! Here are a few habits to consider.
-Most adults need at least seven hours of sleep a night, and most people get up at the same time every morning. Do the math, and give yourself an official bedtime. Many adults go to bed "when they're tired," but then jack themselves up on sugar, TV, or work email, and end up staying up too late. Even if you're not in bed yet, you should know "It's an hour past my bedtime." In my habit-change framework, this is an example of the Strategy of Scheduling.
-Set an alarm to remind you of your bedtime, just as you set an alarm to remind you to wake up. You may even want to have a true snooze alarm, to tell you "Go to bed in fifteen minutes." Another example of the Strategy of Scheduling.
-Get ready for bed well before you plan to go to sleep. Perversely, I found that I was staying up late because I was too tired to go through the necessary motions of washing my face, changing my clothes, taking out my contacts, etc. Now I get ready for bed ahead of time, so that when I feel like going to sleep, it's easy. This is an example of the Strategy of Convenience.
-Try to get some exercise during the day. You don't have to train for the marathon; just go for a fifteen-minute walk. Exercise is a double win: it energizes us, and it also helps us fall asleep faster and sleep more deeply. This is the Strategy of Foundation.
Q) I was interested in what you wrote about how "companies and institutions can change our habits -- for better and for worse -- by persuading us to link certain habits to identities to which we aspire." Tell me more about how this happens.
A) Often, our habits are a reflection of our identity. We smoke because we think of ourselves as a cool, outlaw person. We bake desserts every night because we think of ourselves as a homey, indulgent baker. We show up to meetings on time because we think of ourselves as a responsible, considerate co-worker. These are examples of the Strategy of Identity. Companies and institutions can accelerate this process.
For instance, in their book Made to Stick, Chip and Dan Heath describe how an antilittering campaign successfully changed the littering habits of Texans. The typical litterer was a man, between the ages of 18 and 35, drove a pickup, and liked sports and country music, and messages such as "Please Don't Litter" and "Pitch In" hadn't worked.
For the campaign, famous Texans such as George Foreman, Stevie Ray Vaughan, Willie Nelson, and various sports figures made TV spots with the message "Don't mess with Texas." The campaign convinced viewers that a true Texan -- a proud, loyal, tough, virile Texan -- doesn't litter. During the campaign's first five years, visible roadside litter dropped 72 percent. Our habits reflect our identity.
Q) The holidays often involve a lot of temptations involving food and drink. What do you find particularly tempting, and how do you handle it?
A)I have a tremendous sweet tooth, and for many years, holiday temptations really made the holidays less fun for me. Then I realized that I'm an "Abstainer." I find it easy to have none, when facing a strong temptation, but it's too hard for me to have a little bit. ("Moderators," by contrast, do better when they indulge in moderation.) Now I abstain from all sweets, all the time! I eat a very low-carb diet. It sounds difficult, I know, and perhaps slightly Grinch-ish, but truly, for me, I'm much happier during the holiday season now that I don't have to fight temptations. All that tiresome noise is just gone from my head. That's an example of the Strategy of Abstaining.
Q) What has surprised you as you've studied people's habits?
A) Honestly, I'm surprised by how accurate my Four Tendencies framework has turned out to be. It really is useful in figuring out how to get yourself to change a habit -- or to help someone else to change a habit. According to the Four Tendencies framework, people generally fall into one of four groups: Upholders, Questioners, Obligers, and Rebels. It relates to how we respond to expectations. We all face two kinds of expectations: outer expectations (meet work deadlines, observe traffic regulations) and inner expectations (start practicing guitar, keep a New Year's resolution).
Upholders respond readily to both outer expectations and inner expectations. "I do what others expect of me -- and what I expect from myself."
Questioners question all expectations. They meet an expectation only if they believe it's reasonable (effectively making it an inner expectation). "I do what I think is best, according to my judgment. I won't do something that doesn't make sense."
Obligers respond readily to outer expectations but struggle to meet inner expectations. "I don't like to let others down, but I often let myself down."
Rebels resist all expectations, outer and inner alike. "I want to do what I want, in my own way. If you tell me to do it, I'm less likely to do it."
Once we know our Tendency, we have a better idea of what habit-change strategy will work for us. For instance, Upholders do especially well with the Strategy of Scheduling, Questioners with the Strategy of Clarity, Obligers with the Strategy of Accountability, and Rebels with the Strategy of Identity. (Take a Quiz to learn your Tendency here.)
Understanding this framework is particular helpful for Obligers. For Obligers to meet inner expectations, the key is external accountability. They need deadlines, late fees, a trainer, a coach, a friend who'll be disappointed if they don't show up, a teacher who will notice if they skip class, their own duty to be a good role model for someone else. With external accountability, Obligers do a terrific job of keeping their habits; without it, they struggle. Over and over, people have said to me, "Now that I know I'm an Obliger, I've figured out how to give myself external accountability, and for the first time, I'm managing to go to the gym/paint regularly/take my medication/bring lunch from home."
Q) If you could wave a magic wand and give yourself one new habit -- or break an existing one -- what would you choose? What would the people close to you choose for you?
A)My husband would definitely choose, "Put dishes in the dishwasher as soon as you're done with them." My mother would choose, "Stop twisting your hair." I'd choose -- "Exercise more, and more vigorously." I exercise pretty regularly, but I could benefit from getting more exercise, and pushing myself more. I take it pretty easy on myself. Exercise is like the magical elixir of life.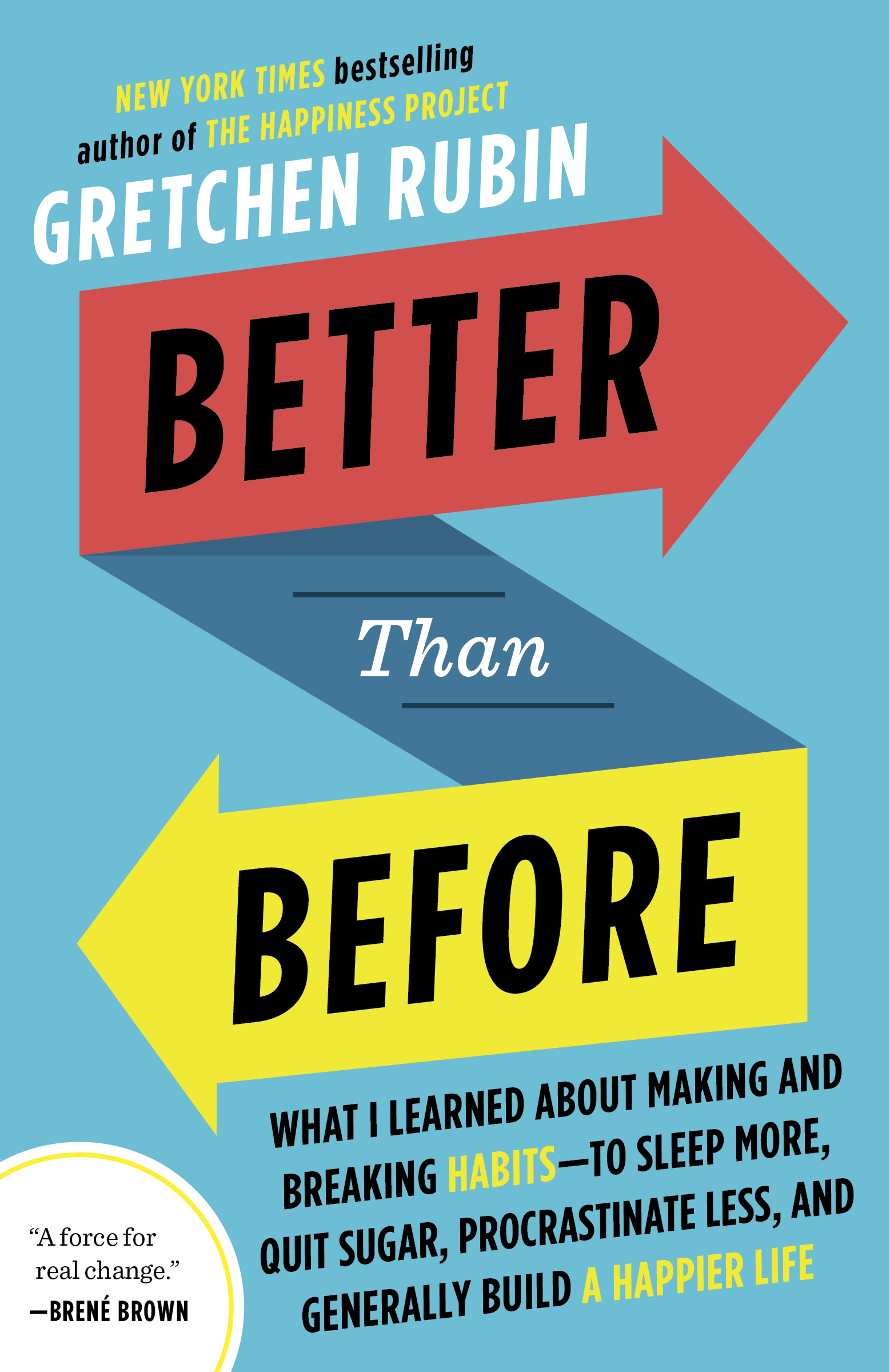 GRETCHEN RUBIN is the author of several books, including the blockbuster #1 New York Times bestseller The Happiness Project. Rubin started her career in law and was clerking for Supreme Court Justice Sandra Day O'Connor when she realized that she really wanted to be a writer. Raised in Kansas City, she lives in New York City with her husband and two daughters. Her new book, Better Than Before: What I Learned About Making and Breaking Habits -- to Sleep More, Quit Sugar, Procrastinate Less, and Generally Build a Happier Life, will go on sale in paperback December 15, 2015. Visit Gretchen at gretchenrubin.com.
Related