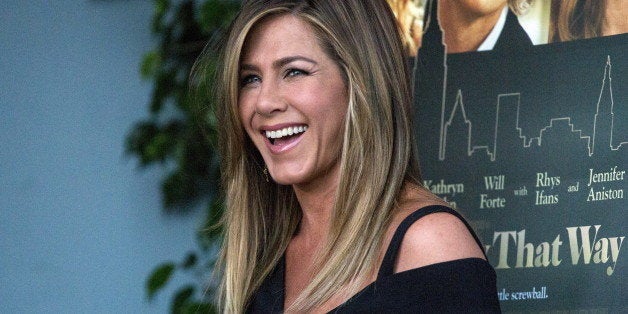 I recently had the pleasure of speaking with Jennifer Aniston, who is not only one of our most gifted actors but a lifestyle icon for millions. I will never forget her performance in last year's "Cake," which tackled themes like chronic pain, suicide, grief, and substance abuse. In a conversation that touched on a range of well-being topics, I couldn't resist asking her about the one that happens to be one of our shared passions: sleep. From her bedtime ritual to her favorite dry shampoo (which doesn't require her to wake up early to wash her hair, and which we're also including in our Sleep Revolution college tour tote bags for college students across the country), she shared some of her struggles as well as some of her tips for powering down and getting the sleep she needs.
AH: You've been very open about your struggles with insomnia. I love how you put it, that your brain is "the committee in my head," and that "if I wake up at three in the morning I just start having conversations and they won't shut up and then I can't get back to sleep." So do you have tips for quieting those voices and calming your mind to get the sleep you need?
JA: Well, I feel like your book is going to be a big step in the right direction for helping me with my insomnia. But my one key tip -- and actually I feel like it's you who told me this! -- is to sleep with my phone at least five feet away from me. That's helped me tremendously. And I also do a quick meditation before I get into bed, even if it's just for five minutes. There are also some yoga poses that I've found to be quite helpful in relaxing my mind, even if it's just a simple downward dog and some stretching. But the biggest thing is the electronics shutdown, ideally an hour before I turn off the lights. It's really a big deal.
AH: Yes, I find even thirty minutes before makes an enormous difference, and if you can charge them outside your bedroom, that's even better. One other thing that helps me -- I don't know if you've ever tried it -- is taking a hot bath or shower before I go to bed.
JA: I'm actually not one of those girls that loves a bath. I tend to get a little antsy in a bath for some reason. But a shower always helps.
AH: Yes, the shower is also a little bit like a ritual. It's like washing the day away. Even if it's three minutes. It doesn't have to be long.
JA: That's true. That's essentially what I'm doing when I wash my face every night, so why not just do the whole shebang?
JA: Though what's funny is that much as I like showers to relax me, it's something I always forget.
AH: Yes, we're often so wound up from our day that it can hard to remember even the things that work for us.
JA: It's usually when you're trying to help someone else with their issues that you remember all of the tricks and secrets. But then when it's yourself that you need to help, somehow you forget. It's really physician, heal thyself!
AH: That is so true. I think that's why I keep talking and writing about it -- because that's the only way to remind myself!
JA: I know. Maybe this conversation will help us remember!
Related