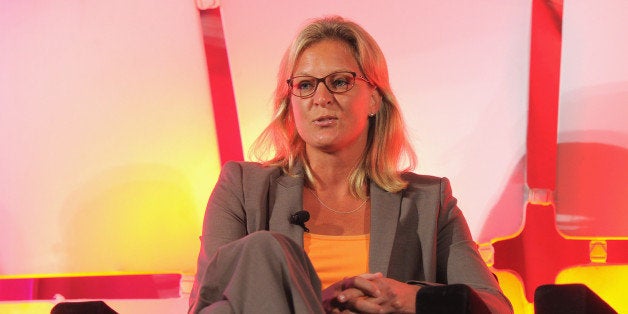 The glamorization of sleep deprivation is deeply embedded in our culture. Everywhere you turn, sleep deprivation is celebrated, from "You snooze, you lose" to highly burned out people boasting, "I'll sleep when I'm dead." But perhaps those who equate sleep with laziness or lack of dedication can be convinced of the benefits of sleep by looking at what's going on in a world that is the ultimate in pragmatism, where performance and winning are everything: sports.

Take Michelle Brooke-Marciniak, an All-American collegiate basketball player at the University of Tennessee who was once named the Final Four's MVP. She went on to play in the WNBA, and then brought her understanding of the link between sleep and performance to the world of business, co-founding the sleepwear and bedding company SHEEX in 2007. In answer to my questions, she shared her insights on how being an athlete has informed her experience as an entrepreneur.

1. As a prominent student-athlete, where was sleep on your priority list?

At that age, my goals were making the Dean's List in academics; and athletically, helping lead the University of Tennessee Lady Vol basketball team to Southeastern Conference and NCAA titles. I did not make an immediate connection between sleep and my performance. I knew I felt terrible when I did not get sufficient sleep before a big competition, but I was determined to power through that feeling during an exam or a big game to achieve my goals. I was more focused on good nutrition, my fitness and staying injury-free. My coaches established curfews for the team and told me to "get some rest" and "sleep well" and "get off your feet" and "get a good night's sleep," so they obviously understood the direct connection between sleep and my performance, even if I did not.

Quite honestly, when I was in college, I didn't appreciate how important sleep was to my overall well-being and athletic performance. I remember trying to stay up really late two nights before a game so I would be exhausted the night before the game. My adrenaline would be so high the night before a game that if I did not exhaust myself the day prior, then I would not be able to sleep before we played. I think if you advance the calendar some 20 years ahead to today's world, athletes know a lot more about sleep. I believe the knowledge revolving around sleep is a huge advantage for today's athletes, and even today's college students.

2. How did your sleep change when you turned pro for the WNBA? How did you manage practice times, games, and travel, and what effect did that have on your performance?

Playing professional sports is similar to the business world in that poor performers do not get paid or keep their jobs, not to mention the fact that your performance is on a very public stage. One of the biggest challenges many college athletes have when transitioning from college to pro is the realization that total responsibility for your body, health, time and, ultimately, your performance, immediately falls on your shoulders 24/7. Unlike my college coaches, pro coaches do not establish a curfew, plan your pre-game meals, or help you with time management - you are on your own and are getting paid to behave and perform like a professional. Thus, when turning pro, I started to understand and take more responsibility for the impact that my actions had on my health, my mind, my performance, as well as my attitude. I knew that I needed to train hard in order to be physically and emotionally prepared for competition. I knew that I needed to eat food to fuel my body in order to compete at the highest level physically and mentally, and I started to understand that my body craved good sleep in order to prepare me in all three areas: physical strength, mental stamina and emotional conditioning. Sleep was the one thing that I did not sufficiently value in college, but I started to pay close attention to as a professional -- how many hours of sleep did I need, the best time of day for me to sleep, the need for power naps (or not?). As a professional athlete, you travel more frequently than you do as a collegiate athlete; therefore, it is more physically taxing, whereas college was more mentally taxing because of academics. Although I was better than the average athlete at caring for my body and mind in college, I thought I improved significantly as a professional athlete because I made the connection between sleep and health (performance) and I made sleep integral to my training regimen.

3. When you were playing, did you notice a connection between how much you slept and how well you played?

Absolutely. Unfortunately, I did not come to this realization until I was a professional athlete. Had I known the significant improvement that sleep can have on your performance when I was in college, I would have definitely focused more on how much and how often I slept, just as I did on what I ate and how I physically trained. I have no doubt that I would have performed better both academically and athletically at Tennessee. I think if I went back and actually calculated my best games in college and throughout my career, there would be a direct correlation with the quality of my sleep in the one, two and three days before competition. I know for a fact that I slept like a baby the night before we won the NCAA National Championship game :)

4. How is the notion of sleep changing in the sports world? What's the sleep culture like in the WNBA?

The sleep culture in the WNBA is far more advanced than it was 20 years ago. The prevalent access to sleep monitoring devices and sleep doctors, as well as the open dialogue about sleep performance in the media and society, in general, has made getting 7 or 8 hours of sleep to improve your well-being and performance very trendy. It may be a cultural phenomenon in our "always connected modern day society," but it is a positive phenomenon. Instead of the badge of honor answer of "I only need 4 hours of sleep" to today's answer of "I can't function as well if I don't get at least 7 to 8 hours of sleep"... it truly is a cultural phenomenon. This shift has entered the forefront of everyday conversation due to people like you, Arianna, who are drawing attention to the how, what, why and when of sleep. We are truly seeing a sleep revolution (just as your book is titled) to educate all people, from college students to professional athletes to entrepreneurs to stay-at-home moms and dads, on the importance of great sleep.

5. What inspired you to found SHEEX? And what was your relationship with sleep as an entrepreneur starting her own business?

SHEEX was founded on the idea that the super-soft, functional fabrics that you wear to perform at the gym could provide the same features and benefits to you while you sleep. SHEEX Co-founder Susan Walvius and I were inspired to start SHEEX after falling in love with the feel and function of the ridiculously silky-soft upscale athletic gear that I wore while training for marathons and triathlons. Throughout our careers as basketball players and coaches, we watched athletic apparel evolve from cotton into performance fabrics; so, we made the connection that traditional cotton sheets could also evolve into the same performance fabrics for your bedroom.

We researched the function of the fabric on a deeper level, to clearly understand the physical impact and importance of having this highly technical performance fabric next to your skin while you sleep. In our research, we quickly discovered that every human being has a real inconsistent "temperature" story while they sleep (most people sleep hot). We found a great demand for moisture wicking, temperature controlling, breathable, and vaporizing fabrics on your bed during your nightly sleep experience.

Being an entrepreneur is so mentally exhausting, I literally fall into bed most nights. As I get older and busier, trying to get a solid 7 to 8 hours of sleep at night is now a necessity for me to perform my best as the leader of my company. As hard as it is to get sleep as an on-the-go entrepreneur, I try my best to adhere to that discipline every night.

6. What do you see as the future of the relationship between technology and sleep?
Technology has always been viewed as a method to learn more and advance further, and we are seeing technology and sleep become more and more seamless as the two subjects are interwoven into everyday conversations. The more technology permeates our daily routines from checking email, to getting the latest headlines, to exercise, and most recently to even checking the contents of your refrigerator, we will become more comfortable with how technology can better help you sleep. And, with society's growing obsession with sleep, we see that companies are constantly innovating new ways to think about sleep when it comes to what you sleep on, sleep in, sleep around and how you track the impact of those products.

The public demand is there to keep bringing sleep solution products to the marketplace. In the next 10 years, I think we will be amazed at the technological advancements in products to help people sleep better, and products that were once never imagined will become part of everyone's sleep routine.
Related