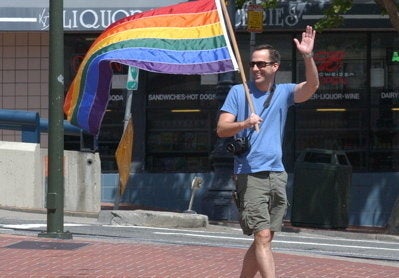 There is no such thing as same-sex marriage, because after marriage, sex is never the same.
Despite that, on May 15, the day the California Supreme Court ruled that my partner, Diane Olson, and I could get married, I e-mailed my brother Robert, who was traveling in Spain with his wife, Maureen. We had won! Could they come to our wedding? It wasn't going to be until June 16, the first day it would be possible because the court had ordered a 30-day delay so the state's marriage application forms could be changed to read "spouse and spouse" instead of "husband and wife."
Thirty days? How was I going to lose 30 pounds in 30 days? Obviously, I couldn't, so I decided to leave myself alone. No, I wasn't going to diet. This was going to be the most joyous month of my life and if I wanted to have desserts, so be it.
The e-mails began pouring in. My friend Jan, a lesbian who lives on Fire Island, New York, wrote that she and Edrie, her partner of 49 years, were coming to Los Angeles to get married. They wanted to get married at the same time as two other long-term older couples -- Marilyn and Jean of Los Angeles and another couple, Carlotta and Ann who live in Cherry Grove, N.Y. They know that as a result of lawsuits Lambda Legal and the ACLU brought in New York, marriages of same-sex couples validly entered in other jurisdictions are being honored in New York. So, New York couples who marry in California will be considered married in New York. In addition, New York is one of the few states where same-sex couples resident in the state who married out-of-state can get divorced in the state!
None of these six women, most in their 70s, some in their 80s, had ever dreamed that in their lifetimes it would be possible for them to get married. As Diane says: "Marriage is a universally understood word defining a unique and distinct loving relationship between two people."
Marilyn, an 80-year-old semi-retired veterinarian, told me she had called several courthouses in California to try to arrange a triple wedding performed by a justice of the peace. But it was difficult to get an appointment for all three couples.
I said I would e-mail my friend Rev. Pat Langlois of Metropolitan Community Church Los Angeles and ask if she would perform a non-religious ceremony. Pat said she would be honored.
Wait a minute. Now we needed a rabbi for our own wedding. Although I'm a secular Jew and Diane leans toward Buddhism, we had decided it was very important for us to be married by a rabbi. So I called my friend Rabbi Denise Eger, of congregation Kol Ami, and asked her if she would marry us.
"Of course!" she said. "When?" And I said: "On the first day they issue licenses, June 16."
We started planning. What would we wear? Even before the wedding, we needed a decision for the June 8 Los Angeles Gay Pride parade, Christopher Street West. Earlier, organizers of the parade had told us that along with Rev. Troy Perry and his partner, Phillip Ray De Blieck, the other original plaintiffs in the case, Diane and I were being presented with a 2008 Community Service Award for filing that first lawsuit in California and would be riding in convertibles in the parade. But after we won, they told us that they were giving us a float!
So now we had to plan what to wear on the float. Should we wear tuxedos? Let's face it, I don't exactly look like a lesbian on The L Word. On the other hand, on Liza Minnelli a tuxedo is called cute, on me it's called drag. But it was the gay parade!
Why give up our culture of gender bending, fun, and celebration? This wasn't
about assimilation. This was about civil rights.
The week of the California Supreme Court decision, Bill Rosentdahl, the gay Los Angeles council member for the 11th District, called us to say he was about to read our names into the Los Angeles City Council record because we were the first plaintiffs in the lawsuit and were from L.A. We were invited to brunches and the mayor's reception for Christopher Street West and love came pouring in the form of hundreds and hundreds of phone calls and e-mails.
After 15 years together, and 20 years before that as friends, Diane and I were finally getting married! It was the most joyous week of my life. And then, on
May 22, our attorney Gloria Allred e-mailed me an Associated Press news story headlined: "California Marriage Opponents Seek 5-month Delay."
A conservative legal group, the Arizona-based Alliance Defense Fund, had petitioned the California Supreme Court to put off finalizing its decision on same-sex marriages until voters were given a chance to vote on an amendment that would enshrine laws banning gay marriage in the state constitution. A ruling is expected by the end of June on whether enough signatures have been collected to qualify the amendment for the Nov. 15 ballot. The sponsors said same-sex marriage would cause "unneeded confusion for couples."
Unneeded confusion for couples? They were worried about us? How dare they. How dare they try stopping our hopes and dreams for full equality! Do they have any idea what it is like to have wanted something our entire lives -- the right to love and have that love enshrined in marriage -- then to be given it, only to have it threatened by these anti-gay bigots? What harm are we doing them? I ran in and told Diane. She, my dear, sweet, spiritual partner, was beyond angry.
All of a sudden, a dark cloud came over our house. We looked at each other in disappointment. Then disappointment turned to anger. They had done it to us again. But we pulled ourselves together and said, No, they don't get to keep stealing our joy. We are going to act "as if."
I e-mailed Jan in New York. She said they were coming anyway. They didn't have time to waste waiting, so they would have to rely on the California Supreme Court to make the right decision again. I e-mailed my brother. He said he and Maureen were still coming on June 15, the day before our planned wedding, and also had accepted our invitation to ride on the float with us.
Both my brother and sister-in-law, Canadians who live in Arizona, are polar
opposites to us in their political beliefs. (They would be would be Republicans if they were American citizens.) But they were overjoyed when we won the right to marry! When Robert telephoned me, he said: "Robin, I have been waiting for this day for a long time."
I e-mailed Rabbi Eger. "Not to worry," Denise replied. She would be on call to marry us the minute we could, and gave me her cell-phone number.
Gloria Allred phoned and asked us to join her for a bike ride on the beach that weekend. As tough as she is as an attorney, she is kind and caring, and was reaching out to us as friends, not clients.
When I finally got to bed the evening of May 22, Diane, emotionally exhausted, was already asleep. I wanted to wrap my arms around her but I was afraid of waking her. I lay there, while the pain poured over me. I wanted to believe that this would work out.
Surely, once the public saw the joy on the faces of all of the same-sex
couples getting married in California , and saw that nothing was going to be taken away from their own marriages, they would not vote for a mean-spirited constitutional amendment that protected nothing except the right to discriminate. If only the California Supreme Court would deny the petition, we would stand a fighting chance of defeating the amendment and realizing our dream. If only, if only....
I closed my eyes and fought with my brain, until I finally turned it off and fell asleep.
Robin Tyler is one of the original plaintiffs in the California Supreme Court lawsuit Tyler v. County of Los Angeles. Tyler has been an activist for same-sex marriage and lesbian, gay, bisexual and transgendered rights for four decades. This fall, she will film her one-woman comedy show, Always A Bridesmaid, Never A Groom. By then, she hopes she and Diane will be married. robintyler@robintyler.com
Popular in the Community